Palin Swings By National Archives As Presidential Plans Remain Mystery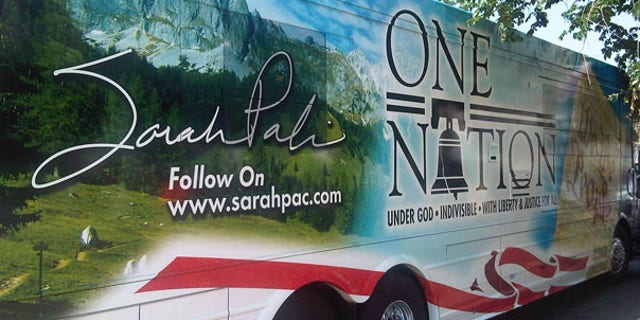 Sarah Palin dropped by the U.S. National Archives in Washington, D.C., on her "One Nation" tour Monday, kicking off a bus tour that has fired up the chatter about whether she'll try to challenge President Obama in 2012.
But the 2008 vice presidential candidate demurred about any plans for a bid, even as she maintains her place atop the Republican field of potential candidates.
"This isn't a campaign bus, this is a bus to be able to express to America how much we appreciate our foundation," Palin said after heading toward the bus carrying her family to famous historical sites on their summer vacation.
Palin said she doesn't doubt that a Republican could defeat Obama in 2012.
"Any Republican candidate is very, very electable," she said. "I think Americans are ready for true change."
But as for her own plans, "We're still kind of contemplating that," Palin said.
Palin said she launched the bus tour -- with family in tow, including two children who've never been to Washington, D.C. -- to bring attention "to our charters of liberty."
"The mission that we are on is to highlight America's foundation, and that's a nice thing that we're getting to do," she said.
She said she is interested in restoring a sense of American exceptionalism by highlighting the historic sites. She later went to Mount Vernon, home to George Washington, and later wrote a blog note on her SaraPAC.com website about the experience.
"The Archives and Mount Vernon. Can you tell I'm fired up?!"
That may be all that is behind Palin's "One Nation" tour, though she did offer a pitch behind why African-Americans should support the GOP.
"I would believe that every American is very interested in making sure the economy's getting back on the right track, that jobs are created via the private sector, having the freedom to invest and prioritize. It doesn't matter skin tone on that. We all need good jobs, we need an economy roaring," she said.
"I would hope that you are attracted to the planks and the platform that we'll be able to build, more of the prosperity and the health and the safety of this nation that has made us so exceptional," she added in answer to questions from a self-identified black Republican. "So those principles and planks of the platform. That's a good question."
Whether the answers satisfied the questioner, on Sunday, Arizona Sen. John McCain, who made Palin a household name when he tapped her as a running mate in 2008, said he believes the former Alaska governor could defeat the president.
"Of course she can, she can. Whether she will or not, whether she'll even run, I don't know," McCain told "Fox News Sunday." "She certainly is a major factor. And I believe that she can be very competitive."
But political analyst and Fox News contributor Bob Beckel said, of course, McCain is going to say she can win because he has "no option" since he put her on the ticket to be his back-up to run the country if something happened to him.
"I don't think he really thinks she can win," Beckel speculated.
On the other hand, Beckel continued, Palin benefits from a lukewarm reception to the GOP pool of contenders. And she has the ability to attract media cameras like a magnet.
"Do you think Rick Santorum would get this kind of attention?" Beckel asked of the media scrum that has surrounded Palin since she announced her bus tour last week.
"I'm sitting three blocks from where she is, and I feel the air coming out of this room," Beckel said.