Orrin Hatch: ObamaCare supporters some of the 'stupidest, dumbass people'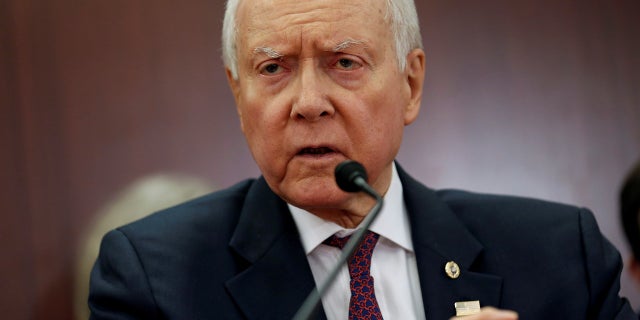 Tell us how you really feel, senator.
Republican Utah Sen. Orrin Hatch did not mince words when he told a conservative crowd Thursday that supporters of ObamaCare are "the stupidest, dumbass people" he's ever met.
Hatch, chairman of the Senate Finance Committee, was speaking at the American Enterprise Institute to tout the GOP tax law which repealed ObamaCare's individual mandate penalty.
"We also finally did away with the individual mandate tax that was established under that wonderful bill called ObamaCare – now, if you didn't catch on, I was being very sarcastic," Hatch said. "That was the stupidest, dumbass bill that I've ever seen."
He added: "Now, some of you may have loved it. If you do, you're one of the stupidest, dumbass people I've ever met. And there are a lot of them on Capitol Hill from time to time."
The Republican-backed tax plan, which passed and was signed by President Trump in December 2017, delivered a significant blow to former President Barack Obama's signature health care law by nixing the mandate penalty.
Hatch, who in January announced his retirement, said the individual mandate "represented one of the great ironies of ObamaCare."
"The law forced people to buy health insurance or pay a tax while also making health insurance less affordable," Hatch said. "By zeroing out the individual mandate tax, the new tax law took a major step forward in the ongoing effort to fully repeal and replace ObamaCare."
TAX BILL STRIKES MAJOR BLOW TO OBAMACARE: WILL IT SURVIVE?
On Friday afternoon, Hatch issued a statement apologizing for his "flippant, off-the-cuff comment."
"Yesterday, I made a poorly worded joke about Obamacare supporters – a joke that was not reflective of my actual feelings towards my friends on the other side," he said. "Throughout my term of service, I have always recognized the importance of civility, particularly in engaging with those of different political perspectives."
Under the ACA, the individual mandate required most people to have health insurance meeting specific standards. The law imposed tax penalties for violations. The purpose was to ensure healthier, younger patients pay into the system, to cover the cost of older, sicker patients.
FIERY EXCHANGE ERUPTS AT SENATE TAX SESSION: 'DON'T SPEW THAT STUFF ON ME'
Hatch also made headlines in November 2017 during a Senate Finance Committee meeting, where a fiery exchange broke out with Democratic Sen. Sherrod Brown. Brown claimed the GOP tax plan, before it passed, helped the wealthy and not the middle class.
"Don't spew that stuff on me," Hatch said in November. "I get a little tired of that crap."