Ohio Sen. Rob Portman says he'll 'take a look' at White House run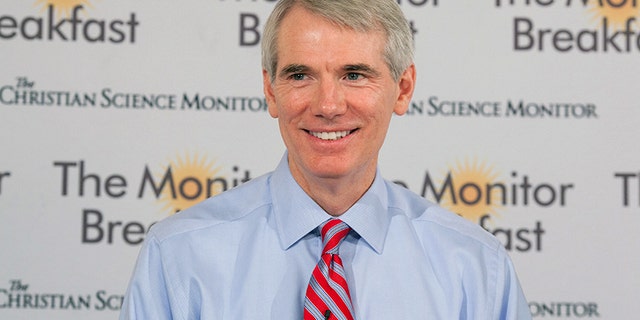 WASHINGTON — Ohio Sen. Rob Portman acknowledged Thursday he is thinking about running for president in 2016.
"I'm focused, as you can tell, on 2014 and on doing my job as a senator. And that's a full plate right now," the Republican lawmaker said during a breakfast with reporters at the St. Regis. "But after the election….I'll take a look at it."
Asked if a recent trip to the early nominating state of New Hampshire has influenced his considerations about a White House run, Portman cracked: "Well, my daughter goes to school up there, so part of my heart is in New Hampshire."
Portman, the former director of the Office of Management and Budget under George W. Bush, made the comments during an event organized by the Christian Science Monitor.
The 58-year-old lawyer, former congressman and United States trade representative doesn't have a lot of national name recognition, but he does have significant experience in the world of presidential campaign politics.
During debate practices with Republicans over the last few presidential campaign cycles, Portman took on the the roles of Al Gore, Joe Lieberman, John Edwards and — in 2012, for Mitt Romney — Barack Obama.
He was also considered for vice president by Republican nominees John McCain in 2008 and Mitt Romney in 2012.
Portman, who lacks the charisma of fellow Republicans like Florida Sen. Marco Rubio or New Jersey Gov. Chris Christie, spent most of his hour-long conversation with journalists on Thursday talking about President Obama's plans to order airstrikes against the Islamic State and the upcoming elections in November.
"This is a determined and obstinate enemy," Portman said of the Islamic State in Iraq and Syria, "that continues to threaten our country."
Speaking of the president's address to the country about ISIS on Wednesday night, Portman said: "I think the speech last night laid out a general strategy that I hope most Republicans will support. I think it's right. I think we need to be more aggressive."
But Portman criticized Obama for waiting so long to lay out a strategy: "I think it's late….We are in a much more difficult situation because of this vacuum of leadership."
The Ohio Republican also discussed what Senate Republicans should do about ObamaCare if they win back control of the body in this year's elections.
"I don't know what's going to happen specifically on votes on ObamaCare," Portman said. "I suspect we'll vote to repeal early to put on record the fact that we Republicans think it's a bad policy, and we think it's hurting our constituents, and we think health care cost should be going down, not up."
Even though President Obama would most definitely veto any Republican attempt to repeal ObamaCare, Portman said he hopes Senate Republicans pass their own ObamaCare replacement.
"I think we ought to also spend some time on the replacement side of that," he said, "and the Republican approach has never been just repeal, it's also been let's get rid of this, but let's replace it with something that does deal with a very real problem in our health care system, and that's the increased cost and lack of coverage."