Obama's immigration speech earns praise from some Latino leaders, scorn from others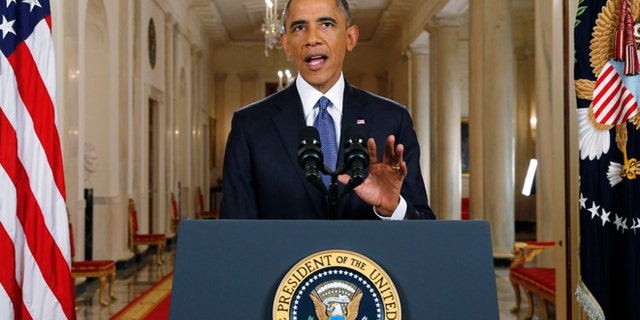 Latino Republican lawmakers expressed their disapproval at President Barack Obama's Thursday announcement on his executive action plan for immigration – citing worries over the president's "abuse of power" and the eventual political showdown that is expected in the wake of the announcement.

From Sen. Ted Cruz of Texas to leaders of conservative think tanks and policy groups, much of the clamor over the president's executive action has less to do with the plan itself and more to do with the perceived notion that he is bypassing legislators in Washington to get his immigration deal done before Republican's take control of both chambers of Congress.

"His actions are not only unconstitutional and in defiance of the American people who said they did not want amnesty in the 2014 elections, but they are also unfair to every immigrant who has come to our nation legally," Sen. Ted Cruz in a message posted on Facebook.

"We are all the sons and daughters of immigrants who dreamed of opportunity in a nation where if you worked hard and played by the rules, you could achieve anything," Cruz wrote. "We can't let one president abandon that dream for us all."
The president's statement and plan, however, were widely praised by a wary pro-immigration community, who has for years been tempted with promises of reform only to have them deferred for political ends.

"For us, this is not policy, this is not about politics, this is about a promise we made to each other and our families," Abraham Diaz, a leader with Minority Affairs Council from San Juan, Texas. "Yes, today is a bittersweet moment. Millions of Dreamers have U.S. citizen and permanent resident siblings, and they will experience the joy of coming home to tell their parents they'll live without the fear of deportation. We're committed to the long-term fight so people who can't experience this joy today will one day find the freedom we all seek."

Among the provisions in the president's immigration overhaul include protection from deportation for parents of children who are U.S. citizens, expanding the Deferred Action for Childhood Arrivals program and prioritizing deportations to focus more on recent arrivals and known criminals.

The plan will also commit more resources to border enforcement efforts, increase salaries of Immigration and Customs Enforcement officers and set different priority levels on the conduct for which immigrants get detained.


In a short speech Thursday night, Obama adamantly defended his actions in going ahead with the executive action and the legality of his plan.

"The actions I'm taking are not only lawful, they're the kinds of actions taken by every single Republican President and every Democratic President for the past half century," Obama said during his speech. "And to those members of Congress who question my authority to make our immigration system work better, or question the wisdom of me acting where Congress has failed, I have one answer: Pass a bill."

Despite the president's assertions, many conservative lawmakers have drawn up plans to combat Obama's actions, including suing the president and making presidential nominations difficult – particularly for Loretta Lynch who has been nominated to replace Eric Holder as attorney general.

There are some in the Republican who want to "defund" the president's action in an upcoming spending bill. Appropriations Committee Chairman Harold Rogers (R-Ky.), however, noted that the Citizenship and Immigration Services agency is funded through application fees, so Congress can't stop withhold its funds in a spending bill.

If all else fails for conservative lawmakers, there is the hope that they can stall certain parts of Obama's measures and repeal the rest should a Republican take over the Oval Office in the 2016 presidential elections.

"The GOP should not follow the president off of this cliff but need to bring up their own immigration reform bill," Steven Cruz, a spokesperson for the Washington D.C.-based Libre Initiative told Fox News Latino. "I'd wager that Congressional Republicans would be a lot smarter than suing the president or defunding the government or shutting down the government."

While the president's unilateral action rankled the feathers of many conservative Latino lawmakers, the plan on immigration itself was met with less scorn, as some admitted to an urgent need for a reform of the system in the U.S.

"Today's immigration framework meets neither the needs of our economy nor our security, and it definitely does not represent our national values," said Danny Vargas, the former chair of the Republican National Hispanic Assembly. "We need a practical, pragmatic, principled set of proposals that actually work toward real solutions. The time has come for the Party of Lincoln and Reagan to retake the mantle of leadership on big issues and immigration should be high on that list."