Obama Starts Tour of Battleground States Before Convention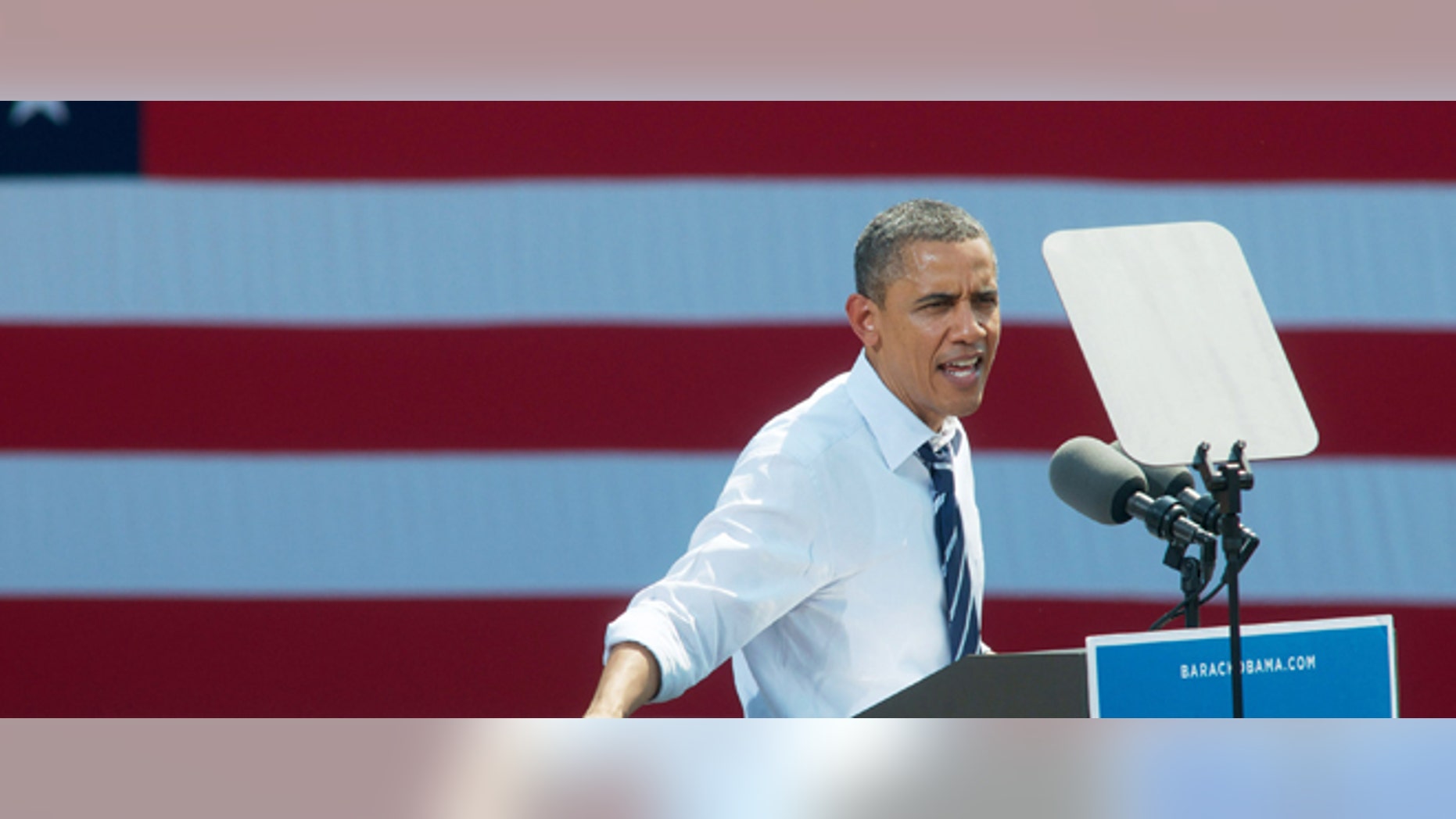 CHARLOTTE, N.C. – President Barack Obama began Saturday a four-day tour of key battleground states and the storm-ravaged Gulf Coast in the lead-up to his party's convention, trying to blunt Republican Mitt Romney's momentum, who vowed to bring more jobs to the country and bemoaned the 23 million people out of work or underemployed.
"If you have a coach that's zero and 23 million, you say it's time to get a new coach," Romney said in retooled campaign speech in Cincinnati as the college football season kicked off across the nation. "It's time for America to see a winning season again, and we're going to bring it to them."
Obama, as his party's faithful began streaming to Charlotte, N.C., for next week's convention, headed Saturday to Iowa on the first leg of a tour of states key to his electoral map. Romney, for his part, looked to capitalize on a newly energized Republican Party fresh from its convention last week in Tampa, Fla.
Both men were campaigning across the country as the race entered September, each day adding to the sense of urgency in a presidential contest that has remained tight since Romney sewed up the nomination in April. They recognize that undecided voters, including those in about eight key states, will begin to fully assess their options through the conventions and the upcoming debates in the weeks ahead.
Flanked by House Speaker John Boehner and leading Ohio Republicans, Romney vowed to cut the deficit and work toward balancing the budget, open new markets for American products and crack down on unfair trade practices by competitors, issues closely watched by voters dependent on Ohio's manufacturing base. The new GOP nominee's voice grew hoarse as he debuted a slimmed-down version of his convention address with a heavy emphasis on his jobs agenda.
Both Romney and running mate Paul Ryan focused their attention on Ohio — the Wisconsin congressman shook hands with voters and flipped burgers in the parking lot of Ohio Stadium in Columbus before the start of an opening weekend football game between Ohio State and Ryan's alma mater, Miami University of Ohio. Ohio is a linchpin in Romney's strategy, a recognition that no Republican has won the White House without carrying the Midwestern battleground. No Democrat has won without winning Ohio since John F. Kennedy in 1960.
"We recognize what a great responsibility you've given us," Romney said at Cincinnati's Union Terminal, "and how much you expect from us to be able to get back the White House and get America back on track."
Obama's run-up to the convention was taking him through the battleground states of Iowa, Colorado, Ohio and Virginia, four states he carried in 2008 that also are at the top of Romney's wish list. He was spending Saturday in suburban Des Moines and Sioux City, Iowa, before heading to Colorado for a Sunday event with college students at the University of Colorado in Boulder.
The Democratic Party's convention, which starts Tuesday in Charlotte, N.C., will focus more on where voters want their lives to be in the next four years. Obama inherited an economy grappling with a sweeping recession, and the pace of the sluggish recovery has become one of Obama's greatest impediments to re-election.
The coming days, capped by Obama's speech on Thursday night, will crystalize his re-election pitch: an economy built on ending tax cuts for the rich and putting more effort into education, energy, tax reform and debt reduction. He will call Romney a peddler of failed trickle-down ideas that will hurt the middle class and the needy.
Previewing the convention, Obama campaign spokeswoman Jen Psaki told reporters aboard Air Force One on Saturday that by the end of the Charlotte convention, "voters will understand what is at stake."
"They will know what the road map is going forward. And the race will be a pretty steady race. And we expect it to be in a pretty similar place following our convention as well. We know it's going to be close," she said.
Romney made a quick detour to rain-soaked Louisiana on Friday while Obama joined soldiers at Fort Bliss, Texas, to remind the nation that he ended the war in Iraq. Obama was scheduled to travel to Louisiana on Monday to inspect flood damage in a storm that marked the seventh anniversary of Hurricane Katrina's devastation.
Romney was capping his convention week in Ohio and Florida, the two most prominent states that remain up for grabs. The former Massachusetts governor's team said the Tampa, Fla., convention helped him present a clear contrast with Obama and showcase him as a viable alternative to the president on handling the economy.
"What Americans have seen over the last few days is a party and a Republican ticket absolutely committed to addressing the job crisis," said Romney adviser Eric Fehrnstrom. "You won't hear it from the Democrats in Charlotte next week. People have seen a diverse group of individuals who believe very deeply in the American free enterprise system. It's very different than the negative characterization the Democrats are trying to paint of this convention."
Television ratings for the final night of the Republican convention were down compared with four years ago. The Nielsen Co. said an estimated 30.3 million viewers watched Thursday night's coverage over 11 networks compared with more than 40 million over seven networks when John McCain delivered his acceptance speech in 2008.
Based on reporting by the Associated Press.
Follow us on twitter.com/foxnewslatino
Like us at facebook.com/foxnewslatino