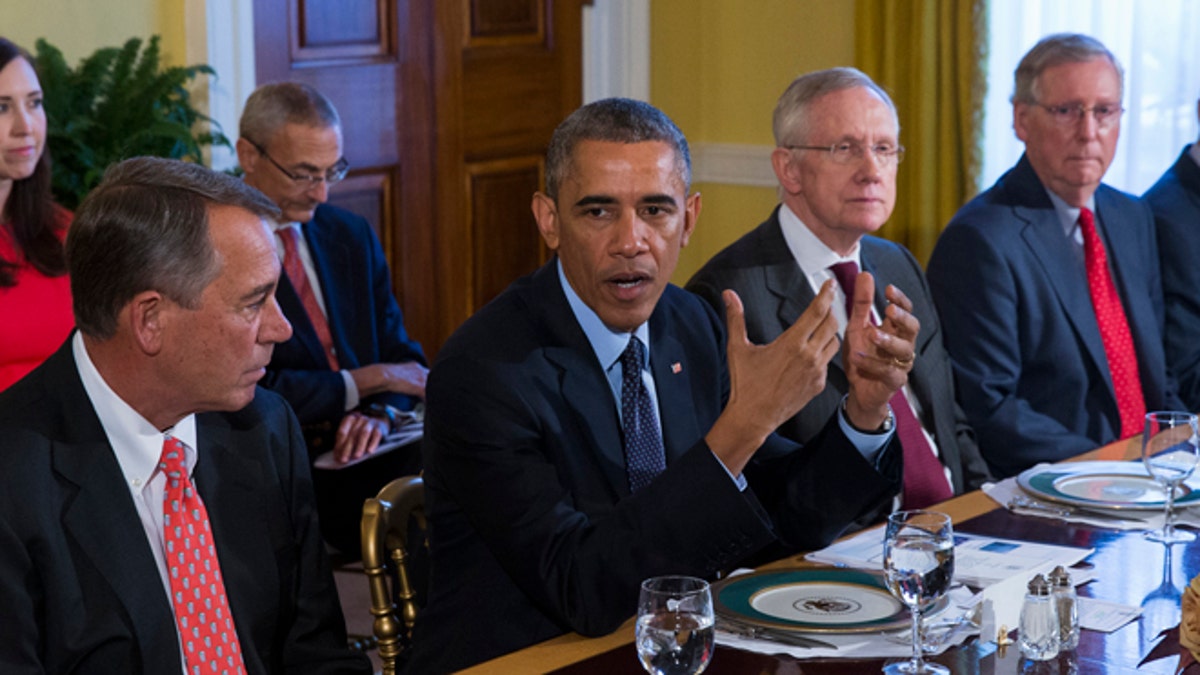 There was no chatter about the bill of fare the White House dished up at the bipartisan, bicameral luncheon for congressional leaders Friday afternoon.
Nothing about the Bibb lettuce, frisee and endive. Not a word on the herb-crusted sea bass or tomato-lemon confit. Nobody remarked about the pumpkin tart and candied ginger.
But pray tell, what was in those little paper bags emblazoned with the White House logo that lawmakers toted with them when they departed?
A doggie bag? A lame duck? A slice of humble pie (with candied ginger) for Democrats?
No. Set 'em up, Joe. Barkeep Obama offered one for the road.
Tucked inside the parcels were six-packs of White House Ale. White House Honey Brown Ale, brewed right on the White House grounds. There was also a Honey Porter and a Honey Blonde.
Please, no JFK or Clinton jokes.
Democrats got "shellacked" Tuesday, or whatever verb the White House is trying to avoid using in describing the midterm results. Plastered? Smashed?
On Wednesday, Obama declared in an effort to mend fences with Republicans that he "would enjoy having some Kentucky bourbon" with Senate Minority Leader Mitch McConnell, R-Ky.
That could happen. The president may threaten unilateral action on immigration reform. But the commander-in-chief used his executive privilege to serve up the beer. No bourbon.
This was just taking a page from the book of Abraham Lincoln.
"The great point is to bring them the real facts," Lincoln said. "And beer."
Presidential prerogative may sting more than a nip of that bourbon.
For Democratic success this election cycle, Obama loyalists say, Obama should have articulated those "real facts" of which Lincoln spoke.
There is no Ebola pandemic in the United States. This year has been the best for job creation since 1999, and the unemployment rate fell to a six-year low. Gas prices sink week after week. Polling blames Republicans for last year's government shutdown. The GOP brand is especially toxic (though not much better than the Democrats' brand).
Furthermore, there is broad national support for increasing the minimum wage and for enhanced gun restrictions in the aftermath of the Sandy Hook school shootings.
Yet Democrats dropped to a minority they hadn't seen in House elections since the late 1920s and lost control of the Senate.
Rep. Ron Barber, D-Ariz., an aide to former Rep. Gabrielle Giffords, D-Ariz., who was shot in the same 2011 massacre that severely injured Giffords, is now narrowly losing to Republican challenger Martha McSally in one of a few still-uncalled House contests.
Nobody anticipated close races involving Reps. Louise Slaughter, D-N.Y.; John Delaney, D-Md.; and Jim Costa, D-Calif.
Slaughter's race still isn't called. Delaney has now emerged the victor in an unexpectedly tight contest. Costa is trailing.
Republicans flipped Democratic seats in Maine, New York, Georgia, Illinois, Iowa, North Carolina, Utah and West Virginia to name a few.
Two Democratic freshman, Reps. Pete Gallego, Texas, and Steve Horsford, Nevada, members respectively of the Congressional Hispanic Caucus and Congressional Black Caucus, also lost.
That outraged those caucuses. In addition to other Republican Senate gains, Sen. Mark Warner, a moderate Virginia Democrat, narrowly defeated Republican challenger Ed Gillespie in another race that flew below the radar.
This comes as voters re-elected Rep. Michael Grimm, R-N.Y. He faces a 20-count felony indictment and threatened to throw a reporter off a Capitol Hill ledge this year. There's Rep.-elect Glenn Grothman, R-Wisc., who has said controversial things about Martin Luther King.
Rep.-elect Jody Hice, R-Ga., doubts Islam deserves First Amendment protections. And Rep.-elect Ryan Zinke, R-Montana, called Hillary Rodham Clinton "the anti-Christ."
"Yes, we have some new members who've made some statements, I'll give you that," said House Speaker John Boehner, R-Ohio. "But when you look at the vast majority of the new members coming in here, there are some really solid members."
Democrats are fuming. There's some natural infighting and blame-gaming. Some Democrats directed their fire at House Minority Leader Nancy Pelosi, D-Calif. Others seethed at Obama.
Pelosi quickly moved to shore up her base, apparently so she could stick around for another Congress with the longer-term hope of eventually reclaiming the House speaker's gavel.
"We have to change the environment. We cannot let the Republicans define the playing field as they have," Pelosi told Democrats on a conference call, according a source. "I know where the money is. I know where to get it."
On the same conference call, sources indicated that Rep. Jerry Nadler, D-N.Y., lit into the president.
He characterized the election as "a collapse" of Democratic turnout.
"We lost three seats in New York because people didn't turn out to vote," Nadler said. "We lost all over because people weren't motivated to come out to vote. But the whole zeitgeist for years has been the president, who has the bully pulpit, refusing to differentiate. Refusing to defend his own policies."
For the record, Nadler was not at the White House luncheon and thus not a recipient of the executive ale.
Even if Obama wouldn't portray the election defeat in precise verbiage, Pelosi did when she returned from the White House fete.
"I don't consider it a wave," she said. "I think it's an ebbing of Democratic voters rather than a wave of Republican voters because I don't think the American people gave anybody a great big seal of approval in the election."
House Majority Leader Kevin McCarthy, R-Calif., said upon returning from the White House event: "I think this election has sent a message to both parties."
The Friday luncheon focused on Ebola, immigration reform and featured a special presentation about the Islamic State.
The same day, the administration announced it was sending more troops to the Middle East and is asking Congress for an additional $3.2 billion to fight the militant group, also known as ISIL and ISIS, in the region.
The president wants Congress to consider a new authorization to use military force against Islamic State. Yet nobody can quite describe such a measure. Sources indicted a vote on an authorization wouldn't come until the new Congress. Hard issues all to say nothing of the partisan divides.
Perhaps this is why McCarthy tried to establish a positive tone.
"History has shown a divided government has achieved big things and I think the public is expecting to see Washington actually work," he said.
Despite McCarthy's optimistic approach, there are yawning chasms between the Democratic president and the Republican Congress.
"I think the president choosing to do a lot of things unilaterally on immigration is a big mistake," McConnell said Wednesday. "It's like waving a red flag in front of a bull."
For the record, bulls are color blind so it doesn't matter what hue of muleta a matador might wave.
Bulls respond to the motion of the cape. Obama's patience of waiting for Republicans to move on immigration reform is worn. He wants action. But the president also knows that brandishing the immigration muleta will rev up Republicans and perhaps energize the desultory Democrats of whom Pelosi and Nadler spoke.
As badly as Obama wants immigration reform -- apparently by any means now -- Boehner and McConnell want to repeal ObamaCare. And despite the number of roll call votes to repeal or dismantle the health care law over the past four years hovering in the low fifties, Republicans will also flit their touchstone cape in front of the president and Democrats.
Again.
"The House, I'm sure, at some point next year will vote to repeal ObamaCare because it should be repealed," Boehner said. "Whether that can pass the Senate, I don't know. But I know in the House it will pass."
Boehner proceeded to tick off at least three other probable roll call votes designed to denude the Affordable Care Act. Those include tossing the requirement that all Americans have insurance, upping the qualification of a legal work week from 30 hours to 40 hours and eliminating the Independent Payment Advisory Board (IPAB). The GOP considers the panel to be "rationing" body.
No issue better crystallizes the differences between Democrats and Republicans than ObamaCare.
And with Republicans controlling both chambers of Congress for Obama's final two years in the White House, expect a slew of votes on the topic.
However, that course could be fraught with peril. Republicans run the risk of having yet another Congress dominated by ObamaCare. The class of incoming GOP freshmen will demand votes to decimate the Affordable Care Act. They campaigned on repealing the law and must have something to show for it. This will entail a delicate balance as Republicans try to govern -- and perhaps even compromise -- yet escape ObamaCare's tempting gravitational pull that could limit other legislative goals.
Nobody knows how the GOP toes that line.
Remember, some Republicans helped force a government shutdown by trying to link operating the government to defunding ObamaCare. In an interview with Fox News on Thursday, Sen. Pat Roberts, R-Kansas, suggested the power of the purse could be a potential route for Republicans if they doubt Obama is willing to compromise.
"We may have to take the appropriations bills and take their money away," he said.
If that's the case, the sides would be locked on a crash course toward another battle royale over spending priorities. Neither side wants to go there, though McConnell took that fight off the table on Wednesday.
"There will be no government shutdowns and no default on the national debt," predicted the incoming majority leader.
The proof of that pudding will be in the eating.
Nobody reported indigestion after Friday's White House feast. But political disputes of this magnitude could have lawmakers reaching for Alka-Seltzer.
Or more potent potions. Be they White House Ale or Kentucky bourbon. It could be a long two years.
Set 'em up Joe.