Obama Sends Jobs Bill to Congress, Calls for Passage 'Immediately'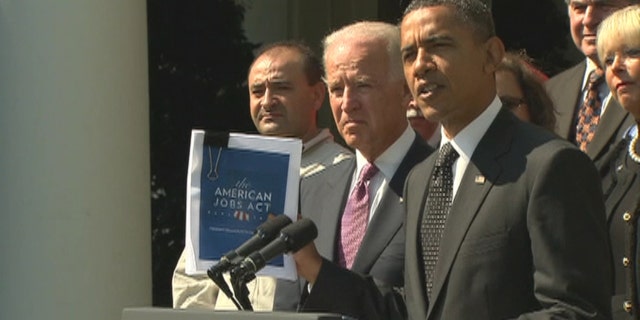 NEWYou can now listen to Fox News articles!
WASHINGTON – President Obama announced Monday that he's sending his $447 billion jobs bill to Congress, calling on lawmakers to pass it "immediately."
Surrounded by teachers, firefighters and small business owners, the president claimed the proposal would help charge the economy and argued there's no reason for Congress not to pass it.
"This is a bill that will put people back to work all across the country," Obama said. "This is the bill that Congress needs to pass. ... No games, no politics, no delays."
As he did in an address to Congress last week, Obama claimed the bill is full of bipartisan proposals. And while the presidential race is heating up, adding to partisan tension in Washington, the president again said the country can't wait for next November for a jobs bill.
"The American people don't have the luxury of waiting 14 months for Congress to take action," he said.
Obama said his bill would put cops on the beat, keep teachers in the classroom and put construction crews to work.
While the package contains a host of proposals that have received bipartisan support in the past, the overall package -- while smaller -- bears a number of similarities to the 2009 stimulus bill that Republicans loathe. It relies on a blend of state aid, tax breaks and infrastructure spending, as well as unemployment assistance. GOP leaders have said they're open to working with the president. House Majority Leader Eric Cantor's office said in an email Monday the party will work to find areas of "common ground" to help small business.
"While we have a different vision for what is needed to support job creation in our country, we appreciate the president's pledge to transmit legislation to Congress and will immediately request that it be scored by the Congressional Budget Office," House Speaker John Boehner said in a statement.
Obama is also preparing to travel the country to build public support for the package he unveiled last week. He'll visit Ohio Tuesday and North Carolina Wednesday to ask voters to pressure lawmakers to pass the bill.
The centerpiece of the plan is lower Social Security payroll taxes for individuals and businesses. There's also new spending to hire teachers and rebuild schools, among other things.
The Democratic National Committee is launching a television ad campaign Monday to boost support for Obama's plan.
The 30-second ads, which show portions of Obama's speech to Congress last week promoting his jobs package, will air in politically important states from Nevada to New Hampshire. The ads urge viewers to "Read it. Fight for it. ... Pass the President's Jobs Plan."
Obama's latest jobs plan calls for $130 billion in aid to state and local governments, providing either a welcome infusion of cash for those struggling with budget gaps, government layoffs and crumbling roads or merely a temporary patch for budget holes that are likely to remain long after the federal money runs out.
"It's a no-brainer: Congress should pass the bill. Now," said California Gov. Jerry Brown, a Democrat, whose state would receive some $13 billion for construction projects and teaching and public safety jobs at a time when it has the nation's second highest unemployment rate.
Many Republican lawmakers and governors are less enthusiastic about accepting the federal money, especially if it locks in costs they will have to account for once the aid runs out.
"If we're given the flexibility to spend it as we see fit and not as they see fit, I could see some benefit," particularly for long-delayed infrastructure projects, said Missouri House Budget Committee Chairman Ryan Silvey, a Republican. "I'm not a big fan of using one-time money for ongoing expenses. I think that's what the state should be getting away from, not getting deeper into."
Obama's plan has to clear a politically divided Congress, which could scuttle it entirely or enact bits and pieces of it. As envisioned by Obama, state and local governments would receive $50 billion for transportation projects, $35 billion for school, police and fire department payrolls, $30 billion to modernize public schools and community colleges, and $15 billion to refurbish vacant and foreclosed homes or businesses.
It would mark the second, sizable infusion of federal cash to states in less than three years, coming just as they are burning through the last of the billions of dollars they received under the 2009 stimulus act.
The Associated Press contributed to this report.