Obama says Syria's declared chemical weapons stockpile eliminated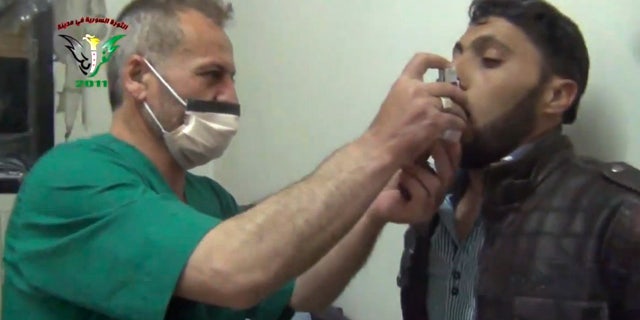 NEWYou can now listen to Fox News articles!
WASHINGTON – President Barack Obama on Monday said the elimination of Syria's declared chemical weapons stockpile is an important achievement against the spread of dangerous weapons of mass destruction, but warned that Syria's government now must follow through on pledges to destroy its remaining weapons production facilities.
Obama also said concerns about omissions and discrepancies in Syria's declaration to the Organization for the Prohibition of Chemical Weapons, the group that oversaw destruction of the weapons, must be addressed.
"Today we mark an important achievement in our ongoing effort to counter the spread of weapons of mass destruction by eliminating Syria's declared chemical weapons stockpile," Obama said in a written statement issued in Washington after he broke from his summer vacation in Massachusetts to spend two days at the White House.
Syria agreed to give up its chemical arsenal last fall when Obama threatened missile strikes in retaliation for a chemical attack on a rebel-held suburb of Damascus during the country's civil war. The attack is believed to have killed more than 1,000 people. Obama abandoned talk of attacking Syria after President Bashar Assad agreed to the weapons surrender.
The weapons, tons of them, were destroyed aboard the U.S. cargo vessel MV Cape Ray in international waters.
Obama said destroying the weapons advances the goal of ensuring that Assad cannot use its chemical arsenal against the Syrian people. He said it also "sends a clear message that the use of these abhorrent weapons has consequences and will not be tolerated by the international community."
Obama said the U.S. would continue to work with the OPCW and international partners to resolve "open issues" while continuing to press Assad to stop committing atrocities against the Syrian people.