Obama Rips Wall Street But Hosts High-Dollar Fundraiser in Manhattan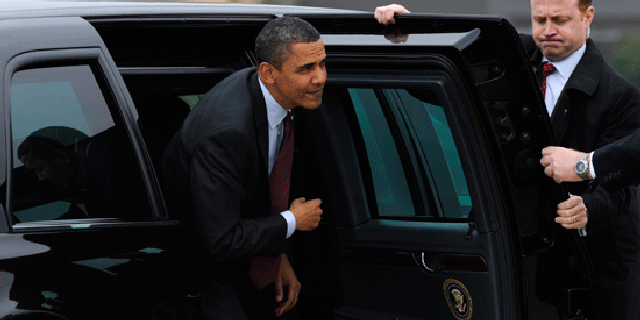 As President Obama continues his verbal assault on Wall Street as part of his push for new banking rules, he headed to Manhattan Thursday to co-host a swanky fundraiser for Democratic lawmakers.
Obama delivered remarks at a Democratic Congressional Campaign Committee fundraising dinner at the five-star St. Regis Hotel. House Speaker Nancy Pelosi also hosted the event, along with members of the New York Congressional Delegation.
Ticket prices ranged from $15,000 per person to $50,000 per couple, which included a photo and dinner with Obama.
The fundraiser capped a day in which Obama continued his Main Street economic tour in western New York, urging Congress to act quickly on new job creation measures that could strengthen small businesses.
The Main Street tour began in December with a trip to Allentown, Pa., and has passed through Charlotte, N.C., Savannah, Ga., and Quincy, Ill.
But Obama took a detour to the home of Wall Street to try and help boost the political fortunes of his party, whose majorities in the House and Senate are expected to take a hit in the November elections.
As Obama entertained the deep pockets Thursday night, Bill Clinton hosted his own fundraiser nearby for the state's Senate Democrats for tickets as little as $1,000.
Rep. Carolyn Maloney, D-N.Y., who represents the district where the fundraiser was held, refused to raise the $25,000 that the DCCC required to sponsor the event with Obama, although she attended and introduced the president.
"She felt that she could not do it at this time," Maloney campaign spokesman George Arzt told FoxNews.com, adding that the DCCC gives a pass to lawmakers who are facing primary challengers. Maloney is being challenged by political newcomer Reshma Saujani.
But the other lawmaker speaking at the event, Rep. Charlie Rangel,D-N.Y., raised the $25,000 despite facing a primary challenger.
Arzt noted that Maloney has paid the annual $250,000 dues to the DCCC but couldn't cough up the $25,000 for the event.
"When you're running a primary, it is not easy to pay," he said.
Obama has criticized Wall Street on its home turf before while asking for help at the same time.
Last month, during an appearance at Cooper Union college in lower Manhattan, Obama rebuked Wall Street for risky practices even as he sought its leaders' help for "updated, commonsense" banking regulations to head off any new financial crisis.
"A free market was never meant to be a free license to take whatever you can get, however you can get it," Obama said. "Some on Wall Street forgot that behind every dollar traded or leveraged, there is a family looking to buy a house, pay for an education, open a business or save for retirement. What happens here has real consequences across our country."