Obama: Poland a Model for Democracy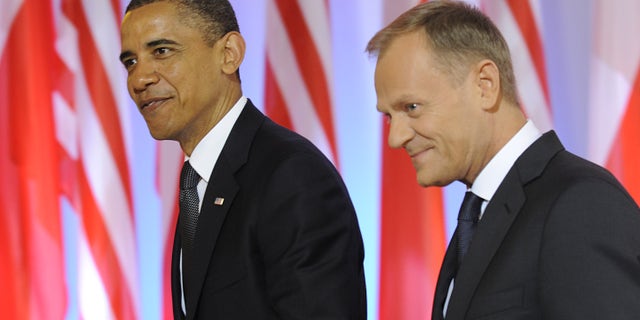 NEWYou can now listen to Fox News articles!
Warsaw – WARSAW, Poland -- Capping an extensive trip to Europe, President Obama said Saturday that the United States must always "leave room" to throw financial and moral support behind nations fighting for freedoms even during times of employment troubles and high gas prices at home.
In Poland, which Obama hailed as world model of democratic transition, he said it is the responsibility of the U.S. to support the sometimes wrenching, roiling push for democracy and human rights around the globe. In defending his drive to improve U.S. relations with Russia, Obama also made clear to protect Poland's security against any threats in its neighborhood, leaving no doubt about the NATO code of members: "We defend each other."
The president sought to build his case that America and the international community have a vested stake in the Arab revolt that is defining much of North Africa and the Middle East. He said the U.S. cannot dictate outcomes but can help, and he cited Poland as inspiration.
"Poland's story demonstrates how a proud and determined and enthusiastic people can overcome extraordinary challenges and build a democracy," the president said at a brief news conference as his six-day trip to Ireland, England, France and Poland neared its end.
Obama is set to return home to familiar domestic challenges over debt and the pace of job creation as the field of potential Republican presidential contenders takes shape and draws growing attention. A tired-looking president seemed ready to head home, even counting down the days at one point in his trip.
Polish Prime Minister Donald Tusk said Obama's enthusiastic visit to his country and the recognition by the United States of the importance of helping Poland have made a lasting difference. "We feel in Poland that you are one of us," Tusk said to Obama.
Obama's comments came on a day in which he met in this capital city with dozens of leaders of Poland's Solidarity movement, as well as civil society leaders. Some of them have already traveled to Tunisia where popular uprisings led to the overthrow of a longtime autocrat and sparked the protest movements that still sweep through the region, often with violent results as authoritarian governments crack down.
The U.S. president said democratic movements will endure setbacks and require more than a burst of energy. He called for institutional change with the support of the outside world, saying U.S. support helps people realize that "change is possible."
"Poland can play an extraordinary role precisely because they have traveled so far, so rapidly over the last 25 years," Obama said of a nation that shed communism and held strong even during a weak global economy.
To those at home, Obama said: "I want the American people to understand we've got to leave room for us to continue our tradition of providing leadership when it comes to freedom, democracy, human rights."
After the news conference, Obama's final stop in Poland was at the Field Cathedral of the Polish Military, site of a memorial for the 90 people, including former President Lech Kaczynski, who were killed in a plane crash last year. Obama lit a candle at the indoor memorial where the names of the crash victims are etched on a steel plaque.
In his stay here, the president dealt with an enduring source of annoyance for Poles: their failure so far to be included in a visa waiver program for those traveling to the United States. Many Poles feel that their strong support for the U.S. and their contributions to the wars in Iraq and Afghanistan should have won them the privilege of visa-free travel to the United States.
Obama said Poland doesn't qualify for the waiver based on current law but promised that he was working to change that.
To a questioner who wondered when Polish people would be able to shop more freely in New York, Obama said: "We very much want you to shop on Fifth Avenue and anywhere else in the United States."
Timed to coincide with Obama's visit, the United States and Poland completed an agreement toward establishing a U.S. Air Force division in Poland beginning in 2013. The presence of U.S. warplanes on Polish soil is designed to improve the ability of U.S. and Polish armed forces to cooperate as members of the NATO alliance. The Air Force division would include F-16 fighter jets and Lockheed C-130 Hercules military transports.
"The gesture is very significant," Tusk said.
Obama met earlier Saturday with Polish President Bronislaw Komorowski. He told him that Poland still needed to be a force for democracy in its own region, particularly in Belarus, a country that Obama said is "backsliding." He urged Poland to help encourage democratic forces within Belarus.
"The kind of repressive actions we're seeing in Belarus can end up having a negative impact over the region as a whole and that makes us less safe and less secure," Obama said.
Obama had come to Poland from the Group of Eight summit of industrialized nations in Deauville, France, where he and other world leaders said they hoped to provide Tunisia and Egypt, as well as other countries that follow their path, economic incentives similar to those offered to the Soviet bloc countries 20 years ago.
He was to return to Washington Saturday night.