Obama Lauds Passage of Kenyan Constitution As Critics Slam Its Abortion Rights Stand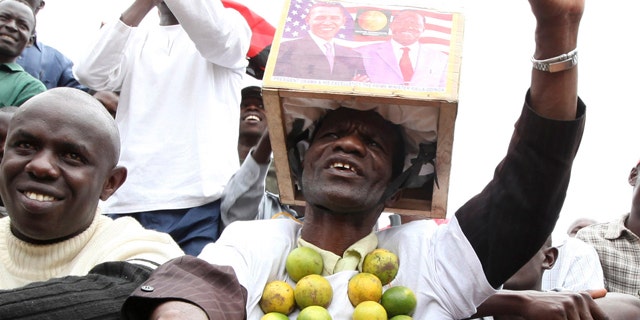 President Obama on Thursday praised the passage of Kenya's new constitution, which was approved by an overwhelming majority amid claims that the United States improperly meddled in promoting passage of the document, which contains controversial abortion language.
Results showed nearly 70 percent of Kenyan voters backed the document that would set up a system of checks and balances while scaling back the broad powers of the president -- those powers were established during the finals days of British rule decades ago.
Obama applauded the Kenyan people for approving the document and conducting a "peaceful, transparent and credible" vote.
"This was a significant step forward for Kenya's democracy, and the peaceful nature of the election was a testament to the character of the Kenyan people. My administration has been pleased to support Kenya's democratic development and the Kenyan people," he said. "The overwhelming approval of the proposed new constitution reflects the desire of the Kenyan people to put their country on a path toward improved governance, greater stability and increased prosperity."
But the administration has come under fire from a few House Republicans for its role in the referendum. Rep. Chris Smith, R-N.J., last month accused the White House of illegally funding a campaign to approve language that would loosen restrictions on abortion in Kenya.
The Kenya Constitution would allow abortion under certain circumstances, such as when the health of the mother is at risk. However, a federal law makes it illegal for the U.S. government to lobby on abortion overseas -- Smith cited a report by the U.S. Agency for International Development that estimated more than $23 million in taxpayer funds were spent on the referendum.
Smith and two other House Republicans have requested a federal investigation into the administration's spending.
However, a U.S. Embassy spokeswoman said last month that organizations in Kenya found to be working on the abortion issue while receiving U.S. funding have had that aid suspended.
Obama said Thursday that the United States would support the effort to implement the new constitution.
Sen. John Kerry, D-Mass., chairman of the Senate Foreign Relations Committee, also called the vote "an important step forward."
"It is now important for Kenya to move forward on the reforms embodied in this historic document and toward peaceful elections in the future," he said in a written statement.
Officials highlighted the peaceful nature of the process after ethnically charged violence left more than 1,000 people dead following the disputed 2007 presidential election. That election raised concern about violence in the aftermath of Wednesday's vote, but opponents of the new constitution conceded peacefully.
The Associated Press contributed to this report.