Obama Hails Elena Kagan's Confirmation as Newest Supreme Court Justice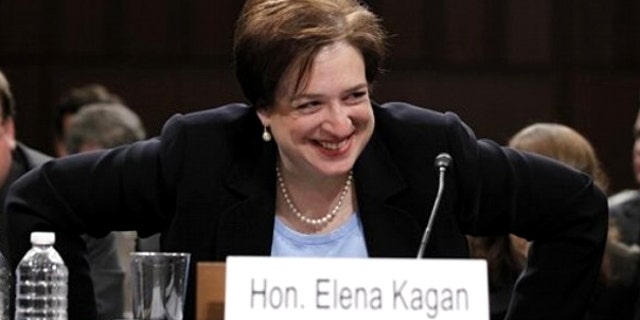 NEWYou can now listen to Fox News articles!
President Obama said Thursday he was confident Elena Kagan would make an "outstanding" Supreme Court justice, following the Senate's vote to confirm her as the fourth woman ever to to a seat on the bench.
"Today's vote wasn't just an affirmation of Elena's intellect and accomplishments. It was also an affirmation of her character and temperament," Obama said.
The final tally in the Senate was 63-37, with five Republicans voting in Kagan's favor and just one Democrat, Ben Nelson of Nebraska, voting no.
A handful of mostly moderate Republicans broke with their party to back her: Maine Sens. Susan Collins and Olympia Snowe, South Carolina Sen. Lindsey Graham, retiring Sen. Judd Gregg of New Hampshire and Indiana Sen. Richard Lugar.
In a rarely practiced ritual reserved for the most historic votes, senators sat at their desks and stood to cast their votes with "ayes" and "nays."
Kagan will be sworn in on Saturday.
The outcome of Kagan's confirmation process was never in doubt, as her low profile and lack of judicial experience gave opponents very little ammunition.
Kagan isn't expected to alter the ideological balance of the court, where Justice John Paul Stevens, who Kagan will replace, was considered a leader of the liberals.
But the two parties clashed over her nomination. Republicans argued that Kagan was a political liberal who would be unable to be impartial. Democrats defended her as a highly qualified legal scholar.
That debate continued in the reaction to Kagan's confirmation.
"With this historic vote today, we will have three incredibly talented women serving together on the Supreme Court for the first time in our nation's history," Sen. Barbara Boxer, D-Calif., said in a written statement.
"Elena Kagan's intellect, broad range of legal experience, sense of fairness and deep respect for the law will make her an outstanding Supreme Court justice," she said.
Sen. Sam Brownback, R-Kan., said he voted against Kagan's confirmation because of his concerns about her judicial philosophy and lack of judicial experience.
"As I read about Ms. Kagan's experience and background and look for clues to her judicial philosophy, I believe it is very likely that she will rely on a set of political views to guide her decisions rather than a strict reading of the Constitution," he said. "After many weeks of public debate, hearings and discussion, I concluded that Ms. Kagan will only perpetuate judicial activism on the nation's highest court."
Charmaine Yoest, president and CEO of Americans United for Life Action, said Kagan "will emerge as one of the Supreme Court's most agenda-driven, reliably pro-abortion justices."
"It is deeply troubling that the Senate voted to confirm Ms. Kagan without fully investigating her role in manipulating medical evidence during the partial-birth abortion debate in 1996-97," she said. "The American people want fair and impartial judges, and Justice Kagan's negative impact will be felt for decades to come."
As an adviser in the Clinton White House, Kagan revised a statement from the American Congress of Obstetricians and Gynecologists to say that partial-birth abortion may sometimes be the best way to save a mother's life. The obstetrician group initially said it could not find any cases in which the procedure was the only option for saving the mother's life.
The Associated Press contributed to this report.