Obama, Chief Justice Roberts Prepare to Face Off on Judicial Cases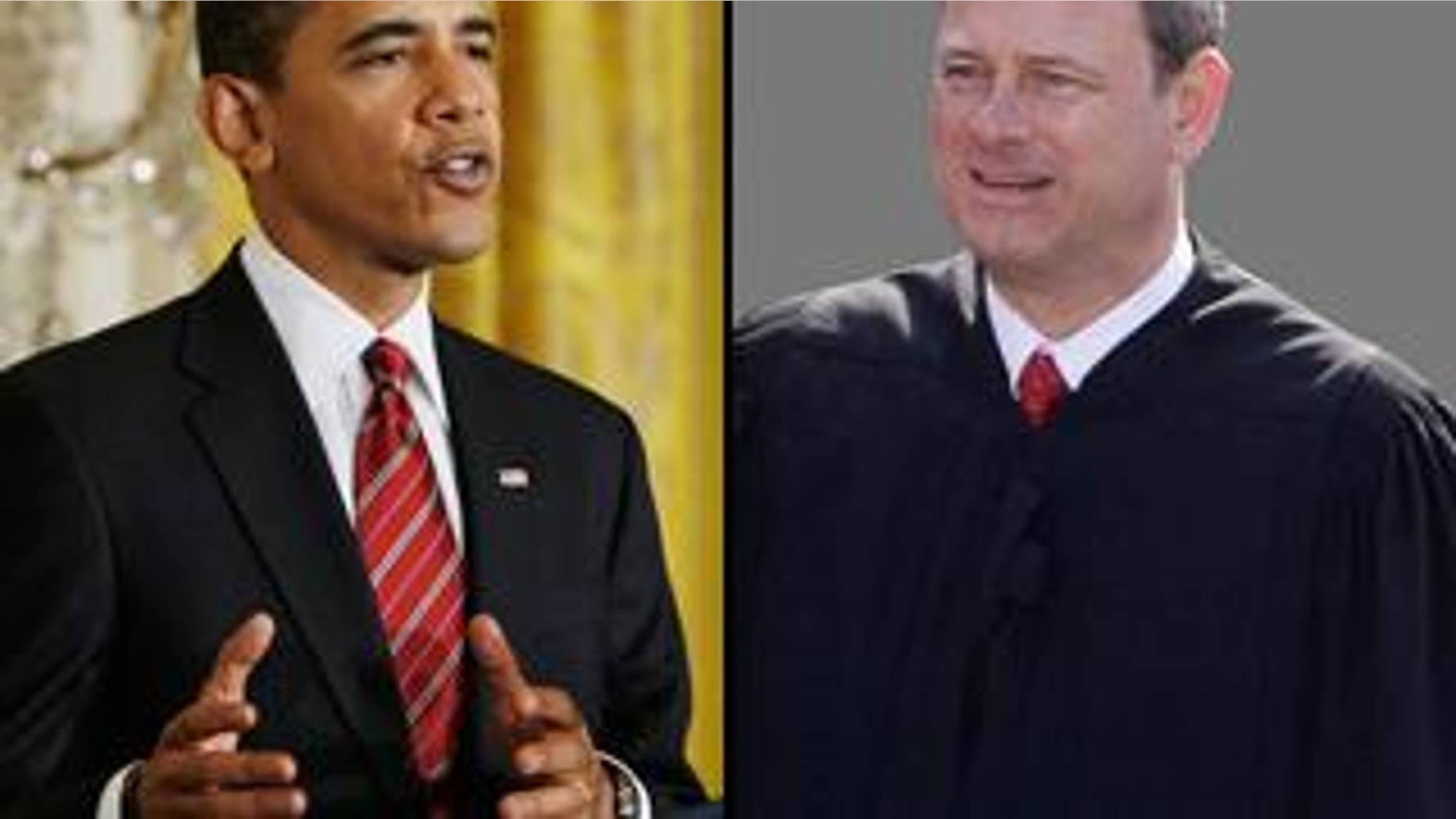 President Obama and Chief Justice John Roberts are a couple of 40-something Harvard Law School grads. And that may be all they have in common. The liberal chief executive and the conservative jurist appear to mix about as well as oil and water.
Their first public face-to-face got off to a bumpy start on Inauguration Day, when millions watched them fumbled their way through the presidential oath of office.
They got it right a day later, when Roberts went to the White House to faithfully re-administer the oath to the new president. But that won't be the last face-off between the Washington powerhouses.
Obama's legal team will go before the Supreme Court this year to argue cases covering numerous issues, and most observers expect the president's lawyers to throw lefts and the chief justice to counter with rights.
Their differences are already well established. Obama was one of 22 Democratic senators who voted against Roberts' confirmation to the Supreme Court in 2005. Less than four years later, Roberts became the first chief justice to swear in a president who voted against him. It's also a good bet that Roberts did not vote for Obama back in November.
But this is par for the course in the nation's capital, and the two have showed no signs of holding grudges.
"I think in Washington, people get used to the idea that lots of paths cross in strange ways, and holding grudges is not the best way to be effective," said Stephen Wermiel, a professor of law at American University.
He pointed to last week's oath redo as proof that the two will have a cordial relationship.
"Roberts could have easily said I'm not coming down to the White House a second time," Wermiel said. "There's no law requiring a Supreme Court justice to give the oath. It could have been a notary from Alexandria."
"I don't think they're going to become best friends," he added, "but I don't necessarily assume there's a deeply strained relationship as the commentary has suggested."
Of the issues that will potentially divide the two this year, Wermiel said terrorism policies and affirmative action may prove to be the biggest.
"You're talking about two things that Roberts has a pretty strong position on," he said. "I don't think he's voted for any kind of an extension to any rights for Guantanamo detainees and combatants. And he has made it clear that race ought not to be used.
"Those are two places where I would expect to find them on opposite ends of the spectrum."
Roberts was in the minority in three rulings concerning detainees when a deeply divided Supreme Court rebuked former President Bush's anti-terror policies, and he can be expected to oppose the new president in future rulings.
Obama began overhauling U.S. national security policy last week with orders to close the Guantanamo Bay detention center within one year, review military trials of the terror suspects being held there, and end harsh interrogations.
In the spring, the Supreme Court will hear the case of Ali al-Marri, a native of Qatar who is the only enemy combatant currently being held on U.S. soil.

In court documents, the government contends that al-Marri met with Usama bin Laden in the summer of 2001 and "offered to be an al-Qaida martyr or to do anything else that al-Qaida requested."
Obama administration officials are still reviewing Al-Marri's case to determine what to do with him. His case hinges on whether the president has the authority to detain as enemy combatants people who are in the United States legally, a question that could apply to U.S. citizens as well as foreigners.
The Obama administration might not want to put that question before Roberts' court, and could decide instead to send al-Marri home or transfer him back into the U.S. court system.
In another case that is expected to display the philosophical differences between Obama and Roberts, the Supreme Court is considering revisions to the Voting Rights Act, the federal law that ensures access to the polls by minorities.
The justices said they will review a lower court ruling that upheld a provision of the law that requires all or parts of 16 states with a history of racial discrimination, most of them in the South, to get approval before implementing any changes in the way elections are held.
Roberts is no fan of the law; he once called it "sordid" because it required officials to consider the race of voters when drawing district lines.
The high court has upheld earlier extensions of the provision that calls for either the U.S. attorney general or a court to sign off in advance on changes to requirements to hold office, polling places and other issues involving the conduct of elections.
"If the Voting Rights Act were struck down, it would be the most significant piece of federal legislation the court has struck down in the last 70 years," said Nathan Persily, a professor of law and political science at Columbia Law School. "The Voting Rights act has been the standard by which other federal rulings have been judged."
Under Roberts, the court has looked skeptically at government efforts to take race into account in the assignment of students to public schools and the drawing of electoral districts.
The high court also accepted a case looking at whether a decision by New Haven, Conn., to scrap a promotion exam after too few minorities passed it violates the civil rights of white and Hispanic firefighters who did well enough to advance.
Judging by Roberts' decisions in the past, it's unlikely he'll agree with Obama's position on any of these cases. Nonetheless, most observers believe the Supreme Court's rulings won't affect their relationship.
"I think they probably have a mutual respect for each other," Persily said.