Obama blasts Republicans on defense cuts in VFW speech, ahead of Romney visit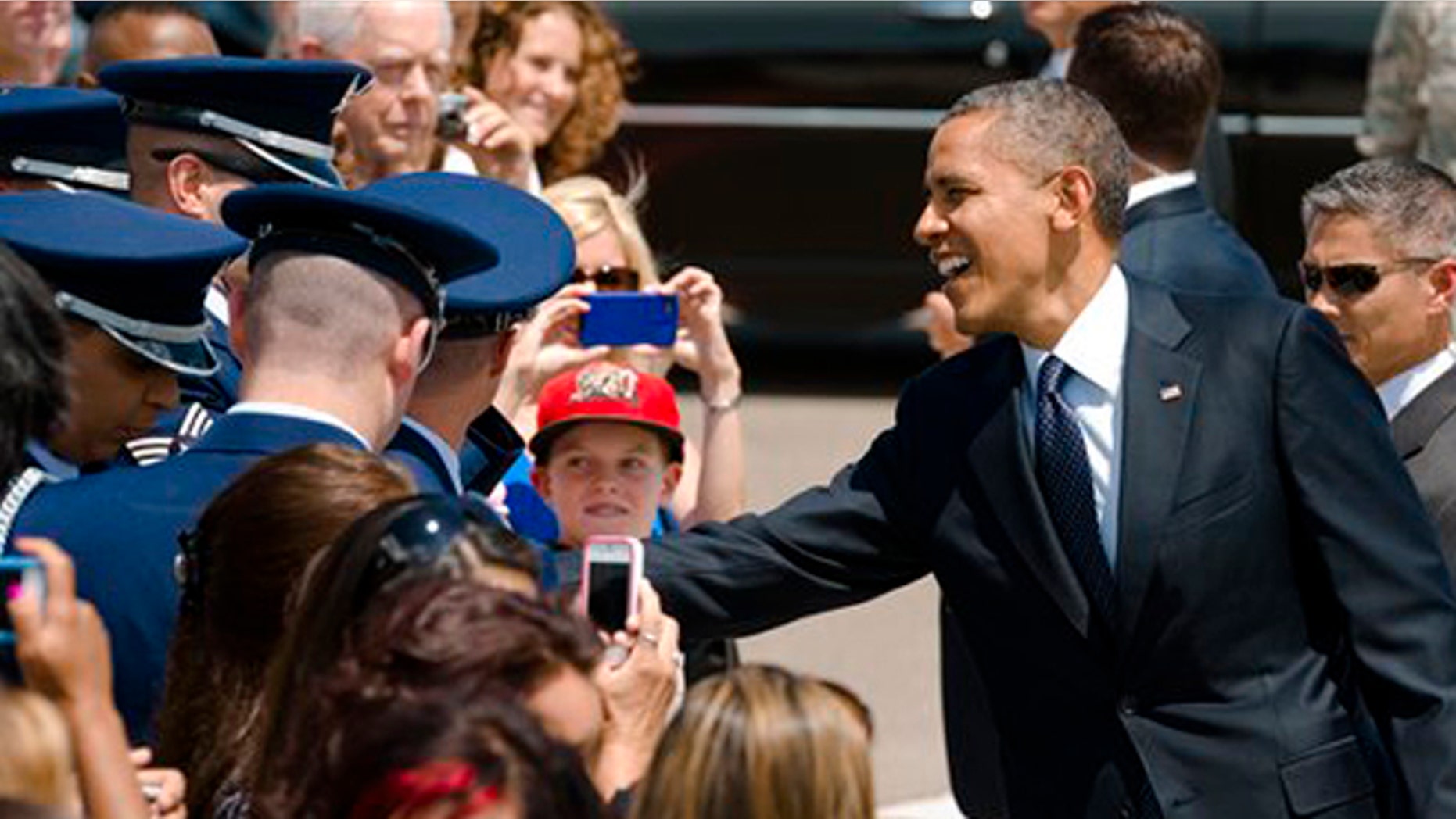 Ahead of a speech Tuesday by Mitt Romney to the same group, President Obama courted war veterans by claiming Republicans are willing to slash defense spending to balance the federal budget while extending tax cuts to the country's highest earners.
The president delivered the speech Monday to the Veterans of Foreign Wars, which his Republican opponent will address Tuesday afternoon before heading abroad on a trip to Britain, Israel and Poland.
Obama used his address to suggest Republicans' call for tax cuts could end up hurting the Pentagon -- by exacerbating the deficit, in turn allowing automatic spending cuts to kick in as the only way to start closing that deficit. The president, though, said this can all be avoided.
"People in Congress ought to be able to come together and agree on a plan, a balanced approach that reduces the deficit and keeps our military strong," he said at the Veterans of Foreign Wars' 113th annual national convention in Reno, Nev. "And there are a number of Republicans in Congress who don't want you to know that most of them voted for these cuts. Now they're trying to wriggle out of what they agreed to.
"Instead of making tough choices to reduce the deficit, they'd rather protect tax cuts for some of the wealthiest Americans, even if it risks big cuts in our military. And I've got to tell you, VFW, I disagree."
Republicans fired back after the speech, though. House Armed Services Committee Chairman Buck McKeon accused Obama of avoiding his share of responsibility for the automatic defense cuts.
"President Obama played no small part in setting the time bomb that is sequestration. Indeed, automatic defense cuts were included in the Budget Control Act at his insistence," McKeon, R-Calif., said in a statement after the VFW speech. "Now he owes our troops his best efforts to defuse the cuts. Ultimatums from the campaign trail are not enough."
The president reminded the audience Monday that he made good on his promise to find and kill Usama bin Laden, and he vowed more job-finding and professional help for returning veterans.
He also suggested Romney has offered little to show he is ready to be commander in chief.
"As we look ahead to the challenges that we face as a nation and the leadership that's required, you don't just have my words, you have my deeds," Obama said.
With both men were going after the military vote, Obama also highlighted  his signature national security policies -- chiefly ending the unpopular war in Iraq and winding down the war in Afghanistan.
He also mocked Romney's opposition to the 2014 timeline for ending the Afghan war, saying: "When you're commander in chief, you owe the troops a plan."
For at least one week, foreign policy moved near the front of a campaign that has primarily focused on the economy. Romney is heading to England, Israel and Poland to show he can step onto the world stage.
Obama's address to the veterans group, meanwhile, attempted to raise doubts about Romney's readiness.
Romney is scheduled to address the VFW on Tuesday, before leaving the country.
He, too, was back on the attack, after both candidates suspended their campaigns following the massacre early Friday at a suburban Denver movie theatre.
While his campaign popped out press releases about "another dismal day in the Obama economy," Romney was telling donors in California that Obama is "out of ideas and out of excuses."
The race is tight, both nationally and in the select states expected to decide the outcome, polls show.
That leaves little time for either side to dial down.
Four years ago, trying to burnish his own credentials against military hero Sen. John McCain, Obama traveled extensively to the Middle East and Europe, with stops in both war fronts of Afghanistan and Iraq. Obama adviser Robert Gibbs said the question for Romney is whether his trip "will be similar substantively" for voters.
In California, Romney was raising money in the wealthy and Republican-heavy area of Orange County on Monday after holding three fundraisers in the San Francisco Bay area the previous night.
He was expected to raise $10 million during the swing.
Obama is on a previously scheduled three-day trip that includes campaign fundraisers Monday in California and Tuesday in Seattle. He was expected to raise more than $6 million on the West Coast.
The Associated Press contributed to this report.