Obama appeals to middle class, jabs at Romney in weekend of furious campaigning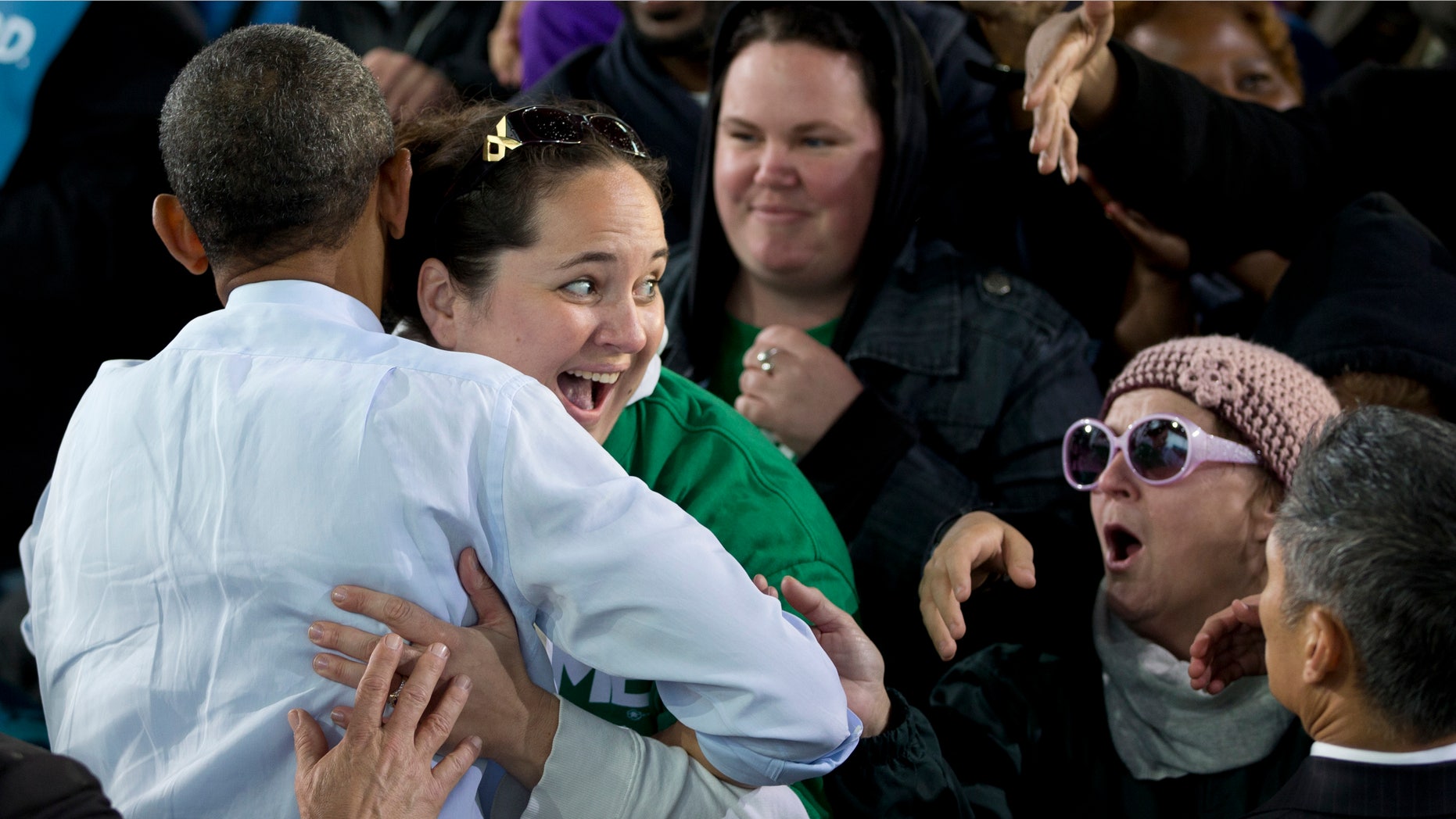 President Obama on Saturday made his appeal to middle class voters while taking a few swipes at Mitt Romney as the presidential campaigns charged into the weekend with well-honed messages for potential voters in several states.
"This country doesn't succeed when only a few do well," the president said during a early-evening rally in Milwaukee. "America  succeeds when the middle class does well."
The president also attacked Romney plan to extend tax cuts to all Americans by saying he could pay more "and Mitt Romney could sure afford to pay a little more."
The president's comments came one day after Romney release a summary of his 2011 tax returns and after a recent video surfaced in which the GOP presidential candidate suggested nearly half of Americans don't pay taxes.
"We can't move forward if we've got leaders who write off half the nation," the president said. "I don't see a lot of victims (here) today."
Earlier Saturday, GOP vice presidential candidate Rep. Paul Ryan was in Miami where he told a crowd full of Cuban-Americans that he and Romney will restore the American Dream that brought them to this country and be tougher than Obama on the Castro regime.
"People aren't working and opportunity is slipping away," Ryan said at a campaign stop in the city's Little Havana neighborhood. "People pick up and they go for a better life in this country … Mitt Romney and I are trying to restore that."
He also attacked the president for his recent remarks he made on the Spanish-language Univision network about his struggle to change Washington. Ryan also attempted, as he has before, to convince potential voters that he and Romney have the region's best interest at heart, considering his mother is a resident.
Vice President Joe Biden was busy in New Hampshire trying once again to assure middle-class voters that Democrats are the true champions of the middle class. Biden, whose roots in working-class Scranton, Pa., appeal to union crowds, was also trying to secure the union vote for the president and other candidates in the Democratic Party, which has long benefited from organized labors' support – from campaign cash to extensive get-out-and-vote efforts.
"There is a middle class because of the word union," Biden said in a union hall in Manchester, N.H. "We need all volunteers because we are going to be outspent by super PACs. It's a knock on the door."
The campaigns enter the final six weeks of the race amid protests in the Middle East and North Africa in which 40 people have been killed, including four Americans, and efforts to learn whether the sieges were pre-planned and terrorist attacks.
The camps in recent days have also tried to capitalize on earlier-made statements by the rival candidate – the secretly recorded one this year in which Romney said 47 percent of Americans don't pay taxes and are "dependent on the government."
The Romney camp took aim at Obama saying 14 years ago in an audio clip: "I actually believe in redistribution, at least at a certain level, to make sure that everybody's got a shot."
The race for the White House remains close and will likely be decided in several battleground states, including Florida, Colorado, Iowa, New Hampshire, North Carolina, Ohio, Virginia and Wisconsin.
This week, Gallup released a poll showing the candidates locked at 47 percent each, while a Fox News poll showed Obama leading by 7 percentage points among likely voters in Ohio (49-42 percent) and Virginia (50-43 percent) and holding a five-point edge in Florida (49-44 percent.)
A recent Wall Street Journal/NBC/Marist poll showed Romney trailing in Colorado, Iowa and Wisconsin.
The poll show Romney trailing Obama 45 percent to 50 percent in Wisconsin where Romney had hoped to grow support after picking Ryan, who represents that state in Congress.
Still, Obama will be in Wisconsin on Saturday for three campaign-fundraising events, a sign political experts say indicates the race there remains tight.
Obama has not campaigned in Wisconsin since February. No Republican presidential candidate has won Wisconsin since Ronald Reagan in 1984.
The Romney campaign responded to Obama's visit to Wisconsin just minutes after the president spoke.
"After an absence of 220 days, President Obama has finally returned to Wisconsin – a state he won by over 14 points four years ago," said campaign spokeswoman Amanda Henneberg. "In Wisconsin, and all over America, people are tired of the president's false attacks and broken promises. … America can't afford four more years of Barack Obama."
The first lady is attending an awards ceremony Saturday night in Washington for the Congressional Black Caucus Foundation.
Biden made two campaign stops in New Hampshire and was joined by wife Jill Biden.
Romney was fundraising in California while Ryan made two stops in Florida, including an afternoon visit in Orlando, a town hall at the University of Central Florida. He was joined in Miami by former Florida GOP Gov. Jeb Bush and Florida Sen. Marco Rubio.
"You know, just a couple days ago on Univision, President Obama admitted that he can't change Washington from the inside," Ryan said in Miami. "Why do we send presidents to the White House in the first place?"
He also said about the Castro family's grip on Cuba, "We need to crack down on this regime."