Obama Administration Required Cities to Participate in 'Voluntary' Immigration Program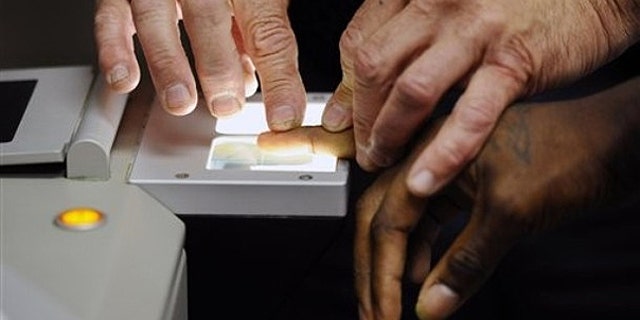 WASHINGTON -- A voluntary program to run all criminal suspects' fingerprints through an immigration database was only voluntary until cities refused to participate, thousands of recently released documents show. The Obama administration then tightened the rules so that U.S. cities had no choice but to have the fingerprints checked.
The documents made public by the Homeland Security Department provide a behind-the-scenes glimpse of how the administration scrambled to quiet the criticisms and negative publicity surrounding the immigration enforcement program known as Secure Communities.
The administration rewrote the program's participation rules, the documents show, considered withholding federal funding and FBI information from resisters and eventually dug up case law to justify requiring cooperation.
Throughout the turmoil, according to the documents, top officials knew they would get local resistance and were advised in late 2009 that the fingerprints could be checked against the immigration database without local buy-in.
"The SC (Secure Communities) initiative will remain voluntary at the state and local level. Until such time as localities begin to push back on participation, we will continue with this current line of thinking," according to an e-mail written by Randi Greenberg, the communications and outreach chief of the program and sent to several people whose names DHS blacked out before releasing the documents.
The pushback came. Washington, D.C.; Cook County, Illinois; Santa Clara, California; Arlington, Virginia; San Francisco; Philadelphia; and the states of Oregon, Washington, Minnesota and Colorado either raised questions or tried to avoid participating, according to the documents. The communities are only a small percentage of more than 1,000 that willingly became part of the program or didn't oppose the state signing them up with Immigration and Customs Enforcement.
By fall of last year, ICE decided local officials could not stop immigration officials from culling the fingerprints. The locals could only refuse to receive the information from the federal government on the immigration status of people they were holding in their jails. Local officials, however, still had to hold non-citizens for ICE if asked.
Some local law enforcement agencies generally resist the job of policing immigration. Politically, they feel it's a federal responsibility. Practically, they want residents to feel free to report crimes and act as witnesses without fear of being caught as an illegal immigrant.
The documents were released as a result of a Freedom of Information lawsuit filed by the Benjamin Cardozo School of Law in New York, the National Day Labor Organizing Network and the Center for Constitutional Rights, which oppose Secure Communities. The Associated Press obtained the documents from Homeland Security after a New York federal district court judge overseeing the lawsuit ordered them made public.
Fingerprints of all criminal suspects collected by local law officers have always been forwarded to state agencies, which then send them to the FBI to check against its criminal histories and fingerprint database.
Under the Secure Communities program, the fingerprints also are run through the Homeland Security Department's immigration database, and authorities can determine the suspect's immigration status and begin deportation proceedings if necessary.
ICE hopes to be checking fingerprints collected from more than 30,000 booking sites in the country by 2013.
As of Feb. 1, Secure Communities had 1,006 cities and counties in 38 states, according to ICE. The program is credited with the deportations of at least 58,300 immigrants convicted of crimes.
ICE declined to make available some of the top officials mentioned in the e-mails, in part because the agency remains involved in a lawsuit with the advocacy groups over the documents' release.
In a statement, ICE repeated what it is now telling local officials: The fingerprint sharing is between federal agencies, and local communities can't opt out of sending fingerprints to the federal government. Their only choice, ICE says, is to not receive the results of the fingerprint check, leaving them vulnerable to claims that they don't care about illegal immigrants in their jail.
"This program has already resulted in the arrest of more than 59,000 convicted criminal aliens, including more than 21,000 convicted of major violent offenses like murder, rape and the sexual abuse of children," an ICE official who declined to be identified by name said in an e-mailed statement.
Most of the participating states and communities signed up voluntarily -- the city of Houston was the first. But the trouble began in so-called sanctuary cities -- jurisdictions that have passed laws prohibiting law enforcement from asking people whether they are allowed to be in the country, unless necessary for an investigation.
When Secure Communities began, the federal government told law enforcement agencies the program was voluntary and if they chose, they could "opt-out" of having fingerprints from their communities forwarded to DHS, several e-mails and documents show.
Answering a written question from Congress last year, ICE said the agency "does not require any entity to participate in the information sharing technology at the state and local level."
But even as it said this, ICE officials were discussing whether their program was indeed voluntary, as the Aug. 26, 2009, e-mail from Greenberg shows.
Opposition from the few resisters grew strong enough to create significant angst within ICE. E-mails show month after month of wrestling with how the agency would respond when it was asked whether a local jurisdiction could "opt out" of Secure Communities. In some months, the issue appears to be settled, only to be followed by another string of e-mail exchanges on whether communities could opt out.
Last year, ICE posted on its website a statement titled "Setting the Record Straight" to correct what officials saw as misinformation issued by advocates. But documents show that too had to be rewritten.
"The (Secure Communities) 'Setting the Record Straight' document currently posted on the SC website should be modified to remove the information regarding how a jurisdiction can 'opt out' of activation," says an undated document titled Recommendations for Outreach on Required Activation of Secure Communities. It was attached to a Sept. 15, 2010, e-mail sent to Greenberg.
As the District of Columbia's city council considered a bill last summer prohibiting police from participating in the program, ICE considered cutting off money the federal government pays local communities for holding immigrants.
"Grants should be denied them in the future if the bill referred to below by (name redacted) passes. It is absurd to claim that the presence of illegal aliens in your jails is an undue burden at the same time you refuse to cooperate with ICE in removing them . (In My Humble Opinion)," said a May 5, 2010, e-mail sent to Susan Penney and others with the subject FW: Update on D.C..
In a Sept. 29, 2010, e-mail, Gibson suggested refusing to give criminal history information from the FBI to local officials who didn't participate. "If you want their data, you play ball with all federal partners," she said in her e-mail.