Numerous Tea Party chapters claim IRS attempts to sabotage nonprofit status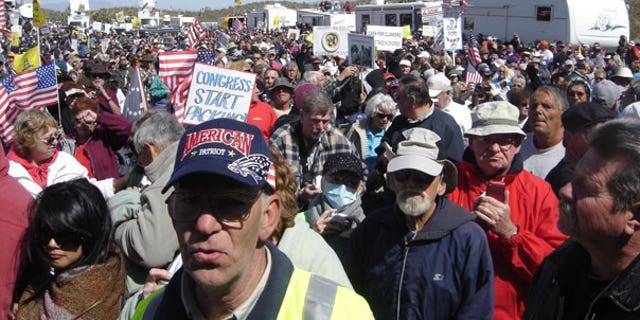 NEWYou can now listen to Fox News articles!
Tea Party chapters around the nation are blasting the Internal Revenue Service after the federal agency sent them letters demanding information about their politics, contributors and even family members.
In letters sent from IRS offices in Cincinnati earlier this month, chapters including the Waco (Texas) Tea Party and the Ohio Liberty Council were asked to provide a list of donors, identify volunteers, financial support for and relationships with political candidates and parties, and even printed copies of their Facebook pages.
"Some of what they (the IRS) asked was reasonable, but there were some requests on there that were strange," Toby Marie Walker, president of the Waco Tea Party told FoxNews.com. "It makes you wonder if they do this to groups like ACORN or other left-leaning groups."
Read the complete letter sent to the Waco Tea Party by the IRS
The chapters that received requests were registering for nonprofit status as a 501(c)4 organizations. The classification mainly differs from 501(c)3 groups in that donors cannot deduct their contributions from their taxable income.
The tax code places fewer restrictions on 501(c)4 groups, allowing them to lobby in furtherance of their organizations' mission. They are also permitted to engage in political activity like endorsing candidates and donating money and time to specific campaigns, though it cannot be their primary activity.
The more tightly controlled, but more heavily subsidized 501(c)3 groups may not participate in specific campaigns at all.
Tea Party leaders say they were particularly offended by demands that they name donors and volunteers, which is required by law, but were also asked to list any political ambitions of board members or their relatives.
Colleen Owens, a Virginia-based Tea Party activist,claims that her chapter had a similar letter sent to them just two weeks before they were to hold a local convention in which they were asked to provide nearly 500 pages in documents.
They were required to return the requested documents two days before the start of the convention.
"Most of these groups are not wealthy and they've had their applications for 501(c)4 status since 2010," Owens said. "We only had two weeks to gather everything. The timing was suspicious."
"When determining whether an organization is eligible for tax-exempt status, including 501(c)(4) social welfare organizations, all the facts and circumstances of that specific organization must be considered to determine whether it is eligible for tax-exempt status. To be tax-exempt as a social welfare organization, they must be primarily engaged in the promotion of social welfare," said a spokesman for the IRS.
"Career civil servants make all decisions on exemption applications in a fair, impartial manner and do so without regard to political party affiliation or ideology."
Experts contacted by FoxNews.com agreed the timing of the letters was problematic, though the information requests are not particularly sinister.
"These are standard inquiries," said Ellen Aprill, a professor who teaches tax law at Loyola Law School in Los Angeles. "If they (the Tea Party chapters) do nothing but campaign intervention, then they have to file as a 527 organization."
But Tom Zawistowski, of the Ohio Liberty Council, a Tea Party chapter, called questions about donors, volunteers and members' relatives "intelligence gathering."
"This has nothing to do with tax status," Zawistowski said. "It has to do with political affiliation. The questions are too close to home."
"It's very intimidating and people are scared," Owens said