NRA joins lawsuit challenging New York's gun control law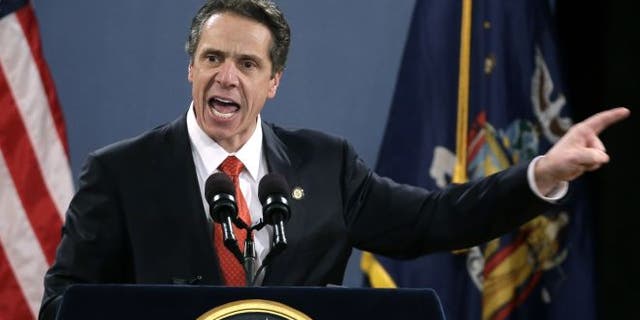 ALBANY, N.Y. – The National Rifle Association on Thursday joined the the New York State Rifle and Pistol Association, other sportsmen's groups, firearms businesses and individual gun owners in a lawsuit challenging the state's strict new gun control law.
The federal suit, filed in Buffalo, said the law violates the constitutional rights of "law-abiding citizens to keep commonly possessed firearms in the home for defense of self and family and for other lawful purposes."
In announcing the NRA's support for the lawsuit, Chris Cox, executive director of NRA's Institute for Legislative Action, said Gov. Andrew Cuomo "usurped the legislative and democratic process" in passing the measures without sufficient input from the public.
"Despite the wishes of Governor Cuomo, law-abiding citizens have a fundamental right to keep commonly possessed firearms for defense of themselves and their families and for other lawful purposes including the enjoyment of New York's rich hunting and sporting heritage," Cox said in a news release.
The challenge takes aim at two key provisions of the law: a lower limit on magazine capacity and an expansion of the state's assault weapons ban to include some popular and formerly legal semi-automatic rifles.
The law pushed through by Cuomo on Jan. 15 -- the first new gun restrictions in the nation following the Dec. 14 massacre at Sandy Hook Elementary School in Newtown, Conn. -- also requires registration of an estimated 1 million older guns.
Other provisions require five-year renewals of handgun licenses statewide, direct mental health professionals to notify authorities of patients deemed likely to seriously hurt themselves or others and require federal background checks for private gun sales in New York. It will require registration of ammunition sellers and buyers.
The law also reduces the size of legal magazines from 10 bullets to seven, though lawmakers and Cuomo have recently proposed amending that.
The New York State Rifle & Pistol Association, the lead plaintiff and NRA affiliate, said it was bringing the suit on behalf of its 45,000 members. President Tom King has estimated there are about 4.75 million gun owners among New York's 19 million residents. Other plaintiffs include the Westchester County Firearms Owners Association, Beikrich Ammunition Corp., Blueline Tactical & Police Supply, gun manufacturer Bedell Custom and the Sportsmen's Association for Firearms Education.
"Criminals have and use magazines without any limitation in capacity. The act's provisions on magazines put law-abiding citizens at a grave disadvantage to criminals, who will not comply with the seven-round limit," the suit said. Likewise, it said the ban on assault weapons, "a pejorative term," is being broadened "to describe countless numbers of rifles, handguns and shotguns that were commonly possessed under prior law."
The suit seeks a ruling that both provisions violate the constitution's Second Amendment right to bear arms and the 14th Amendment right to equal protection under the laws as well as injunctions stopping enforcement. The suit does not challenge many other provisions, including stronger penalties for gun crimes.
State Attorney General Eric Schneiderman, named along with Cuomo as a defendant, said Thursday the law is "making New York communities safer, while ensuring constitutional protections to responsible gun owners. My office will continue to aggressively defend the protections embodied in the law because every New Yorker deserves to live in a safe neighborhood free from the threat of gun violence," he said.
The Associated Press contributed to this report.