Nike boss Phil Knight donates $500,000 to Oregon GOP candidate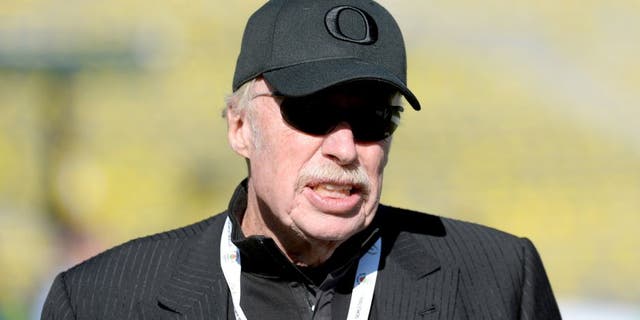 With Oregon's gubernatorial race just a few months away, Republican nominee Knute Buehler's campaign received a big boost: a $500,000 donation from Nike co-founder Phil Knight.
The donation, which was made Monday and appeared in Oregon's campaign finance database Wednesday, propelled Buehler's total campaign funding to just over $700,000. But he still trails Democratic incumbent Gov. Kate Brown, who has $1.4 million.
"I'm thrilled to have Phil Knight — one of Oregon's most influential citizens and innovative business leaders — on our team," Buehler, a Bend orthopedic surgeon, said in a statement. "Phil Knight looks beyond narrow political labels — and so do I."
Knight has donated to Buehler in the past, ironically in a 2012 race against Brown for secretary of state, which Buehler lost.
The 79-year-old billionaire, who began his career selling shoes out of the trunk of his green Plymouth Valiant before Nike became a global sneaker and sports apparel brand, is known for making contributions to candidates of both major parties. (Knight ranked No. 18 on the Forbes 400 list of richest Americans in 2016, with an estimated net worth of $25.5 billion.)
In Oregon's 2010 gubernatorial race, Knight contributed $400,000 to Republican candidate Chris Dudley, followed by a $250,000 donation to former Democratic Gov. John Kitzhaber. He also made a slew of donations to Republicans in legislative races, the Oregonian reported.
This year Buehler faces an uphill battle, as a Republican hasn't been elected governor of Oregon in more than 30 years. However, he has positioned himself as a moderate – supporting the expansion of birth control, while conveying traditional Republican values in other areas, such as government spending.
Following the resignation of Kitzhaber, Brown defeated Republican challenger Bud Pierce in the 2016 gubernatorial special election to serve out the remaining two years of Kitzhaber's term.
Brown became Oregon's first openly bisexual governor, and this week signed into law a progressive abortion bill that provides funding even for illegal immigrants seeking to end their pregnancies, Fox News reported.