New York Rep. Grimm indicted on federal fraud, tax charges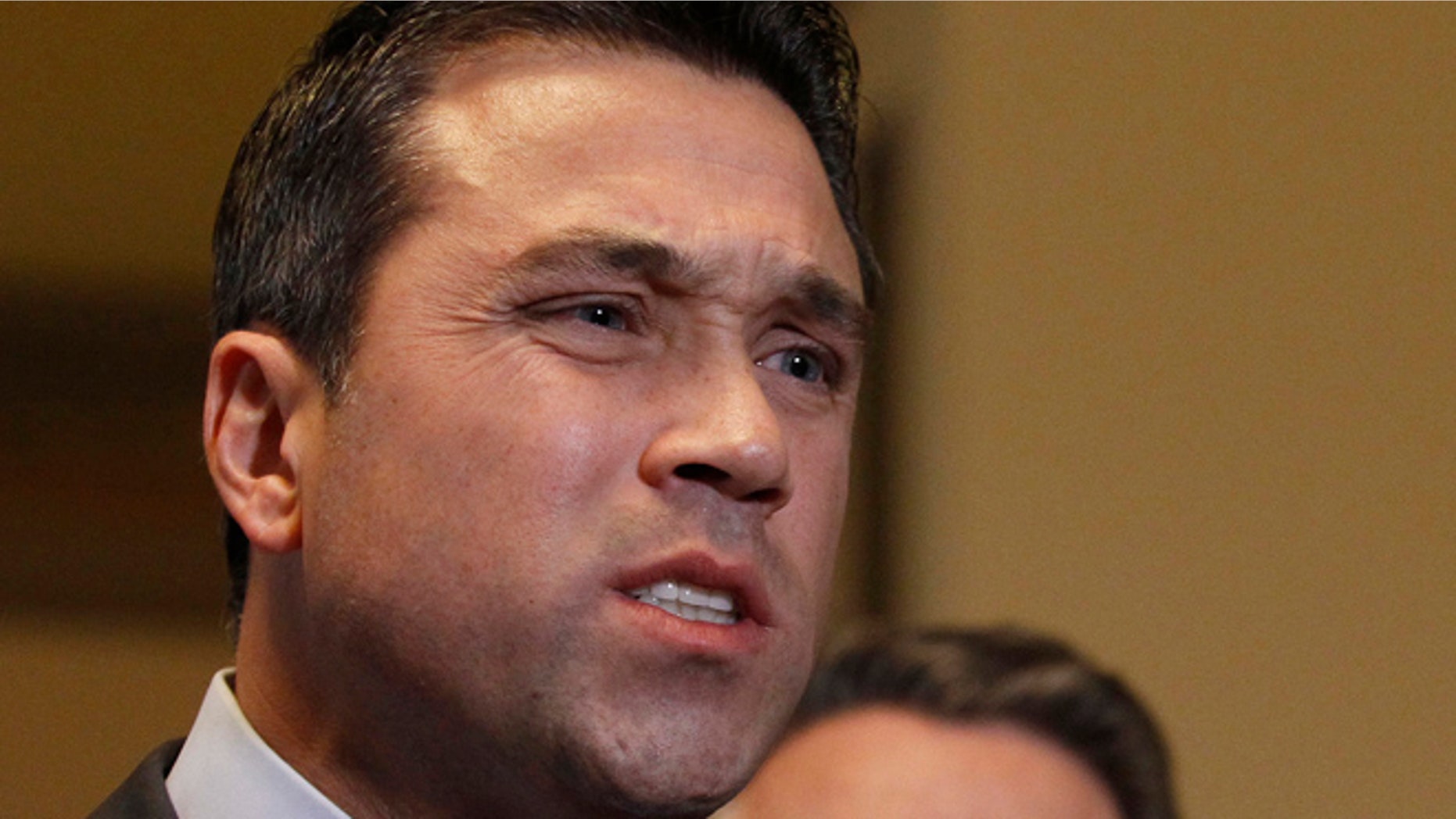 New York Rep. Michael Grimm was indicted Monday on 20 counts of fraud and other charges relating to a Manhattan restaurant he owned and operated, accused by federal prosecutors of evading the IRS and making over $1 million in revenue "disappear."
The Republican congressman, who is a former FBI agent, pleaded not guilty at his arraignment in Brooklyn. After he was arrested earlier in the day, Grimm was released on $400,000 bond. He was ordered to stay within the continental U.S., and surrender his passport by May 11.
"Michael Grimm made the choice to go from upholding the law to breaking it," U.S. Attorney Loretta Lynch said at a press conference detailing the charges. "And in doing so, he turned his back on every oath he had ever taken."
Just hours after Justice Department officials unveiled the charges, Grimm vehemently defended himself against what he called a "political witch hunt."
"We're going to fight tooth and nail until I am fully exonerated," Grimm said outside the courthouse, flanked by his attorneys.
His attorneys would not discuss the charges against him, but the congressman vowed to stay in office and continue running for re-election in the fall.
"I don't abandon my post," he said. He claimed the bright spot, after a lengthy FBI investigation, is that he now knows who his accusers are. Taking a defiant tone, Grimm described the case as a "vendetta" designed to get him out of office.
Late Monday, Grimm sent a letter to House Speaker John Boehner saying he was stepping down as a member of the House Financial Services Committee.
Grimm is a former FBI special agent and Marine Corps combat veteran. Justice Department officials highlighted this profile in describing the significance of the charges.
"He broke our credo," FBI Assistant Director George Venizelos said. "In this 20-count indictment, Representative Grimm honored a new motto: fraud, perjury and obstruction."
The indictment covered mail and wire fraud charges and charges pertaining to false federal tax returns. At the heart of the indictment was an alleged "scheme" to hide sales and wages at his Upper East Side restaurant, Healthalicious, which he ran from 2007 to 2010 before entering Congress.
Prosecutors described a relatively simple scheme, where Grimm allegedly took cash from the register of his restaurant and used part of that to pay workers off the books. In doing so, he allegedly under-reported his revenue, "making over a million dollars simply disappear."
Lynch described it as a "deliberate plan to systematically lie to every taxing authority to whom his business had an obligation to report."
Grimm was also accused of hiring undocumented workers.
The charges did not appear to focus on the financing of Grimm's 2010 congressional campaign, which was initially thought to be the focus of a long-running FBI investigation.
According to The Washington Post, Healthalicious was fined $88,000 for not providing workers compensation to employees. Workers also reportedly accused the company of not following state wage laws and giving workers cash payments to skirt New York tax and business laws.
The House Ethics Committee announced in November that Grimm was under investigation for possible campaign finance violations. That committee said it would defer its inquiry because of the separate Department of Justice investigation.
Grimm made headlines in January after confronting a New York City cable news station reporter who tried to question him about a long-running FBI investigation into campaign finance on a balcony in the Capitol.
After reporter Michael Scotto finished his report, Grimm stormed back, leaned into him and said, "Let me be clear to you. If you ever do that to me again, I'll throw you off this (expletive) balcony."
Scotto protested, saying he was asking "a valid question."
During that race, Grimm has acknowledged receiving $250,000 to $300,000 in contributions from followers of an Israeli rabbi, Yoshiyahu Yosef Pinto. Some members of Pinto's congregation subsequently said they made tens of thousands of dollars in illegal contributions, including gifts passed through straw donors.
Grimm has denied knowledge of any improprieties. The Israeli businessman who had served as Grimm's liaison to Pinto's followers, Ofer Biton, pleaded guilty in August to an immigration fraud charge.
Three days after that guilty plea, the FBI filed a sealed criminal complaint accusing a Houston woman who had been romantically involved with Grimm of using straw donors to make illegal campaign contributions. In that case, made public this month, the woman was accused of funneling at least $10,000 to Grimm's campaign by passing them through friends who agreed to have the donations listed under their names.
The Associated Press contributed to this report.