New poll: Dems faring worse than 2010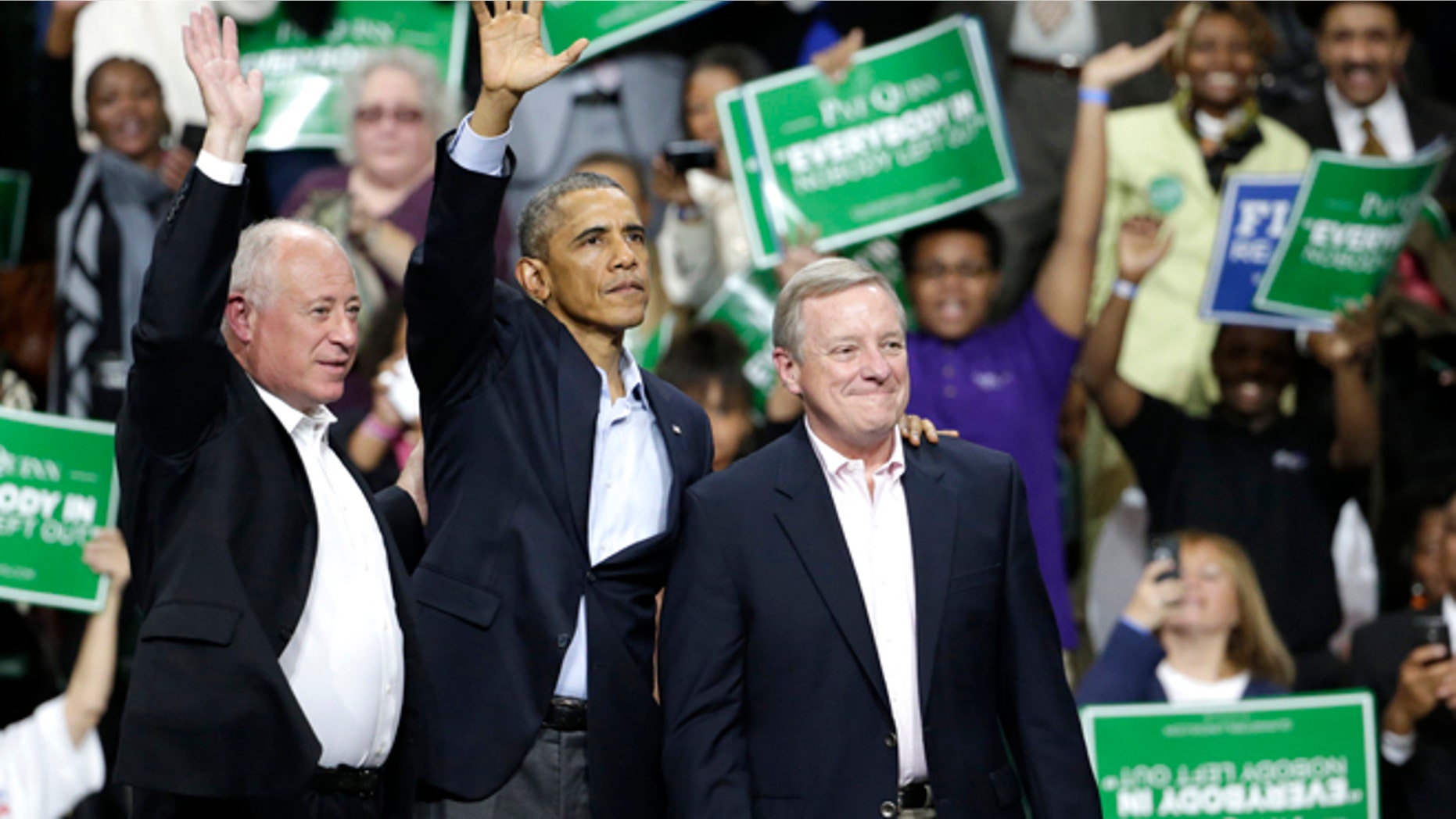 **Want FOX News First in your inbox every day? Sign up here.**
Buzz Cut:
• New poll: Dems faring worse than 2010
• Because feminism: Cosmo to deploy models on 'party bus' to take students to vote for Hagan
• Kelly File: Importing Ebola?
• Don't worry Wall St., Hillary still hearts corporations
• That's not what you would call 'fun size'
-- One week until Nov. 4 --

NEW POLL: DEMS FARING WORSE THAN 2010
What's the point of generic ballot poll questions? After all, there are no generic candidates. And that's precisely how candidates win in difficult environments in this age of nationalized elections. They define their opponents as out of the mainstream and themselves as independent of their own parties. But in the closing days of an election such as this one, there may be no metric more valuable since it is one of the only insights we have into how late-breaking voters will cast their ballots in close contests. If candidates haven't succeeded in defining those terms by now, especially given the surge in early voting, it is unlikely they will be able to. And if the late breakers go as the new WaPo/ABC News poll suggests, Democrats will be headed to bed early on Nov. 4 while Republicans are uncorking the celebratory champagne. The 6-point advantage for the GOP among likely voters would be enough to flip several toss-up races to Republican candidates and might even be enough to shoo a couple of more elephants into the barn, including Scott Brown in New Hampshire.

[WaPo: With multiple crises confronting the country … a majority now says the government's ability to deal with big problems has declined in the past few years. Among those who say this, more – by 3 to 1 – blame President Obama and the Democrats rather than Republicans in Congress."]

Double, double, toil and trouble - Struggling with female voters and young voters, Democrats fare worse in the latest WaPo/ABC poll than they did at the same point ahead of the disastrous 2010 election and at the same level as the punishing 1994 midterm elections that cost them both houses of Congress. Without any significant increase in Democratic intensity since the previous polling cycle, the auguries are getting dire for the president's party.

[Poll Watch: The latest Fox News Polls on the 2014 midterm elections, President Obama's job approval ratings, ISIS and Ebola will be released in the 6 p.m. ET hour during "Special Report with Bret Baier."]

WHITE HOUSE PREPARES TO BATTLE GOP-LED SENATE
Democrats are keen to avoid stating the obvious: That they expect to lose the Senate. But the Obama White House is already drawing up plans to divide and conquer a new Republican Senate majority. Someone at the White House shared with Politico the administration's top pressure points in a GOP-controlled Senate:  Kelly Ayotte of New Hampshire, Rob Portman of Ohio, Ron Johnson of Wisconsin, Mark Kirk of Illinois and Pat Toomey of Pennsylvania. Those are the senators Team Obama expects to be most susceptible to pressure because they represent blue states and are up for re-election in 2016.

New at Fox News Opinion - Sen. John Barrasso, R-Wyo., makes his case for change: "It will be better for the country if the American people wake up next Wednesday morning to a new reality in Washington.  President Obama should get ready for a real year of action."

OBAMA VISITS WARD HE CARRIED BY 99 POINTS
How narrow is President Obama's appeal this cycle? Just consider where is making one of his only campaign appearances: Milwaukee Journal-Sentinel: "When President Barack Obama arrives in Milwaukee on Tuesday, his task will be to help mobilize African-Americans and other key Democratic voting groups who still give him positive ratings despite his lackluster standing nationwide. The president will be visiting North Division High School in an overwhelmingly African-American ward that he carried with 99% of the vote in 2012, outpolling Republican Mitt Romney 843 to 5."

[WSJ: "The states the president will be visiting – Michigan, Connecticut, Maine, Pennsylvania and Wisconsin – are not home to this cycle's most critical races. Indeed, he won't be campaigning for Democrats in any of the Senate races that could decide which party controls the chamber for the last two years of his presidency. The only Senate candidate Mr. Obama is currently scheduled to appear with before Election Day is [Democrat] Gary Peters in Michigan, who is so far ahead that Republicans pulled their advertising in the race this month. That's a marked departure from a few months ago when White House officials left open the possibility of Mr. Obama campaigning in Louisiana for incumbent Sen. Mary Landrieu [D-La.]."]

Big labor's big bucks to oust Walker - Unions have made Gov. Scott Walker their top target, with the American Federation of State, County and Municipal Workersdumping over $1 million towards ads attacking the incumbent Republican. Burke is also getting a boost from another $1.3 million from Wisconsin Education Association Council, the state's teachers union.  The Republican Governors association has also put millions of dollars towards Walkers campaign, despite intraparty quarrels over whether its head, Gov. Chris Christie, R-N.J., has been doing enough to help Walker.

WALKER WALKS BACK CHRISTIE JABS
Gov. Scott Walker, R-Wis., is trying to tamp down a tiff with potential 2016 GOP presidential rival Gov. Chris Christie, R-N.J., who is also president of the Republican Governor's Association. The feud erupted after the Weekly Standard's Wisconsinite duo Steven Hays and John McCormack reported the RGA was shorting its support of Walker in a tight re-election fight. Walker reacted saying he was getting outspent by national union backing Democrat Mary Burke and needed more help from the GOP. In a seeming diss of an upcoming visit by Christie, Walker said he was "not looking for surrogates." Speaking with reporters Monday, Walker toned things down a bit saying, "Let me be clear: When I complain about the national groups that come in, I by no means am complaining about the RGA. Gov. Christie's a good friend. He's the only person I'm campaigning with this week who's not from Wisconsin, and that's because he's a friend and he asked if he could come to the state and campaign."

WITH YOUR SECOND CUP OF COFFEE...
Those on the East Coast will not have to go to Cape Canaveral, Fla., to see a rocket launch. Around 6:19 p.m. ET the Antares rocket will start making its way to the International Space Station. As it burns through the evening sky, the rocket's red glare will be visible across much of the East Coast. This launch will be the fourth for the Cygnus, an automated cargo spacecraft that will provide the astronauts on the International Space Station with much needed tools. Weighing in at a 5,050 pounds, it will be the heaviest Cygnus launch to date. Antares is scheduled to be launched from the Mid-Atlantic Regional Spaceport on Wallops Island, Va. Viewers in Washington D.C., will be able to see it looking towards the Jefferson Memorial, 96 seconds after its launch. In the Garden State, spectators looking toward New York can see the rocket pass right over the Empire State Building, a little less than 4 minutes after launch. Business Insider provides a nifty map of when the rocket will come into view.  If you are not on the East Coast, you can watch the launch online here.

Got a TIP from the RIGHT or LEFT? Email FoxNewsFirst@FOXNEWS.COM

POLL CHECK
Real Clear Politics Averages
Obama Job Approval: Approve – 41.7 percent//Disapprove – 54.4 percent
Direction of Country: Right Direction – 27.5 percent//Wrong Track – 65.8 percent
Generic Congressional Ballot:  Democrats – 42.9 percent// Republicans – 45.9 percent

BIDEN: SENATE LOSS WOULD PUSH BACK DEM AGENDA 'SIX TO EIGHT YEARS'
Des Moines Register: "After arriving at an Iowa baseball park Monday for a campaign event, Vice President Joe Biden told Iowans: 'I look out there at that field and the first thing that comes to mind is: 'Put me in, coach, I'm ready to play.' Two Iowa Democrats shared double billing with Biden at Modern Woodmen Park, the local minor-league baseball stadium: [Democratic] U.S. Rep. Bruce Braley, who gave up his northeast Iowa congressional seat to run for U.S. Senate and is trailing slightly in the polls, and incumbent [Democratic] U.S. Rep. Dave Loebsack, who is seeking re-election in southeast Iowa... 'If we lose, we're going to be pushed back another six to eight years. It will break eventually, but this is really important,' [Biden] said."

["What I'm trying to tell you is we better damn well get out this election because there's so much at stake."—Vice President Joe Biden campaigning for Illinois Democrats Monday]

Chickens, man - Iowa Democratic Senate nominee Rep. Bruce Braley has had a rough campaign cycle, most notably for his mocking of Sen. Chuck Grassley, as "a farmer from Iowa," but a close second was his threat of legal action against a neighbor whose four hens crossed onto his vacation home. Free-market group Americans for Prosperity gives voice to the poultry in question in a new ad. The chickens are also apparently pro-tort reform.

Teachers union rakes Ernst over school choice - The nation's largest teachers union is putting six-figures towards an ad slamming Republican Joni Ernst for her support of school choice initiatives. "Joni Ernst is leading the fight to take funding from public school students, and give it to wealthy private schools instead…But there's more. Ernst would eliminate the Department of Education, cutting almost a billion dollars from Iowa schools, and putting college out of reach," a narrator says in the ad from the National Education Advocacy fund.

Where did you go? - The Republican Party of Iowa is hitting Democratic Senate candidate Rep. Bruce Braley for missing 75 percent of Veterans Affairs hearings to attend at least three fundraisers. Iowa's GOP has launched a new site to spotlight that it has been 900 days since the embattled Democrat has attended a VA hearing.

Rubio joins Ernst in Iowa - Sen. Marco Rubio, R-Fla., will join Gov. Terry Brandstad, R-Iowa, and Republican Senate Candidate Joni Ernst as he headlines the Iowa GOP's annual Ronald Reagan Dinner.

BUBBA STUMPS FOR UDALL
KDVR: "Former President Bill Clinton continued the parade of prominent Democratic surrogates in Colorado to stump for Democratic U.S. Sen. Mark Udall in the closing weeks of a race that may shift the balance of power in Washington, DC. Kicking off two rallies over the next 18 hours in Colorado's two biggest swing counties, Clinton echoed the message delivered last week by First Lady Michelle Obama and his wife, former Secretary of State Hillary Clinton, urging voters not to vote their fears about ISIS or Ebola, as he alleged Republicans are encouraging them to do — and he framed the choice for middle class voters as a matter of economic fairness…Clinton also rattled off a list of Udall's work with Republican lawmakers on earmark reform, the Farm Bill, and comprehensive immigration reform, making a more convincing argument about the lawmaker's bipartisan background than the incumbent's campaign has to date…Clinton will rally supporters again Tuesday morning in Lakewood, smack in the heart of Jefferson County, the state's biggest bellwether."

BECAUSE FEMINISM: COSMO TO DEPLOY MODELS ON 'PARTY BUS' TO TAKE STUDENTS TO VOTE FOR HAGAN
WaPo: "Women's magazine Cosmopolitan is sending a 'party bus' with models to North Carolina State University next week to take students to and from the polls on Election Day. The bus is part of a contest won by the university, and the latest in Cosmo's foray into political coverage. This year, the magazine endorsed candidates in 10 races — all Democrats — based on their views on abortion, contraception, and equal pay. 'On Election Day , a bus decked out with snacks, swag, and models (hi, this is Cosmo) will roll up to North Carolina State University, the winner of Cosmopolitan.com's first-ever party bus contest,' the magazine said. 'The bus will shuttle students back and forth to a nearby polling location so students can vote'…Cosmo endorsed Sen. Kay Hagan (D) in the North Carolina Senate race in September."

Poll: still tied in the Tar Heel State -  A High Point University  Poll finds both Hagan and Republican Thom Tillis, receiving 44 percent when respondents were asked who they would vote for if the election were held today or for whom they had voted if they had already voted in the 2014 Senate election. Libertarian candidate Sean Haugh received 5 percent support.

Pro-family group plumps for Tillis - BuzzFeed: "The National Organization for Marriage is dropping more than $100,000 into the heated North Carolina Senate race in its final days. The group, which opposes same-sex couples' marriage rights, spent $117,000 in postcard mailers distributed on Monday in support of Republican North Carolina House Speaker Thom Tillis or in opposition to Democratic Sen. Kay Hagan."

Graham and McCain deploy - Republican Thom Tillis will travel with Sens. John McCain, R-Ariz., and Lindsey Graham, R-S.C. today. McCain will stump with Tillis at Salisbury, N.C., restaurant and will later be joined by Graham in Charlotte.

GEORGIA DEMS PUT OBAMA PRESIDENCY ON THE LINE
Washington Free Beacon: "President Obama is not running for reelection this year, but his presidency is 'on the line,' warns a Democratic Party flyer making its way around Georgia. 'It's up to us to vote to protect President Obama and his legacy as the first African-American President,' the flyer reads. 'Republicans in Congress are doing everything they can to make President Obama fail. They oppose everything the President supports and block every effort to improve our lives."'

POLL: BROWN GAINS IN GRANITE STATE
The latest New England College Poll continues to see a close race for New Hampshire Senate. According to the survey, Republican Scott Brown leads Sen. Jeanne Shaheen, D-N.H., 48 percent to 47 percent. Brown has cut Shaheen's lead among female voters from 5 percent to just over 2 percent.
[The same survey finds a tightening in the race for Governor, Gov. Maggie Hassan, D-N.H., leads Republican challenger Walt Havenstein only by 47.2 percent  to 46.9 percent. Republican Frank Guinta leads Rep. Carol Shea-Porter, D-N.H., 49 percent to 42.9 percent. ]

McCain takes swipe at Shaheen - N.H. Journal: "In an usually stark assessment of a U.S. Senate colleague, Arizona [Republican] Sen. John McCain on Monday said Sen. Jeanne Shaheen has not been 'a serious member' of the Senate Armed Services Committee. 'I don't see her at very many of the hearings. I've not seen her propose any amendments or proposals that have to do with national security,' McCain said after appearing with GOP Senate candidate Scott Brown."

Brown: Washington changed Shaheen - In his latest ad, Republican Scott Brown appears saying Sen. Jeanne Shaheen, D-N.H., "promised to be independent but Washington changed her. The President is not on the ballot but he said his policies are. To change direction, we need to change senators."

[Watch Fox: Campaign Carl Cameron is in the Granite State to bring the latest on the race and how Sen. Jeanne Shaheen, D-N.H., is fending of Republican Scott Brown's rise in the polls.]

LANDRIEU WAFFLES ON REID ENDORSEMENT
Sen. Mary Landrieu, D-La., is the latest Democrat to distance herself from Senate Majority Leader Harry Reid. When asked in a debate Monday whether she would support Reid in the next Congress she responded, "I am going to wait to see what the leadership looks like." Landrieu said in a May interview she would support Reid, later telling reporters after the debate, "I did not change my mind. What I said was — I said two or three months ago in the hallway that I would vote for Harry Reid. Tonight, I said I will consider what the candidates are."

[USA Today: "… in a head-to-head matchup, Cassidy has a 48%-41% edge over Landrieu with 11% undecided."]

Gets behind Ebola quarantine - "We should institute a mandatory 21-day quarantine so anyone traveling between the affected countries & US does not unknowingly spread Ebola." –Sen. Mary Landrieu, D-La., in a Tweet Monday prior to the debate.

KELLY FILE: IMPORTING EBOLA?
The head of the House Judiciary Committee, Rep. Bob Goodlatte, R-Va., appeared on "The Kelly File" Monday to discuss a letter he sent to top Obama administration officials concerning reported plans it has to allow foreign nationals to come to the United States to receive treatment for Ebola. Goodlatte told Megyn Kelly, "there's increasing evidence that they are making those plans," based off of confidential communication his office has received indicating those plans are being developed. Goodlatte blasted the plan saying, "This is simply a matter of  common sense that if you are  concerned about this problem spreading and this is a deadly disease that we're even concerned about the great health care workers when they come back not spreading it, we certainly shouldn't be bringing in the  patients." Watch the full interview here.

MCCONNELL GOES FOR LAUGHS, NOSTALGIA IN CLOSING WEEK
The Hill: "Senate Republican Leader Mitch McConnell (Ky.), fighting for re-election in a tight contest, is up with a new humorous ad in the Louisville television market that echoes the famous 'Bloodhounds' ad that helped first elect him to the Senate. The spot entitled 'Commercials' is a montage of public relations professionals urging the senator to embrace whacky ideas to break through to voters."

MURKOWSKI TO BEGICH: 'NO MEANS NO'
The Hill: "Sen. Lisa Murkowski (R-Alaska) is firing back at 'belittling' comments from Sen. Mark Begich (D-Alaska) in the latest spat between her and Begich heading into Election Day. … Murkowski sent a cease-and-desist letter after Begich used a photo of the two of them in one ad. When asked about that letter in a recent debate, Begich said Murkowski didn't dispute the fact that they'd voted together more than any other bipartisan Senate pair and that she objected because she 'didn't like the photo.' Murkowski fired back. 'That is belittling. ... I think I made very clear that I had objections, serious objections, to how that ad portrayed our relationship. It was an implied endorsement, and I didn't appreciate that. I think Begich knows where I stand in this race,' she said over the weekend. 'Again, no means no.'''

Uhhhhh: AFP asks voters what Dems have done for them - The conservative group Americans for Prosperity is online with a new Web site asking voters in Alaska, Arkansas, Colorado, Iowa, Louisiana,  and North Carolina what their incumbent Senators have done for them. The results? Well…

GILLESPIE BACKS REDSKINS IN MONDAY NIGHT FOOTBALL AD
Virginia Republican Senate Candidate Ed Gillespie is hitting Senate Democrats for offering a measure to change the name of the Washington Redskins, in a new ad that aired during the team's nail-biter victory over the Dallas Cow[people]. "I'll oppose the anti-Redskins bill," Gillespie appears on camera saying. "Let's focus on creating jobs, raising take home pay, and make our nation safer. Let the Redskins handle what to call their team."
POLL: ROUNDS RALLIES AS PRESSLER SUPPORT WANES
A new Mason-Dixon Poll shows former Gov. Mike Rounds, R-S.D., with 42 percent support. Democrat Rick Weiland is nine points back at 33 percent, while independent Larry Pressler is far further behind receiving 13 percent. Independent Gordon Howie musters just 2 percent of respondents, while 10 percent remain undecided.

MERKLEY BACKS LEGAL POT
Reuters: "A Democratic U.S. Senator from Oregon supports legalizing the recreational use of marijuana and will vote 'yes' to a state initiative next week that would let adults consume pot for fun, his office said on Monday. But a staffer for Senator Jeff Merkley [D-Ore.] said her boss had stopped short of officially endorsing an Oregon ballot initiative that would legalize, regulate and tax non-medical marijuana and permit its use by adults over age 21… The support makes Merkley the first sitting senator to publicly support legal recreational pot."

PICK SIX: UP IN SMOKE
Republicans need six more Senate seats to take control of the upper chamber. Which blue seats are the most vulnerable in this year's midterms? Here are the top picks among Fox News First readers: Arkansas (13.8%), Montana (13.2%), West Virginia (12.4%), South Dakota (12%), Louisiana (11.7%), and Alaska (9%). Reader Keith Marti adds, "Colorado is a near Top 6 pick, but the mail in ballots are a concern, as is the potential for first and second hand 'smoke.'''

Share your top six picks. Email them – just your top six, please – to FOXNEWSFIRST@FOXNEWS.COM or tweet @cstirewalt.

Climate Changes
NYT's Upshot says there's a 70 percent likelihood of the GOP winning the Senate, up two percent from Monday.

WaPo's Election Lab forecasts that Republicans will see a net gain of seven Senate seats. The forecast projects a 93 percent chance Republicans take the upper chamber, up one point from Monday.

Nate Silver's FiveThirtyEight gives the GOP a 64.6 percent chance of winning the Senate, up just over a point from Monday.

FLORIDA GOP DINGS CRIST OVER DAMNING DONORS
Florida Democratic gubernatorial candidate Charlie Crist's reported support from strip club owners is the focus of a new attack ad from the state's GOP. The ad details donations the Democrat has received from strip club owners, including audio from an interview Crist did with a local news station, where he was asked if he would return the donations. He answered no. The ad, entitled "Charlie's War on Women," concludes by saying Crist is "Wrong for Florida Women."

STUDIOUS SHOWDOWN IN VIRGINIA
Tonight's debate to succeed House Minority leader Eric Cantor will pit two Randolph-Macon professors against each other. Republican David Brat, who rose to the national scene after knocking off Cantor in a June primary, will debate fellow professor Democrat Jack Trammell at the school in Ashland, Va., this evening.

MORE 'CALIBRATION' PRBOBLEMS SWITCH GOP VOTES TO DEMS
Voters in Maryland got a shock when the electronic machines they used switched their votes for Republican candidates to Democrats, and they're not alone. Watchdog.org reports that voters in several counties on different days last week were victims of the swap. "Every time my choice flipped from Republican to Democrat. Sometimes it required four or five tries to get the 'x' to stay on my real selection," a Frederick, Md. resident said. The same problem, dubbed a "calibration issue" by elections officials, cropped up in Chicago last week.

DON'T WORRY WALL ST., HILLARY STILL HEARTS CORPORATIONS
BuzzFeed: "When Hillary Clinton fumbled a line at a rally last Friday — 'Don't let anybody tell you that corporations and businesses create jobs' — the comment caused a minor outrage among political observers. Republicans said she'd been pandering to liberals. Democrats wondered if she'd been trying too hard to channel [Sen. Elizabeth Warren, D-Mass.,] the populist senator who also spoke at the event. On Monday, Clinton went out of her way to correct the comment at a rally for Rep. Sean Patrick Maloney, [D-N.Y.]… A Clinton aide pointed to the remarks at the Maloney event as clarification to she had meant to say in her speech last week…Her original line — that 'corporations and businesses' don't 'create jobs' — doesn't make much sense as a concept. An aide initially said on Friday that she'd meant to refer to 'tax cuts' for corporations."

[Watch Fox: Senior Political Analyst Brit Hume explained it all on "Special Report with Bret Baier."]

Liberals getting desperate -WSJ: "Searching for an alternative to Hillary Clinton for 2016, some Democratic donors are meeting with potential challengers. Liberal activists are trying to coax Sen. Elizabeth Warren into running. Politicians not named Hillary Clinton are testing their appeal in New Hampshire and Iowa. As formidable as Mrs. Clinton looks even before declaring herself a candidate, liberals are casting about for a committed populist to run against her in 2016. … Mrs. Clinton and her husband have raised about $1 billion from U.S. companies and industry donors in support of various policy and political goals over the past two decades, a Wall Street Journal analysis has shown. As president, Bill Clinton signed into law a measure that deregulated parts of Wall Street, which critics say contributed to the 2008 financial crisis."

PAUL MAKES PITCH FOR ROBERTS
AP: "He's not on the ballot this fall, but… Sen. Rand Paul  [R-Ky.] is launching new ads to help Republicans in key elections across the country. The prospective presidential candidate is praising …Sen. Pat Roberts [R-Kan.] for voting against sending billions of dollars to 'countries that hate us' in an advertising campaign set to begin running across Kansas on Tuesday, according to an announcement released by Paul's political action committee, RandPac. A spokesman said the group is spending six figures on the ads, which reference the deadly attack on the U.S. diplomatic compound in Benghazi, Libya, without mentioning it by name…At the same time, Paul's organization is launching a series of online ads aimed at influencing Senate contests in Kentucky, New Hampshire, Iowa and North Carolina…Paul, meanwhile, is scheduled to campaign in Kansas on Tuesday."

DOLE LIKES ANOTHER RUN FOR ROMNEY
AP: "Bob Dole says he thinks former Republican presidential nominee Mitt Romney should run for the office again in 2016. The 91-year-old former Senate majority leader made the comment Monday during a campaign rally for Kansas [Republican] Sen. Pat Roberts… Dole drew loud applause from the crowd of several hundred people when he introduced Romney, saying 'I want him to run again.'''

Says he'll work for Sasse someday - Omaha World-Herald: "A raucous campaign rally for Republican U.S. Senate candidate Ben Sasse Monday night included a brief 'Run, Mitt, Run,' chant before former presidential nominee Mitt Romney took the stage. During an earlier session with reporters, however, Romney repeated the answer he recently has given when asked about the 2016 presidential race: 'I'm not running and not planning on running.' In fact, Romney joked, 'It's more likely I'll work for Ben some day. I'll be his Cabinet secretary.'"

[Romney rode on the last leg of the Sasse family's Winnebago-borne journey through all of Nebraska's 93 counties and got some hang time with the family's youngest member.]

AEI CRACKS UP WITH GOLDBERG, O'ROURKE & CO.
Could you use a laugh? Jonathan Last of the Weekly Standard will moderate a discussion with his co-authors of "The Seven Deadly Virtues," featuring NRO's Jonah Goldberg and James Lileks, along with P. J. O'Rourke this evening at the American Enterprise Institute in Washington. Find how to attend or watch live online here.

THAT'S NOT WHAT YOU WOULD CALL 'FUN SIZE'
Brevard County Fla. residents are concerned that a band of feral hogs could dampen Halloween for one group of trick-or-treaters. The wild pigs roam a neighborhood near Melbourne and are ruining a number of lawns as they seek food.  The neighborhood's homeowners association feels the hogs could be too scary for trick-or-treaters come Friday evening and are already taking measures to subdue the beasts.  WESH: "Wildlife trapper James Dean has captured eight hogs this week. He's sure there are more, though. Dean said the hogs have dug up the grass in 17 homes. 'Some of the homeowners are telling me they're walking out on the sidewalk, they're pooping, they're crossing the road,' Dean said. Dean baited several traps, using corn…The largest of the local hogs is reputed to be 350 pounds."

AND NOW, A WORD FROM CHARLES…
"If you can't make the elementary liberal argument about the role of government without having this ridiculous statement that jobs are not created by corporations, then you are not going to be a good candidate as [2016 Democratic frontrunner Hillary Clinton] showed in '08. She is a person who said in the White House we were dead broke. We had trouble paying the mortgages on our houses. If you are going to plead poverty, you don't refer to your homes in the plural. That's pretty elementary. She is not getting the elementary stuff."—Charles Krauthammer, on "Special Report with Bret Baier."

Chris Stirewalt is digital politics editor for Fox News.  Want FOX News First in your inbox every day? Sign up here.