National Guard to Deploy to Southwest Border Aug. 1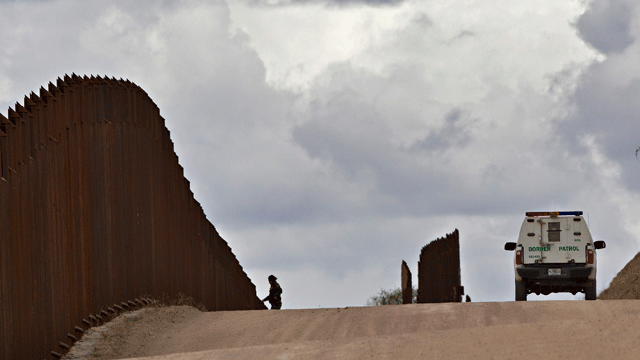 Administration officials on Monday announced that the 1,200 National Guard troops pledged weeks ago by President Obama will deploy to the southwest border starting on Aug. 1 as part of an effort to bring the region "under control."
Alan Bersin, commissioner of Customs and Border Protection, said the troops would "support" the work of Department of Homeland Security personnel already operating on the border.
"The Guard has been a tried and tested support to law enforcement ... and I'm confident they'll prove it again in this instance," Bersin said.
He said the deployment will coincide with a boost in surveillance technology in the region.
Obama in May announced the National Guard deployment amid increased concerns about border violence stemming from illegal immigration and drug smuggling. The announcement also came after Arizona Gov. Jan Brewer signed a law making illegal immigration a state crime -- a policy the administration is trying to strike down in federal court.
Some border-state lawmakers criticized the National Guard plan as too weak to make a dent in border security challenges and expressed concern that the 1,200 who are deployed would be relegated to desk jobs.
"While the announcement of more resources is welcomed, it does not appear to be enough, or tied to a strategy to comprehensively defeat the increasingly violent drug and alien smuggling cartels that operate in Arizona on a daily basis," Brewer said in a written statement Monday.
Sen. John McCain, R-Ariz., who has called for 6,000 National Guard troops, has also claimed 1,200 is not enough. Sen. Jon Kyl, R-Ariz., in May expressed concern that the Guard deployment would not add "boots on the ground."
But officials on Monday described the deployment as a "bridge" to keep border security strong while 1,000 CBP agents are added over the next year.
National Guard Bureau Chief Gen. Craig McKinley said the Guard at the border would be working on criminal and intelligence analysis, as well as "entry identification" -- a specialty that involves surveillance. He said the full National Guard force should be stationed in the four U.S. border states by September.
According to the Obama administration, nearly half of the troops will be sent to the volatile Arizona-Mexico border. A total of 524 will be stationed in Arizona, with 250 in Texas, 224 in California and 72 in New Mexico. An additional 130 will serve in "command-and-control" and other support positions.
"The border is more resourced and more secure than it's ever been, but the work continues and the challenge remains," Bersin said.