Nancy Pelosi visits Cuba with congressional delegation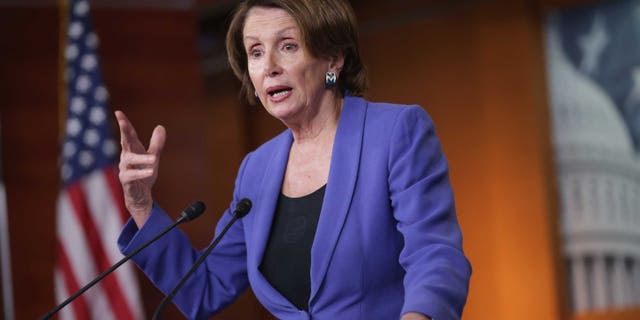 NEWYou can now listen to Fox News articles!
And they just keep on coming.
A few days ago, late-night show host Conan O'Brien was in Cuba to tape an episode of his show, taking advantage of the United States' new diplomatic relations with the island nation.
Around the same time, Sens. Mark Warner of Virginia, Claire McCaskill of Missouri and Amy Klobuchar of Minnesota made their first trip to Cuba over the weekend in support of a bill Klobuchar is sponsoring to lift the U.S. trade embargo on Cuba.
Now, House Minority Leader Nancy Pelosi is there, leading a delegation of Democrats from her chamber that her office said was aimed at improving U.S. relations with the Communist country.
Pelosi, D-Calif., and eight other Democrats were planning to meet with Cuban government, local and church officials, and with American officials representing U.S. interests on the island.
The visit comes two months after President Barack Obama and Cuban President Raul Castro announced steps toward normalizing relations between the two countries, which have been estranged for half a century.
"This delegation will work to advance the U.S.-Cuba relationship and build on the work done by many in the Congress over the years, especially with respect to agriculture and trade," Pelosi said in a written statement.
Democrats traveling with Pelosi included Reps. Eliot Engel of New York, top Democrat on the House Foreign Affairs Committee; Collin Peterson of Minnesota, lead Democrat on the House Agriculture Committee; and Nydia Velazquez of New York, senior Democrat on the House Small Business Committee.
Earlier this month, U.S. officials had said the Cuban government had postponed all congressional visits until April. But Cuban officials said only some had been delayed because of a large number of requests.
The U.S. has partially lifted the 54-year-old economic embargo on Cuba, easing restrictions on U.S. telecommunications exports and on American credit and debit card transactions on the island. Only Congress can fully lift the embargo, a move supported by Obama but opposed by congressional Republican leaders.
A new round of negotiations to restore full diplomatic ties with Cuba will take place next week in Washington.
Meanwhile, O'Brien spent his Presidents' Day weekend in Cuba, taping segments for an episode of his TBS talk show to air next month.
TBS promises the trip will give O'Brien's viewers "a rare glimpse into the daily life of a country not often seen by American viewers."
O'Brien is the first late-night host to tape there since the U.S. embargo went into effect in 1962.
This story is based on reporting by The Associated Press.
Follow us on twitter.com/foxnewslatino
Like us at facebook.com/foxnewslatino