Murkowski Concedes Alaska Primary Race to Tea Party Candidate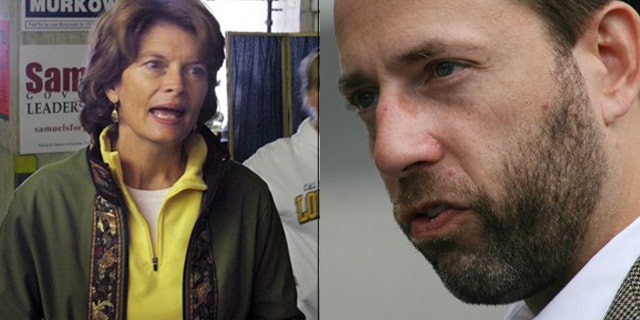 In a major upset, Sen. Lisa Murkowski conceded her GOP Senate primary race Tuesday night to Tea Party Express favorite Joe Miller.
Miller, a Fairbanks attorney, led by 1,630 votes after more than 15,000 absentee ballots were counted late Tuesday, a week after the election.
"I don't see a scenario in which the primary will turn out in my favor," Murkowski said in her concession speech.
Miller, who had the backing of former Alaska Gov. Sarah Palin, is now the immediate front-runner in the heavily Republican state.
"Now is the time for all Alaskans to come together and reach out with our core message of taking power from the federal government and bringing it back home to the people. If we continue to allow the federal government to live beyond its means, we will all soon have to live below ours," he said in a statement.
Murkowski trailed Miller by 1,668 votes after last week's primary. As election officials began counting absentee and outstanding ballots Tuesday, Murkowski made slight gains, but was never able to get Miller's lead below 1,200 votes.
The contest had turned bitter in recent days with Miller accusing Murkowski of trying to steal the election by tampering with the vote. Murkowski shot back by saying Miller is paranoid and dealing in trumped-up, misleading rhetoric.
Murkowski had hoped to avoid the fate that has befallen other incumbents nationwide as they were swept out of office in 2010 amid an anti-incumbent fervor.
She said she was proud of the campaign she ran, which she called "honest" and "upright." She said the campaign stayed focused on the issues and the "high road."
"I'm coming back home," she said. "You all know my heart and soul has always been in Alaska."
Miller will face Democrat Scott McAdams, mayor of Sitka, Alaska, in the November general election. McAdams brought out his attack on Miller right away.
"Lisa Murkowski is a class act who always put Alaska first," McAdams said in a statement late Tuesday. "By contrast, lawyer Joe Miller ran an unfair, nasty campaign that didn't extend to Lisa Murkowski the respect she deserves."
The Associated Press contributed to this report.