Moore supporters sticking by candidate in final leg of scandal-scarred campaign
BIRMINGHAM, Ala. – Every time he's run for statewide office here, Roy Moore has had Johnny Williams' vote.
"I've seen him fighting at them fires, and I just believe in him," the 77-year-old retired bus charter company owner said in an interview.
Moore, Alabama's Senate Republican nominee, has been bleeding support from some conservatives in the weeks since the allegations of past sexual misconduct have surfaced.
But the candidate's famously loyal supporters – who have long supported the Christian conservative in statewide races for chief justice, governor and senator for two decades – aren't leaving him.
"I think whoever put this thing together is trying to take him out, and we just don't believe it down here," said Williams, who lives in Pike Road.
Moore has denied the allegations that he engaged in sexual activity or sought romantic relationships with teenage females when he was in his thirties.
"It's way bigger than Roy Moore. It is the direction of our country."
Though he's taken a hit, Moore's polling has recovered in recent days, with the Real Clear Politics polling average showing the Republican leading Democratic nominee Doug Jones 49 percent to 45 percent.
In interviews, Moore's supporters say they're sticking with him because of what the election means for passing President's Trump legislative agenda.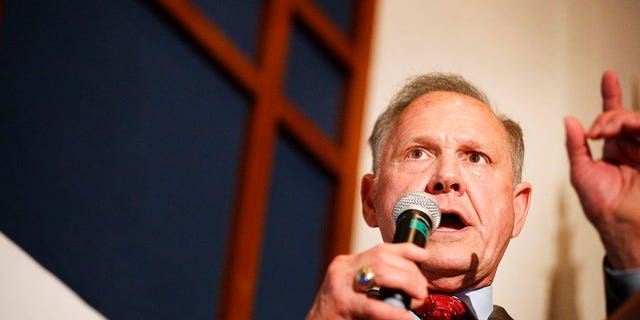 "I am a policy voter," said 68-year-old Ann Eubanks of Birmingham, who leads a tea party group. "And I refuse to send a far-left liberal Democrat to Congress. There's too much at stake in this country at this point with the balance of the Senate at critical mass."
Eubanks cited future nominations to the Supreme Court, repealing ObamaCare, building the wall and immigration proposals as issues the president will need every vote he can muster in the Senate.
"It's way bigger than Roy Moore," Eubanks said. "It is the direction of our country."
Still, Moore is struggling to win over the support of other Alabama voters who usually vote Republican, something which has made the race much closer than expected.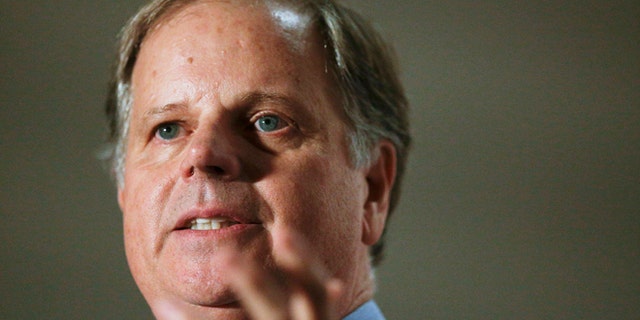 Over coffee and waffles at a Waffle House here, 66-year-old Richard Barnett said he wasn't a fan of Moore before the allegations surfaced and won't vote for him though he usually votes Republican.
"The last Democrat I voted for is Jimmy Carter," said Barnett, the general manager of a metals and welding company.
Barnett said he has "no faith in Roy Moore's ability to represent the majority of people" and would likely write-in Sen. Luther Strange, who lost to Moore in the primary, instead.
He said the Hoover, Alabama community he lives in is predominantly Republican, but he's noticed no public support for Moore on neighbors' lawns.
"You see no Roy Moore signs," Barnett said. "You see some for Doug Jones. It's very, very unusual."
At another table at the diner on Friday, a mother from Alabaster, who gave her name as Sandra, was having breakfast with her husband. She said she's "100 percent behind Donald Trump," but doesn't know how she'll vote Tuesday.
"Deep down, I wish Luther Strange had been the candidate," she said.
"I've seen him fighting at them fires, and I just believe in him."
Winning over those voters could be the key to Moore's victory.
Knowing the path to victory involves motivating Trump's supporters in Alabama to vote in the special election Tuesday, Moore's campaign was jubilant that the president held a rally Friday night just 25 miles away from the Alabama state line in Pensacola, Florida to encourage people to vote for Moore.
But at the diner in Birmingham, one waitress said she's had enough of the election.
As she cleared plates of hashbrowns and eggs, the Waffle House employee, named Nona, said she couldn't bring herself to vote for any of the candidates Tuesday. She said the behavior Moore has been accused of is "not Christian."
"I'm not voting for either of them," she said.