Mexican Farmworkers Who Died In 1948 Plane Crash In California Finally Get A Proper Burial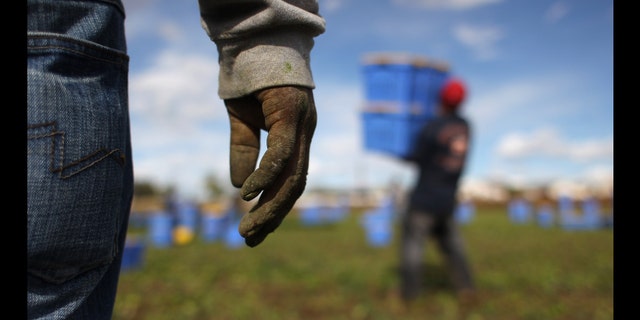 Their lives ended tragically, their deaths marked in anonymity.
Most of them were farm workers on their way back home to Mexico in 1948 after working the farms in the United States. But the plane that carried them crashed in Central California, and they were buried in a mass grave, their identities buried with them.
Until this week, that is, when they finally got a gravestone with their names on it.
The granite memorial was unveiled Monday at the grave site at Holy Cross Catholic Cemetery in Fresno.
The workers' burial without names prompted a protest poem by Woody Guthrie that was later put to music and sung by musicians including Joan Baez, Bob Dylan and Bruce Springsteen.
Many of the farm workers were returning home after being part of the bracero program, which allowed Mexican citizens to legally enter the U.S. for seasonal work. Some were working in the U.S. illegally and were being deported back to Mexico.
Their airplane, chartered by the by U.S. Immigration Services, crashed over Los Gatos Canyon near Coalinga in California's Central Valley, killing everyone on board -- including the 28 workers, three crew members and an immigration guard.
The farm workers were buried in a mass grave in Fresno, but the grave marker did not list any names. It simply read "28 Mexican citizens who died in an airplane accident."
Some news accounts listed the four Americans' names, but called the farm workers "deportees." The anonymity angered Guthrie, leading him to write "Deportee (Plane Wreck at Los Gatos)."
The effort to remember the workers was spearheaded by writer Tim Hernandez, who grew up in Central California and came across an article about the plane crash while scrolling through old newspapers at the Fresno County Library.
Hernandez, who is now writing a book about the workers, teamed up with the Diocese of Fresno to track down the workers' names, their family members and their stories. While the diocese's church register had partial, misspelled names, the writer and diocese officials pulled death certificates for all the workers and reconstructed their full names. They also raised about $14,000 for the gravestone and dedication ceremony.
More than 500 people attended a mass and gravestone dedication at the Fresno cemetery, including relatives of those who died in the crash. Renditions of "Deportee" were performed at the memorial.
The 28 Mexican citizens whose names were inscribed on the gravestone include: Miguel Negroros Alvarez, Francisco Llamas Duram, Santiago Garcia Elizondo, Rosalio Padilla Estrada, Tomasa Avena De Garcia, Bernabe Lopez Garcia, Salvador Sandoval Hernandez, Severo Medina Lara, Elias Trujillo Macias, Jose Rodriguez Macias, Tomas Padilla Marquez, Luis Lopez Medina, Manuel Calderon Merino, Luis Cuevas Miranda, Martin Razo Navarro, Ygnacio Perez Navarro, Roman Ochoa Ochoa, Ramon Ramirez Paredes, Apolonio Ramirez Placencia, Guadalupe Laura Ramirez, Alberto Carlos Raygoza, Guadalupe Hernandez Rodriguez, Maria Santana Rodriguez, Juan Valenzuela Ruiz, Wencealado Ruiz, Jose Valdivia Sanchez, Jesus Meza Santos, and Baldomero Marcas Torres.
The gravestone also includes the four Americans, although they were buried at other cemeteries: Francis "Frank" Atkinson, Long Beach, pilot; Marion Harlow Ewing, Balboa, co-pilot; Lillian "Bobbie" Atkinson, Long Beach, stewardess; and Frank E. Chaffin, Berkeley, immigration guard.
Based on reporting by The Associated Press.
Follow us on twitter.com/foxnewslatino
Like us at facebook.com/foxnewslatino