Melania Trump follows five people on her first lady Twitter handle, including former President Obama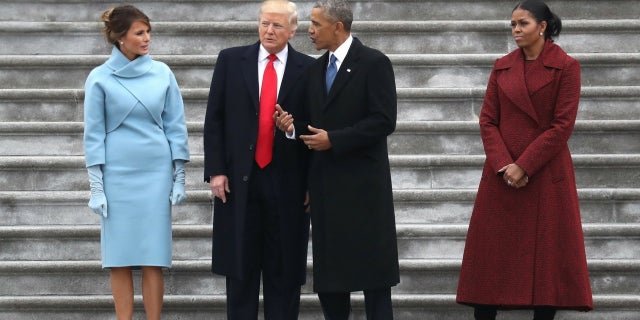 NEWYou can now listen to Fox News articles!
Social media users discovered one of the five people first lady Melania Trump follows on her FLOTUS Twitter handle includes former President Barack Obama.
People reported author Matt Haig tweeted the revelation Friday, noting the other four people the first lady follows include her husband's private Twitter account, his presidential account, Vice President Mike Pence and his wife, Karen.
FBI LOVERS' LATEST TEXT MESSAGES: OBAMA 'WANTS TO KNOW EVERYTHING'
It was not immediately clear when she began following the former president. She met Obama on Inauguration Day in 2017. Trump, her husband, Obama and his wife, Michelle, all got together to have tea before President Trump was sworn in.
President Trump led the so-called "birther movement" against Obama, claiming he was born in Kenya, not the United States. Critics saw the movement as an attempt to delegitimize the nation's first black president.
During the controversy, Melania Trump went on Joy Behar's show in 2011 to defend her husband's claims, People reported.
MIKE PENCE SAYS US WILL SOON UNVEIL 'TOUGHEST' SANCTIONS ON NORTH KOREA EVER
"It's not only Donald who wants to see [Obama's birth certificate], it's American people who voted for him and who didn't vote for him. They want to see that," she said.
During his presidential campaign in 2016, Trump admitted Obama was indeed born in the U.S.
As for President Trump, he follows 45 people, including his daughters Tiffany and Ivanka Trump, his wife and Mike Pence. He does not follow Obama.