McCaskill demands explanation over staged arrival ceremonies for fallen soldiers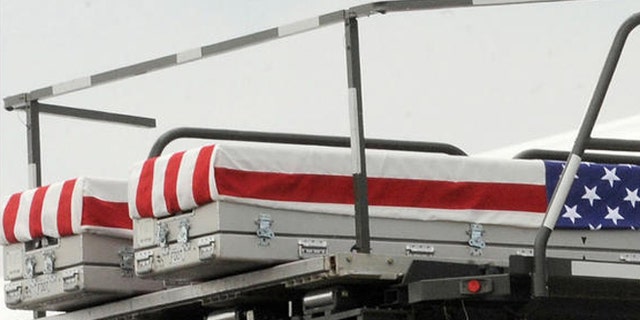 NEWYou can now listen to Fox News articles!
WASHINGTON – Sen. Claire McCaskill is pressing the Pentagon for answers following reports -- and an admission by the U.S. Department of Defense -- that it staged "arrival ceremonies" for fallen soldiers.
"This is even more evidence that these recovery efforts are suffering from systematic problems and a lack of coordinated leadership," McCaskill said in a statement. "Families in this community just want officials to be honest and forthright about the government's efforts – instead, what they're often getting is false hope and fake ceremonies."
Joint Prisoners of War, Missing in Action Accounting Command -- a unit in the Defense Department -- has been holding arrival ceremonies for seven years, with flag-draped coffins being carried off cargo planes as though they held the remains of American troops that had just been returned, according to an initial investigation by NBC News. However, the remains typically were on site before each ceremony began, at a lab where they were undergoing analysis. The report focused on ceremonies at Joint Base Pearl Harbor-Hickam in Hawaii.
"These ceremonies, which have been held numerous times over the past seven years, reportedly represented to veterans and families that the remains had been recently recovered and were arriving in the United States for the first time," McCaskill wrote in her Oct. 25 letter to Defense Secretary Chuck Hagel.
Following the report, the Pentagon acknowledged that the ceremonies were more of a "pre-planned" memorial than a series of actual events unfolding. The Pentagon also confirmed allegations that planes used in the ceremonies at the military base in Hawaii couldn't even fly and were towed into position.
The admission has blind-sided many veterans and families of MIAs, led to believe they were witnessing the return of heroic American soldiers killed in war. An investigation also uncovered that some of the remains of the soldiers had been in military custody for months before being used during ceremonies carried out by the JPAC.
McCaskill, chairwoman of the Subcommittee on Financial & Contracting Oversight and the daughter of a World War II veteran, is also demanding the DOD provide her with information on all arrival ceremonies, including dates, recovery location of remains presented at each ceremony and the actual date the remains arrived at the lab in Hawaii before being prepped to be included in ceremonies.
She also wants a breakdown of the cost, per ceremony, including the amount spent on aircraft.
In July, JPAC came under additional scrutiny after an Associated Press report revealed that its method of accounting for missing Americans on foreign battlefields was "acutely dysfunctional."
The Government Accountability Office released its own report two weeks later echoing the sentiment.
The GAO pinned much of the inefficiency to overlapping duties between JPAC and the Defense Prisoners of War/Missing Personnel Office. The scathing report also said DPW and JPAC lacked a cohesive mission and said that various operations would be "more efficient and transparent if they were centralized under a single command structure."
Following the investigation, American Legion Commander Dan Dellinger said JPAC's actions were "deceptive" and "must change."
"Symbolic honors are one thing, but deception is quite another," he said in a statement released following the initial investigation.
Calls to JPAC for comment were not returned.