Mayoral Candidate Spurs Dominican Pride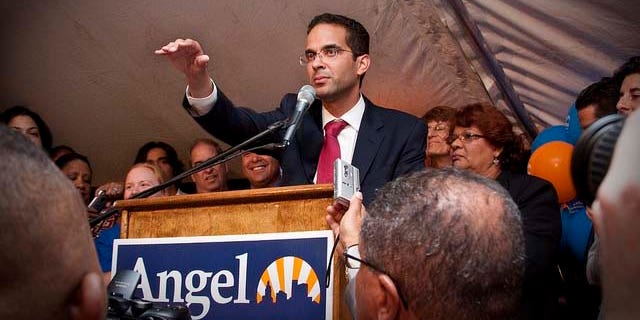 In the whirlwind of the midterm elections, there is a mayoral race in a little city that could have big implications for a certain Latino community.
The historic election in Providence -- where Angel Taveras can become the city's first-ever Hispanic mayor -- has flown under the radar on the national stage. Except in the Dominican community, that is.
"We are happy to see that, finally, Dominicans are moving up...the political establishment in the United States," said Néstor Montilla, president of the Dominican American National Roundtable, a nonpartisan, nonprofit organization that advocates on behalf of Dominican interests. "The significance of someone like Angel Taveras, an educated man who went to Harvard...is an opportunity to be celebrated."
Taveras, a lawyer who is a former Housing Court judge, won the city's primary in September with nearly 50 percent of vote. He is facing Independent candidate Jonathan Scott.
A Democrat, Taveras is the favorite to win. He's been endorsed by the largest newspaper in town, by the establishment candidates he beat in the primary, and is supported by Latino bloc and the city's more affluent community alike.
But his candidacy and probable win transcends Providence. His rising star, albeit on a local level, is the latest representation of a gradual shift in Latino politics.
"I think it's just another indication how the country is moving toward a multi-racial, multi-ethnic society, and the impact it has on politics in this country," said Marion Orr, Fred Lippitt professor of political science at Brown University. "He'd be another Latino mayor of a reasonably large, important city. It's a maturation of Latino politics in a fundamental way."
Despite repeated requests, Taveras was not available for an interview for this story by press time.
In reports, the son of immigrants has embraced his Dominican heritage. After his parents divorced, he reportedly was raised by his mother and sister.
It's unclear how that experience shaped his political views, if at all, but his policies appear to be immigrant friendly. In a debate last week, he said he supported proposed state legislation that would allow high school graduates who are undocumented to qualify for in-state tuition rate at public universities, according to the Providence Journal.
He's also opposed to deputizing local police officer to enforce immigration laws.
"I'm not going to have anyone in our city afraid to report a crime because they are worried about being questioned about immigration," he said, according to the newspaper. "Not going to happen while I am mayor."
Old habits die hard, however, even in a liberal city where 15 percent of the population is Hispanic.
Orr, who is also the director of the Taubman Center for Public Policy at Brown University, said an underlying anxiety among whites has surfaced with Taveras' candidacy.
"My sense is that while there's not any overt tensions around this...there are subtle and not so subtle tensions that exist...within the city," he said.
Local politics aside, Taveras will likely become at least the 20th Dominican to currently hold a local or state seat across the nation. None are representatives of Congress - yet.
"They're paving the way," Montilla said of Taveras and other Dominican elected officials. "We have a lot of young Dominicans trying to engage in political activities and in their communities. Angel will serve as a role model for them."