Local courts reviving 'debtors' prison' for overdue fines, fees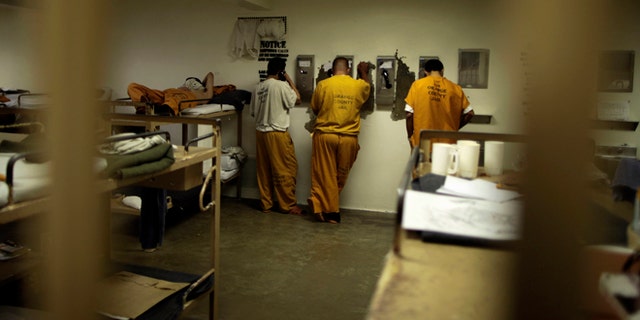 As if out of a Charles Dickens novel, people struggling to pay overdue fines and fees associated with court costs for even the simplest traffic infractions are being thrown in jail across the United States.
Critics are calling the practice the new "debtors' prison" -- referring to the jails that flourished in the U.S. and Western Europe over 150 years ago. Before the time of bankruptcy laws and social safety nets, poor folks and ruined business owners were locked up until their debts were paid off.
Reforms eventually outlawed the practice. But groups like the Brennan Center for Justice and the American Civil Liberties Union say it's been reborn in local courts which may not be aware it's against the law to send indigent people to jail over unpaid fines and fees -- or they just haven't been called on it until now.
Advocates are trying to convince courts that aside from the legal questions surrounding the practice, it is disproportionately jailing poor people and doesn't even boost government revenues -- in fact, governments lose money in the process.
"It's a waste of taxpayer resources, and it undermines the integrity of the justice system," Carl Takei, staff attorney for the ACLU's National Prison Project, told FoxNews.com.
"The problem is it's not actually much of a money-making proposition ... to throw people in jail for fines and fees when they can't afford it. If counties weren't spending the money jailing people for not paying debts, they could be spending the money in other ways."
The Brennan Center for Justice at New York University's School of Law released a "Tool Kit for Action" in 2012 that broke down the cost to municipalities to jail debtors in comparison with the amount of old debt it was collecting. It doesn't look like a bargain. For example, according to the report, Mecklenburg County, N.C., collected $33,476 in debts in 2009, but spent $40,000 jailing 246 debtors -- a loss of $6,524.
Fines are the court-imposed payments linked to a conviction -- whether it be for a minor traffic violation like driving without a license or a small drug offense, all the way up to felony. Fees are all those extras tacked on by the court to fund administrative services. These vary from jurisdiction to jurisdiction, with some courts imposing more than others.
As states and counties grapple with shrinking budgets and yearly shortfalls, new fees are often imposed to make up the difference, though they can be quite overwhelming to individuals passing through the system -- 80 percent of whom qualify as indigent (impoverished and unable to pay), according to the Brennan Center. Florida, for example, has added 20 new fees since 1996, according to the center. North Carolina imposes late fees on debt not paid and surcharges on payment plans.
More and more, courts are dragging people in for fines and fees that have ballooned due to interest imposed on the initial sums. Some owe money to the public defender's office for the representation they received during their time in court. Others incur hundreds of dollars in fees while they're incarcerated -- for everything from toilet paper to the beds inmates sleep on.
The tab for the average offender could be as low as $250 or as high as $4,000. Both the ACLU and Brennan have been targeting big states with multiple jurisdictions they say are flouting U.S. Supreme Court rulings in 1970, 1971 and 1983. Those rulings essentially say courts cannot extend or impose a jail sentence for unpaid fines and fees if individuals do not have the ability to pay.
At the very least, according to the high court, the courts must inquire and assess whether a person is indigent and might benefit from an alternative method of payment, like community service, before sentencing.
"Even though a lot of jurisdictions do have statutes on the books that allow judges to waive fines and fees, it doesn't always happen," explained Lauren Brooke-Eisen, counsel for the Brennan Center's Justice Program.
Much of the time, probation or the conviction itself will hinder individuals from finding employment (Brennan estimates that some 60 percent are still unemployed a year after leaving jail). But another incarceration over debt could either ruin the job they managed to get or make it even harder to find one.
Many jurisdictions have taken to hiring private collection/probation companies to go after debtors, giving them the authority to revoke probation and incarcerate if they can't pay. Research into the practice has found that private companies impose their own additional surcharges. Some 15 private companies have emerged to run these services in the South, including the popular Judicial Correction Services (JCS).
In 2012, Circuit Judge Hub Harrington at Harpersville Municipal Court in Alabama shut down what he called the "debtors' prison" process there, echoing complaints that private companies are only in it for the money. He cited JCS in part for sending indigent people to jail. Calling it a "judicially sanctioned extortion racket," Harrington said many defendants were locked up on bogus failure-to-appear warrants, and slapped with more fines and fees as a result.
Repeated calls to JCS in Alabama and Georgia were not returned.
Defenders of the collection programs say the money is owed to the state and it's the government's right to go after it. "When, and only when, an individual is convicted of a crime, there are required fees and court costs," Pamela Dembe, president of the First Judicial District of Pennsylvania, which oversees Philadelphia, said in a statement to reporters in May. An earlier review by the courts found an estimated 400,000 residents owed the city money. "If the defendant doesn't pay, law-abiding taxpayers must pay these costs."
Meanwhile, there's evidence that groups like the ACLU are prompting reforms.
For example, the ACLU released "The Outskirts of Hope," on court practices in Ohio. The report told the story of one couple, John Bundren and Samantha Reed, who both had racked up court fines. Bundren's, which traced back to underage drinking and public intoxication convictions from his teenage years, totaled $3,000. They paid her fines before his, and Bundren ended up spending 41 days in jail because he couldn't pay his own.
The ACLU found that seven out of 11 counties they studied were operating de facto debtors' prisons, despite clear "constitutional and legislative prohibitions." Some were worse than others. In the second half of 2012 in Huron County, 20 percent of arrests were for failure to pay fines. The Sandusky Municipal Court in Erie County jailed 75 people in a little more than a month during the summer of 2012. The ACLU says it costs upwards of $400 in Ohio to execute a warrant and $65 a night to jail people.
As a result of the study, the Ohio State Supreme Court has begun educating judges and personnel on the statutes and constitutional restrictions of collecting fines and fees, Bret Crow, spokesman for the state court, told FoxNews.com. It is also developing a "bench card," intended as a reference guide for county judges.
More recently in Colorado, the state ACLU completed a report on "pay or serve" programs throughout the state. In the case of Wheatridge and Northglenn counties, the penalty was one day in the clink for every $50 owed; in Westminster, every offender got an automatic 10 days in jail.
The report also found that one jail racked up more than $70,000 in costs for incarcerating 154 people over a five-month period in 2012 -- and only managed to collect $40,000 in overdue fines and fees in that time.
Mark Silverstein, a staff attorney at the Colorado ACLU, claimed judges in these courts never assess the defendants' ability to pay before sentencing them to jail, which would be unconstitutional.
John Stipech, Municipal Court judge in Westminster, Colo., told FoxNews.com he agreed with the tenets of the ACLU investigation, but added that the practice of the automatic 10-day jail sentence was already scrapped by Westminster in December 2012. "It was because we had jail space problems and beds needed to be limited to actual criminals," he said.
He complained that local coverage of the ACLU report "makes it sound like we're putting everyone in jail." He said he asks everyone who comes before him if they have the ability to pay. He acknowledged, however, that his court is working with the ACLU and will be instituting formal "show cause" hearings to determine indigence.
"Maybe the ACLU did some good, they brought it to my attention. Maybe they just should have done it in a better way," Stipech said.
Brooke-Eisen said the reform movement is proceeding, albeit slowly in tough fiscal times.
"A lot of the jurisdictions are still using fines and fees and passing legislation to add more fees and fines," she said.