Lincoln Revels in Runoff Election Upset Against Halter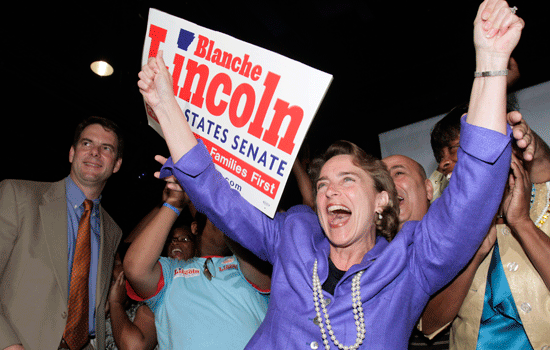 In a stunning victory Tuesday, Arkansas Sen. Blanche Lincoln proved she was a survivor in an anti-incumbent year by winning a squeaker of a race against Lt. Gov. Bill Halter in a runoff election for her party's nomination.
Defying expectations, Lincoln had been on the ropes against Halter, who had the support of big labor unions and liberal groups like MoveOn.org. But Lincoln had the support of former President Bill Clinton, an Arkansas native, and President Obama, whose spotty record this year had seemed unlikely to offer Lincoln much added value.
In her victory speech, Lincoln said the voters sent a message that was loud and clear.
"Washington needs to work for us, work for Arkansas and this senator is going to be part of the solution," she said to thunderous applause.
Lincoln faces Rep. John Boozman, R-Ark., in the November election. Republican Sen. John McCain won the presidential contest in Arkansas in 2008 by 20 points.
With expectations that Lincoln would not survive the night, a Democratic Senatorial Campaign Committee source told Fox News earlier Tuesday that Democrats "weren't going to win Arkansas anyway" in November.
Labor unions and MoveOn.org will have to turn around from their vehement opposition of Lincoln in the primary to support for her in the general election. Democratic leaders also quickly jumped on Lincoln's bandwagon, eyeing the general election in November.
"For Democrats in Arkansas to be successful this November, we must be aggressive in framing the choice for voters," DSCC Chairman Sen. Robert Menendez, D-N.J., said in a written statement.
"Democrat Blanche Lincoln is focused on creating jobs, farmers and the needs of the middle class while John Boozman has made it clear he would do even more to protect Wall Street, the oil companies and the insurance companies. Given that Arkansas cannot afford a return to the failed economic policies of the past, the stakes for November could not be higher," he said.
"With the primary behind them, Arkansans now have a clear choice in November: elect Sen. Lincoln, who has fought and will continue to fight tirelessly for Arkansas families, or elect a longtime special interest advocate like John Boozman," Democratic National Committee Chairman Tim Kaine said in a written statement.
Republican leaders agreed there's a clear choice.
"Sen. Lincoln survived this intra-party war by fully embracing her liberal Washington record, but she faces an uphill battle explaining to mainstream Arkansas voters why she has consistently voted for the Obama-Pelosi-Reid economic agenda in Washington," said Sen. John Cornyn, R-Texas, chairman of the National Republican Senatorial Committee.
"With John Boozman as our nominee, I believe that this seat will be a prime pick-up opportunity for our party this November. Congressman Boozman is a proven leader who represents Arkansans' best interests, and he will continue to stand up to the Obama administration and fight for much-needed checks-and-balances in the U.S. Senate."
Tuesday's victory allowed Lincoln to avoid the fate of her other Senate colleagues who were ousted last month. Sen. Arlen Specter lost to Rep. Joe Sestak in the Pennsylvania Democratic primary, and Sen. Bill Bennett, R-Utah, didn't even make it onto the ballot in his state's GOP convention.
Incumbents in the House haven't been immune to voter anger either. Reps. Alan Mollohan, D-W.Va., and Parker Griffith, R-Ala., lost their jobs last month.
The Arkansas contest was just one of several held in 12 states as a new survey finds deepening anti-incumbent sentiment among the electorate and antipathy toward elected officials.
Unpopular Senate Majority Leader Harry Reid of Nevada and vulnerable Sen. Barbara Boxer of California won their token races handily, but have to navigate new waters in their strategies for he general election.
A victory in the California GOP Senate primary for former Hewlett-Packard CEO Carly Fiorina turns the Senate race into an all-female battle that pits a corporate titan against a three-term senator. Boxer leads Fiorina in general election polls.
Reid faces an upstart challenger that came from obscurity into Tea Party favor in the space of six weeks.
Women also did well in other races. Former eBay CEO Meg Whitman won the California Republican gubernatorial primary to challenge Attorney General Jerry Brown.
In South Carolina, state Rep. Nikki Haley was just shy of winning an outright victory against U.S. Rep. Gresham Barrett for the Republican nomination in the state's gubernatorial race. They go to a runoff on June 22. The winner will face Democratic state Sen. Vincent Sheheen in November.
In South Dakota, state Rep. Kristi Noem defeated two other Republicans on Tuesday to win the GOP congressional nomination. She faces Democratic Rep. Stephanie Herseth Sandlin in the November election.
In other races, Brian Sandoval defeated Gov. Jim Gibbons for the GOP gubernatorial nomination in Nevada. The U.S. District Court judge will challenge Reid's son, Rory Reid, in the general election.
In north Georgia, Republican Tom Graves was elected to the U.S. House in a special election runoff.
U.S. Rep. Joe Wilson, best known for shouting "You lie!" at the president, won his primary rematch over Barnwell businessman Phil Black. Wilson also beat Black by an overwhelming margin in 2008.
The 62-year-old real estate attorney will face Democrat Rob Miller, a former Marine captain who also saw his campaign coffers fill after Wilson's outburst. Wilson beat Miller two years ago in the district that stretches from the state capital to the southern coast.
South Carolina Sen. Jim DeMint, a Tea Party favorite who has become something of a conservative kingmaker, coasted to a GOP primary win against a little-known challenger who used to be a Democrat.
House Majority Whip James Clyburn easily defeated his challenger in the Democratic primary in South Carolina's 6th District.
Businessman Gregory Brown was the first primary challenger for Clyburn since 2002. The 69-year-old congressman has held the seat for 18 years.
Fox News' Trish Turner, Shannon Bream and The Associated Press contributed to this report.