Lieberman Denies Report of Secret Deal With Reid on Health Care Bill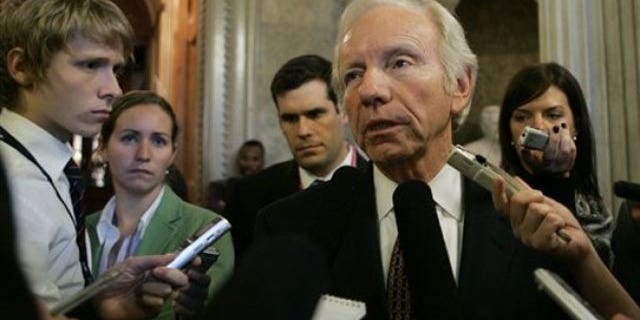 NEWYou can now listen to Fox News articles!
A spokesman for Sen. Joe Lieberman refuted a report Tuesday that the Connecticut senator struck a secret deal with Majority Leader Harry Reid in which he promised not to block a final vote on health care reform.
The Hill newspaper reported Tuesday that Reid's staff told liberal interest groups that Lieberman had assured Reid that he will vote with Democrats in the procedural vote to end debate on the Senate's health care bill.
Lieberman, a Democrat-turned-Independent, announced last week that he would support a Republican filibuster of a health care bill that includes a government-run insurance plan, raising fears among Democrats that they will not have the 60 votes they need to move forward on the bill Reid unveiled last week.
Lieberman spokesman Marshall Wittmann vehemently denied reports of a clandestine understanding between the two lawmakers, telling Fox News, "If you believe this story is true, you will also believe that I am replacing A-Rod in game six of the series."
"The suggestion reported in the Hill that Senator Lieberman has made a 'private understanding' on his votes on health care reform is absolutely not true," Wittmann said. "Senator Lieberman's clear position is that he will vote for the motion to proceed to the health care bill because he supports health care reform that will control costs and insure people who don't have it now, but will oppose cloture on a final bill if it contains a public option."
Lieberman's support is critical in securing the 60 votes needed in the Senate to end debate on the sweeping health care overhaul bill -- despite attempts by Reid to downplay Lieberman's impact.
"Joe Lieberman is the least of Harry Reid's problems," Reid said at a press conference last week. We're not there yet. [Lieberman] will be involved in the amendment process."
Sen. Olympia Snowe of Maine, the only Republican who may or may not side with the Democrats' health care agenda, has also indicated she would support a filibuster of the bill if it includes an "opt-out" government plan.
Roll Call reported Monday that liberals upset over a possible filibuster have called on Reid to strip Lieberman of his chairmanship of the Homeland Security and Governmental Affairs Committee.
In an e-mail sent Monday, activists for Democrats.com called on Reid -- as well as Majority Whip Dick Durbin, D-Ill., and Democratic Conference Vice Chairman Charles Schumer, N.Y. -- to remove Lieberman from the post following remarks that will support a GOP filibuster, the newspaper reported.
The online petition has so far attracted no supporters, according to Roll Call.
Fox News' Trish Turner contributed to this report.