Labor unions gave $420 million to Democrats, left-wing groups from 2012-14, report shows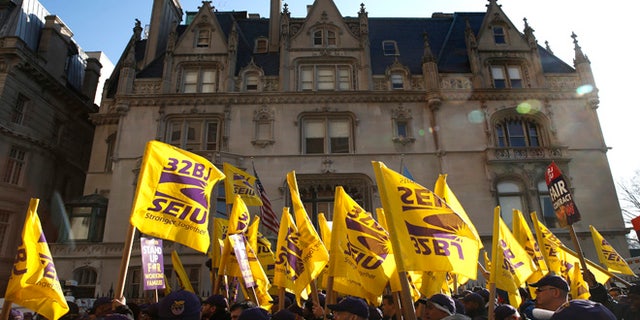 NEWYou can now listen to Fox News articles!
Labor unions donated nearly a half-billion dollars to Democrats and left-wing causes from 2012 to 2014, according to a new report.
The $418 million identified in the report from Center for Union Facts is in addition to millions more spent in 2015 and this year by organized labor, long a reliable backer of Democrat and left-wing causes.
"Big Labor has long been the Democratic Party's personal ATM," CUF Executive Director Richard Berman told FoxNews.com. "But what might shock some -- especially dues-paying union members -- is that union bosses not only donate to Democratic candidates, but also a wide array of left-wing groups closely aligned with the Democratic Party."
The contributions are largely funded by union member dues, which are mandatory in many states. The report found many of the 20 unions included in the report labeled contributions "representational activities," which could make it difficult for members to know what it was spent on.
"Big labor has long been the Democratic Party's personal ATM."
Recipients of union donations included the liberal super-PAC American Bridge, left-wing think tank Media Matters and the Bill, Hillary, and Chelsea Clinton Foundation.
The biggest recipients of money from big labor over the period were the Democratic Governors Association, which received nearly $8 million; the House Majority PAC, with nearly $6 million; and Working America, which received more than $30 million over the past four years.
Berman says that union members, many of whom vote Republican, have no choice in where their dues are sent.
"While more than 90 percent of union dollars support Democrats and left-wing causes, roughly 40 percent of union households vote Republican," Berman said. "And under current labor law, these union members aren't guaranteed the right to affirmative consent before their dues are sent to liberal political candidates and causes."
In addition to states increasingly barring the practice of mandatory dues collection, legislation now before Congress would prevent unions from spending member dues without permission.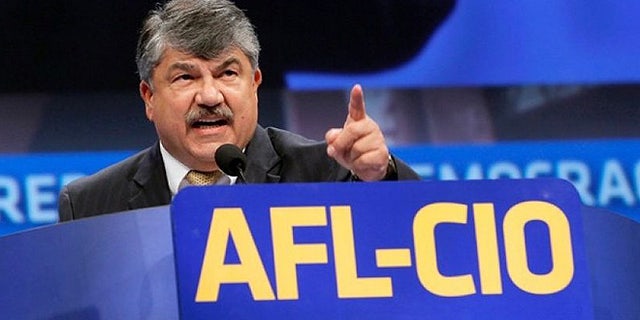 "[The Employee Rights Act] would require union bosses to obtain opt-in permission from their members before spending millions of dollars on left-wing politics," Berman said.
Two of the largest donor groups appear to be the Service Employees International Union (SEIU) and the American Federation of Labor and Congress of Industrial Organizations (AFL-CIO) -- which have contributed a total of around $32 million in 2013 and 2014.
Officials for both the SEIU and the AFL-CIO did not immediately respond to requests for comment.