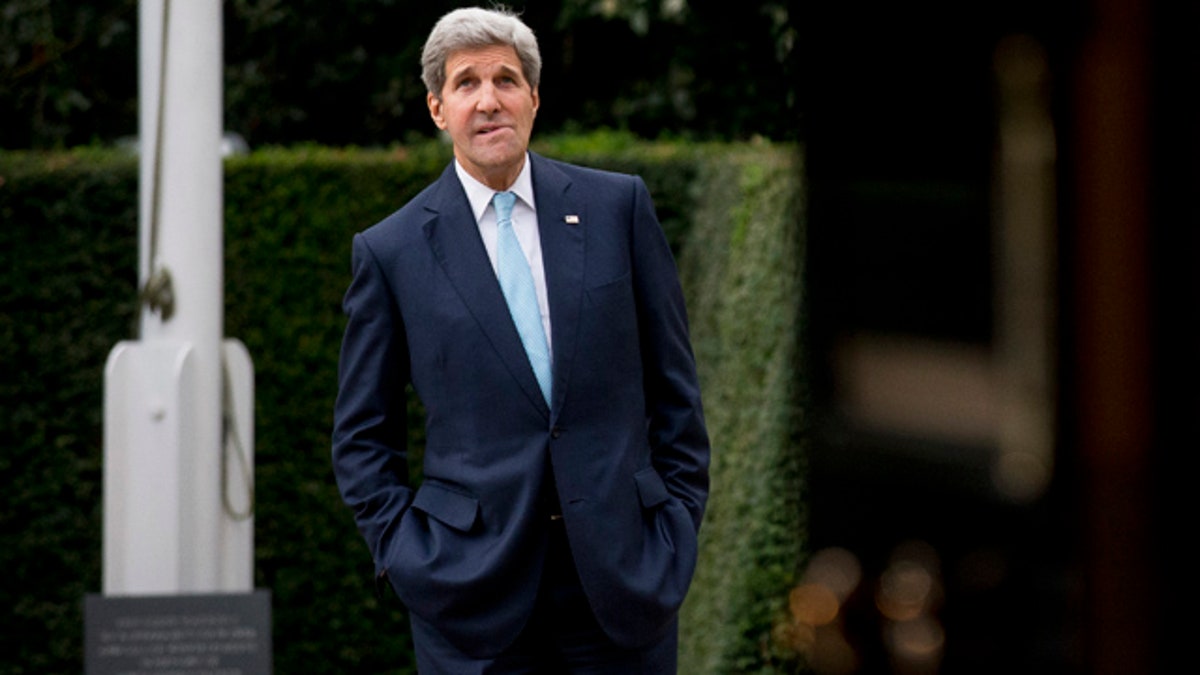 U.S. Secretary of State John Kerry says negotiators in high-level talks with Iran to prevent the country from reaching the capability to produce atomic weapons "are not talking about an extension" as a deadline approaches.
He spoke Thursday in Paris just ahead of a flight to Vienna.
"Iran has continued to state it has no interest in obtaining a nuclear weapon," Kerry said. "Ultimately if you want to prove beyond a reasonable doubt that your program is a peaceful one, that is not from a technical perspective, very hard to do."
Kerry noted that differences among the countries negotiating a pact by Nov. 24 are minor.
"We're confident about our unity," he said at the close of a meeting with his French counterpart, Laurent Fabius.
In Vienna, Kerry is going to "check in" on the high-level nuclear negotiations with Iran, said State Department spokeswoman Jen Psaki. It is not yet determined how long he will stay in Vienna, leaving open the possibility that he might not remain until Monday's deadline for a deal. Kerry is to meet with the U.S. negotiating team in Vienna late Thursday before scheduling meetings with other participants.
"We do want to get an agreement, but not just any agreement," Kerry said Thursday after meeting in Paris with the Saudi and French foreign ministers. "We hope that the gaps that exist -- and they do exist -- can be closed. We hope we can define the finish line."
Kerry had been expected to join the Vienna negotiations, but the timing of his arrival at the talks had been uncertain until shortly after he arrived in Paris after two days of similar meetings in London with his British and Omani counterparts.
With Monday's deadline for a deal looming, Kerry has embarked on a frenzy of high-stakes diplomacy in a last-minute push to secure an agreement -- or at least prevent the process from collapsing after talks were already extended once.
"We are not talking about an extension," he said. "We are negotiating to try to get an agreement. It's that simple. And look, if you get to the final hour and you're in need of having to look alternatives or something, we'll look at them."
Senior negotiators in Vienna are working on an agreement to prevent Iran from reaching the capability to produce atomic weapons.
Despite Kerry's efforts, though, signs increasingly pointed to the Nov. 24 deadline passing without a deal and the negotiations being extended a second time.
In London on Tuesday and Wednesday, Kerry met with Foreign Minister Yusuf bin Alawi of Oman, a key bridge between Washington and Tehran, a senior U.S. official said.
Kerry's meetings with Fabius and Saudi Foreign Minister Saud al-Faisal are considered critical because French objections last year delayed the adoption of an interim agreement by several weeks, and Saudi Arabia remains deeply concerned about the potential for its archrival Iran to win concessions from the West.
In Washington on Wednesday, President Barack Obama's nominee to be Kerry's deputy at the State Department said he believed it would be difficult to meet the deadline.
"It's not impossible," said Tony Blinken, currently Obama's deputy national security adviser. "It depends entirely on whether Iran is willing to take steps it must take to convince us, to convince our partners that its program would be for entirely peaceful purposes. As we speak, we're not there."
The Obama administration also is trying to satisfy the concerns of lawmakers, Republican and Democratic, at home.
Republican senators sent a letter to the White House on Wednesday urging the administration against trying to circumvent Congress in any deal with Iran. "Unless the White House genuinely engages with Congress, we see no way that any agreement consisting of your administration's current proposals to Iran will endure," said the letter, which was signed by all 45 Senate Republicans.
The Associated Press contributed to this report.