Kerry selects retired Marine Gen. John Allen to lead anti-ISIS coalition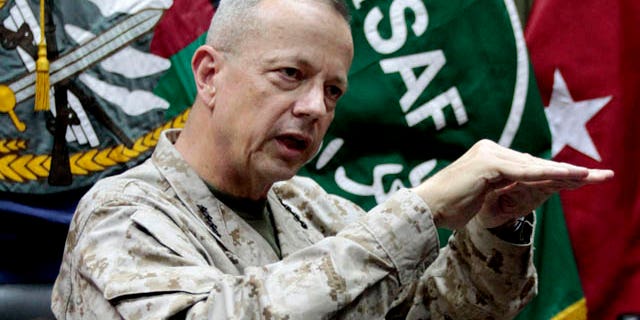 Retired Marine Gen. John Allen has been selected to coordinate the international effort against the Islamic State militant group, Secretary of State John Kerry announced Saturday.
"General Allen is a patriot and a remarkable leader," Kerry said in a statement issued late Saturday. "His extraordinary career in the military speaks for itself."
Allen's official title is Special Presidential Envoy for the Global Coalition to Counter ISIL. ISIL is another name for the Islamic State, which is also known as ISIS.
Allen, who has been serving as a security adviser to Secretary of State John Kerry, is expected to work with the nearly 40 nations around the world who have agreed to join the fight and help them coordinate what each will contribute.
Allen comes to the job with vast experience coordinating international allies on the warfront. He served as deputy commander in Iraq's Anbar province from 2006 to 2008, working with Arab partners on organizing the Sunni uprising against Al Qaeda. He moved from there to serve for two years as the deputy commander of U.S. Central Command, which oversees military troops and operations in the Middle East, North Africa and Central Asia.
Allen next became the top U.S. commander in Afghanistan from 2011 to 2013, where he worked with international allies who sent troops to the battlefield.
As a result of his experience, Allen is very familiar many of the Middle East nations and leaders considered crucial to the latest effort to, in President Obama's words, "degrade and destroy" the Islamic State militants, who have seized control of portions of Iraq and Syria in a ruthless reign of terror. He also has worked closely with most of the key military and diplomatic leaders, including Gen. Lloyd Austin, the current head of U.S. Central Command, who will oversee America's military campaign.
Officials are looking for partners to help train moderate Syrian rebels, work with the Iraqi security forces, contribute equipment, ammunition, intelligence, logistics and funding, as well as possibly also launch airstrikes.
The Associated Press contributed to this report.