Kentucky lawmakers condemn Gov. Bevin's 'guarantee' remarks about sex assault of children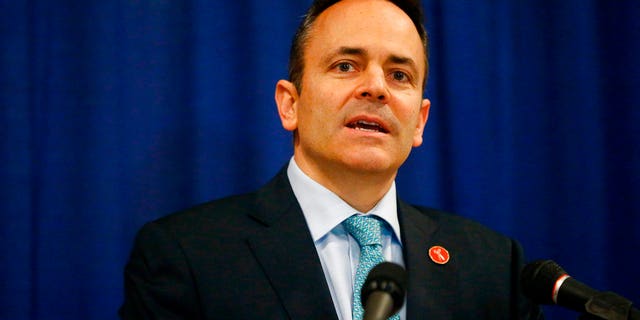 NEWYou can now listen to Fox News articles!
Kentucky's Republican-majority House of Representatives took the extraordinary step Saturday of condemning the state's Republican governor over remarks he made Friday amid teacher protests over his vetoes of a state budget plan that would have increased classroom spending.
The rebuke came in the form of two resolutions – one filed by Democrats, the other by state Rep. John Carney, a Republican who claimed about 30 others in the GOP supported his resolution, the Lexington Herald-Leader reported.
Thousands of teachers gathered at the state Capitol in Frankfort on Friday, trying to convince lawmakers to override the veto by Gov. Matt Bevin. More than 30 school districts across the state closed schools Friday so teachers could rally. Their effort succeeded, as lawmakers voted to override Bevin's vetoes.
But it was the school closures that prompted the remark from Bevin that outraged the teachers and drew the lawmakers' condemnation.
"I guarantee you somewhere in Kentucky today a child was sexually assaulted that was left at home because there was nobody there to watch them," the governor told reporters outside the Capitol. "I guarantee you somewhere today a child was physically harmed or ingested poison because they were home alone because a single parent didn't have any money to take care of them. I'm offended by the idea that people so cavalierly and so flippantly disregarded what's truly best for children."
As of Saturday, there was no comment about the rebuke from Bevin or from his office, the Herald-Leader reported.
State Senate President Robert Stivers, R-Manchester, told the Herald-Leader that Bevin should either clarify his statement or apologize. He added that it would be unfortunate if Bevin's remarks came to overshadow his accomplishments in office.
"It hurts me to think that the things that have been done in this administration will be overshadowed by a statement that is not defensible," Stivers told the newspaper. "If anyone asked me for my advice, I would say they should come out and make a statement, either clarifying it or being apologetic and getting the statement behind them.
"It hurts me to think that the things that have been done in this administration will be overshadowed by a statement that is not defensible."
"But you are not known for your 99 successes," Stivers continued. "You are known for the one blunder or failure, so I think he would be well served by saying or having a statement that he, in no way, was intending to harm or make inappropriate comment toward the people who were here (for the rallies.)"
Bevin, 51, has been Kentucky's governor since 2015. Under his watch, Kentucky earlier this year became the first state to add a work requirement for qualifiying for Medicaid benefits.
Bevin's remarks drew immediate backlash, Louisville's Fox 41 reported. Republican state Sen. Max Wise of Campbellsville, the Senate Education Committee chairman, described Bevin's comments as "disgusting."
"The disgusting comments by Gov. Bevin insinuating that a peaceful protest by teachers would lead to sexual assault are reprehensible," Wise tweeted. "I don't agree with these comments & I find them repulsive."
Sen. Morgan McGarvey, D-Louisville, referred to the comments as "an outrageous and unsubstantiated slander of a group of people who dedicate their lives to teaching and caring for our kids."
Sen. Whitney Westerfield, R-Hopkinsville, said on Twitter Saturday that Bevin's comments had the effect of "needlessly and unjustly demonizing" teachers.
House Speaker Pro Tem David Osborne said both parties felt a need to condemn Bevin's remarks, the Louisville Courier-Journal reported.
Stephanie Winkler, president of the Kentucky Education Association, said she was "appalled" by the remarks.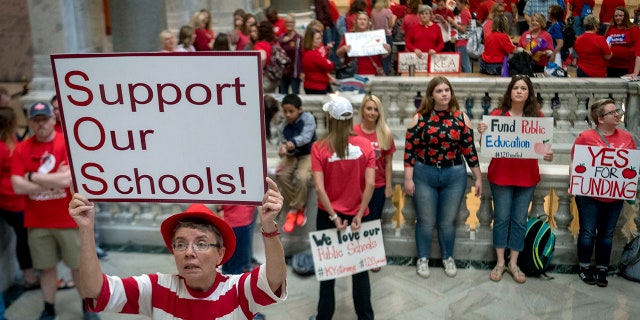 "There is no rational comment I could make to that," Winkler told the Courier-Journal.
Meanwhile, the animosity between Bevin and the state's teachers over school funding issues has prompted at least 40 current and former teachers to run for public office this year, most of them as Democrats.
But Stivers predicted that Republicans would still retain control of state government after this year's elections.
The Associated Press contributed to this story.