Karzai Calls Clinton After Anti-West Speech Draws Administration Rebuke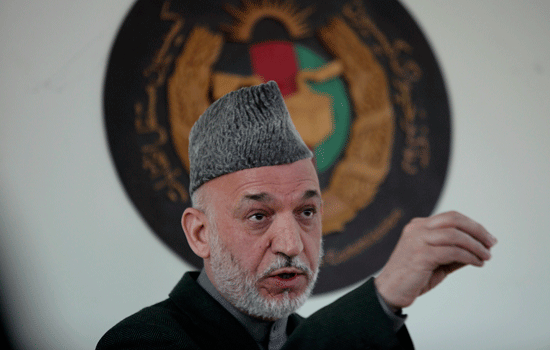 Hours after the Obama administration rebuked Hamid Karzai for a rant accusing Western governments of sabotaging his election, the Afghan president is trying to patch things up with the United States.
Karzai called Secretary of State Hillary Clinton on Friday to clarify his comments, a senior State Department official told Fox News. The official said Karzai expressed surprise that his remarks "caused a stir" and that by the end of the call the two "reached a good understanding regarding his comments and we're now focused on moving ahead."
But Karzai's inflammatory speech Thursday was just the latest sign of a flare-up between Afghanistan and the United States, and for good reason struck U.S. officials as "troubling." It came at a volatile time -- as U.S. troops pour into the country to prepare for a summer offensive in the southern city of Kandahar.
The White House and the State Department initially scolded Karzai, calling his remarks out of line and suggesting they were ungrateful.
"We are investing substantial resources to defeat Al Qaeda. It's in our interest, but in doing so we're also creating significant opportunities for the Afghan people," State Department spokesman P.J. Crowley said. "Suggestions that somehow the international community is responsible for irregularities in the recent election is preposterous."
He said Ambassador Karl Eikenberry also met with Karzai Friday "to clarify" what he meant.
"They are troubling," White House Press Secretary Robert Gibbs said of the remarks, before Karzai called Clinton. "A real and genuine concern."
Karzai on Thursday accused the United Nations and the international community of interfering in his country's fraud-tarnished presidential election last year. He did not specifically name the United States, but he said foreign nations were trying to weaken his authority.
The outburst was a strong indication that President Obama's meeting with Karzai over the weekend during his trip to Afghanistan did not entirely smooth over tensions that had surfaced over the past month.
In March, Karzai invited Iranian President Mahmoud Ahmadinejad to Kabul, where he delivered an anti-American speech inside the palace. Karzai has also recently visited China and Iran.
Lt. Col. Tony Shaffer, an Army intelligence officer who served in Afghanistan in 2003 and 2004 and now works at the Center for Advanced Defense Studies, said Karzai appears to be "acting out" following Obama's visit and may be trying to deflect attention from his own government's corruption.
He described the relationship between the two administrations as one of "chaos," and he said the United States is going to need a competent and cooperative Karzai if it wants to succeed in the upcoming Kandahar offensive.
"Marjah was a cakewalk compared to Kandahar. We're talking about a Fallujah-type situation that we're facing," Shaffer said.
Karzai's speech Thursday amounted to perhaps his most severe criticism of the West since the disputed August election -- which he won after his remaining challenger dropped out just before a forced runoff. Though other nations have pointed to fraud generated by Afghan officials, Karzai pointed the finger right back and equated "threats from the terrorists" to the "threat of foreign interference" in his country.
"No doubt, there was huge fraud. There was vast fraud. The fraud is not by the Afghans. This fraud has been done by the foreigners," Karzai said, pointing at officials of the U.N., the European Union and "the embassies here in Kabul."
He accused unidentified foreign embassies of trying to bribe members of the Karzai-appointed Independent Election Commission with offers of bulletproof cars in hopes they would block his first-round victory.
"See, this election was occurring during a time where there were threats from the terrorists," Karzai said of the August vote. "It was not only the threat from the terrorists. But seriously, it took place under the threat of foreign interference."
The remarks marked a sharp turnaround from the Afghan president's outlook late last year. Just weeks after the 30,000-troop American buildup was announced, Karzai said at a press conference with Defense Secretary Robert Gates that he'd like to see a U.S. troop commitment for the next 15-20 years.
"For a number of years, maybe for another 15 to 20 years, Afghanistan will not be able to sustain a force of that capability and nature with its own resources," Karzai said in December.
The White House has tried to reach out to Karzai. Aside from the visit to Afghanistan, Obama conducted a lengthy video teleconference three weeks ago with the president and invited him to Washington on May 12.
Gibbs said that invitation still stands.
The Associated Press contributed to this report.