Kaine, using Spanish like no candidate before him, takes over Clinton Twitter feed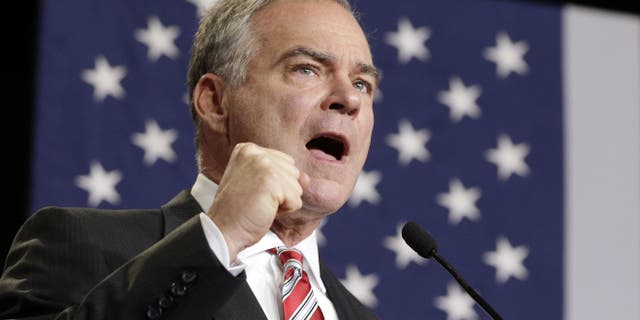 NEWYou can now listen to Fox News articles!
Vice presidential nominee Tim Kaine is on an Español roll.
Hours before Hillary Clinton's running mate was scheduled to deliver an all-Spanish speech in Phoenix on Thursday evening, he took over the former secretary of state's "Hillary en Español" Twitter account.
"¡Hola! Les habla Tim Kaine," he tweeted. "Hoy estaré en Arizona donde daré mi discurso en Español. ¡Síganme en @Hillary_esp para más detalles!" Which translates into: "Hello! Tim Kaine speaking. Today I will be in Arizona, where I will give my speech in Spanish. Follow me on @Hillary_esp for more details!"
?Hola! Les habla Tim Kaine. Hoy estaré en Arizona donde daré mi discurso en español. ¡Síganme en @Hillary_esp para más detalles! -TK
Clinton's Spanish-language Twitter feed has about 76,000 followers.
Another Kaine tweet said, "Spanish is the language of more than 40 million in this country. Today, I will give the first all-Spanish speech in a presidential campaign."
The U.S. Senator from Virginia also tweeted on the account in English,"Our diversity is America's greatest strength. We embrace people of all backgrounds, no matter who you are — or what language you speak."
Kaine, who is fluent in Spanish, has the rare ability for an Anglo politician to communicate directly with Latinos, one of the fastest growing electorates in the United States.
He learned Spanish decades ago as a young missionary in Honduras. Now he's putting it to use in a way that no other presidential or vice-presidential candidate on a major party ticket has done before.
Clinton, eager to take advantage of Donald Trump's harsh rhetoric about Mexicans and immigrants, is using Kaine's Spanish skills to help cement her Hispanic support.
Kaine has been a near constant presence on Spanish-language media in recent weeks, speaking directly to their audience of millions in battleground states like Florida and Nevada. One in 5 of the nearly 50 interviews he's done since being named to the ticket has been in Spanish.
Clinton, Trump and his running mate, Mike Pence, don't have that ability.
"That's been one of the most fun parts of the campaign, to be able to do Spanish-language radio, TV, newspapers and also just to go to places and just interact with people that way," Kaine told the Associated Press.
As of 2012, nearly 1 out of 5 Hispanic adults in the U.S. got their news exclusively from Spanish-language outlets, according to the Pew Research Center.
The Associated Press contributed to this report.
Like us on Facebook
Follow us on Twitter & Instagram