Joint Chiefs Recommend Short-Term Goals on Way Ahead in Afghanistan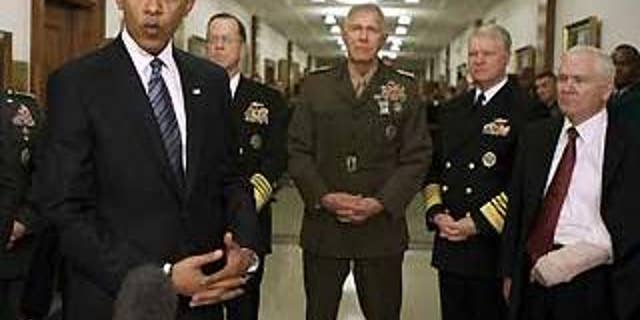 NEWYou can now listen to Fox News articles!
WASHINGTON -- A classified set of recommendations that focuses on short term goals for Afghanistan -- and not the long-term, stable, economically viable democratic government, once a goal of the Bush administration.-- is awaiting review by President Obama.
Obama is expected to approve U.S. troop levels and a deployment schedule to Afghanistan later this week, though Pentagon Press Secretary Geoff Morrell said a formal presentation by Defense Secretary Robert Gates has not yet been presented to the president.
Obama is widely expected to approve the three brigades, or 12,000 troops that will be part of the approximate 30,000 troop plus up this year. However, the Joint Chiefs of Staff who put together the recommendations and Gates are urging caution in surging any more troops into the Afghan conflict.
"Fundamentally Gates does want to try to fulfill the commanders' request," Morell said. "But above and beyond four more brigade combat teams, that's where Gates thinks we have a real question about whether additional troops are needed."
The Joint Chiefs are recommending that the administration set more realistic short-term goals and focus on Afghanistan's neighbors, Pakistan and Iran, as a means of containing Al Qaeda.
NATO's top military commander Gen. John Craddock said Monday that the alliance would not oppose individual member nations making deals with Iran to supply their forces in Afghanistan as an alternative to using increasingly risky routes from Pakistan.
Craddock's comments came just days after NATO Secretary General Jaap de Hoop Scheffer urged the U.S. and other members of the Western military alliance to engage with Iran to combat Taliban militants in Afghanistan.
General David Petraeus, commander of Central Command, is compiling his own review, expected in February.
Pentagon spokesman Bryan Whitman said the long-term strategy remains to establish "a stable and secure democracy" in Afghanistan. But Gates in testimony to the House and Senate Armed Services Committee last week recommended redefining the goals for Afghanistan and focusing more on what is realistic in the short and medium term.
"Afghanistan is the fourth or fifth poorest country in the world," Gates told the Senate panel. "And if we set ourselves the objective of creating some sort of Central Asian Valhalla over there, we will lose because nobody in the world has that kind of time, patience or money, to be honest."
Gen. George Casey, chief of the Army, reportedly told Obama during the "Tank" meeting at the Pentagon last week that there are no quick fixes in Afghanistan and the strategic review should be looking at where the military expects to be in 10 years there. The Tank is the secure room where the Joint Chiefs hold their meetings in the Pentagon.
FOX News has learned from a source present at President Bush's last meeting with the Joint Chiefs offered a final message to the group, written on a piece of paper: "No nation-building!"
One defense official pointed out is that was the message Bush entered office bearing and then a few years into the Afghan and Iraq conflicts, the administration shifted and it became clear military success was intricately linked to nation-building in Iraq and Afghanistan. However, in his final days in office, Bush returned to his administration's original mantra of "no nation-building."
It is not clear, as of yet, where the Obama administration stands on the debate.
"The large pieces of our military recommendations on the way forward in Afghanistan are ready -- it's now up to the president," a senior military commander told FOX News Tuesday.
The Associated Press contributed to this report.