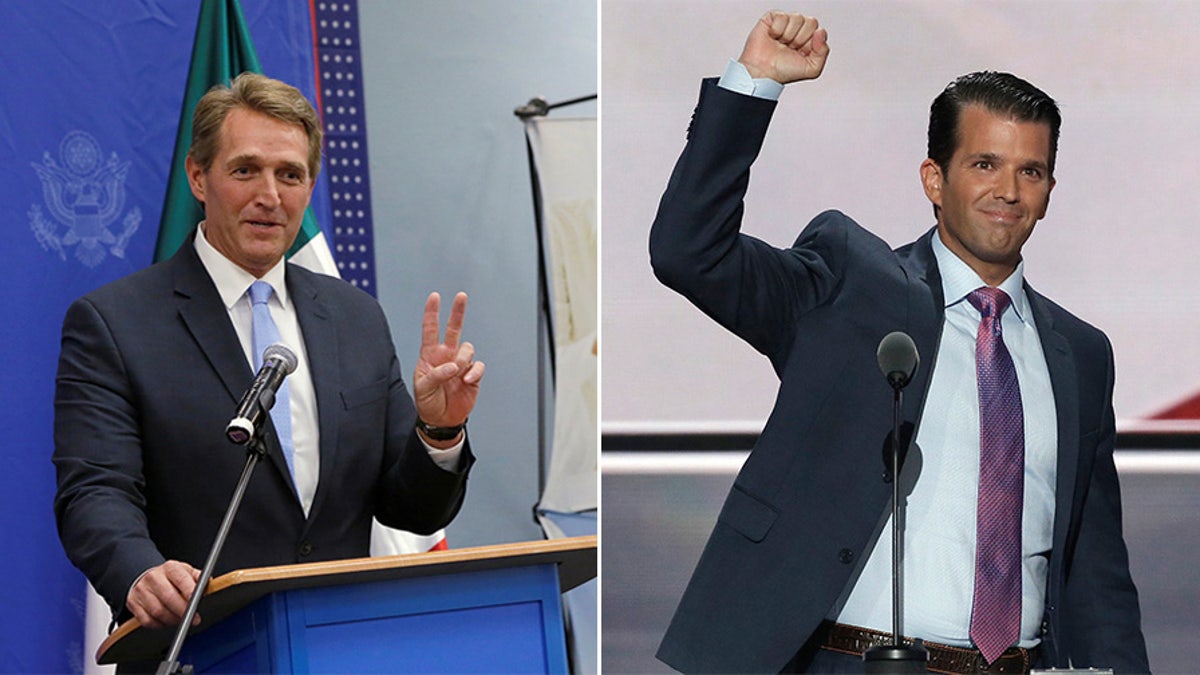 Republican Sen. Jeff Flake clashed with President Trump's eldest son on Tuesday over the outgoing Arizona lawmaker's proposed gun legislation in the wake of the deadly Texas church shooting.
Flake, who announced last month he would not seek re-election when his term ends in 2018, tweeted on Tuesday that he is co-sponsoring a piece of "proactive" bipartisan legislation that would ban anyone convicted of domestic violence from purchasing a firearm.
"Writing a bill w/ @MartinHeinrich to prevent anyone convicted of domestic violence – be it in criminal or military court – from buying a gun," Flake tweeted.
The proposed legislation, being written with Democratic Sen. Martin Heinrich of New Mexico, follows revelations that the U.S. Air Force did not report Texas church shooter Devin Kelley's domestic violence conviction to the FBI, even though it was required by the Pentagon. That left the door open for Kelley to buy weapons.
But Donald Trump Jr. didn't seem to think the senator's bill was all that "proactive."
"Incredibly proactive considering that law has been on the books since the mid 90s," Trump Jr. said in a sarcastic Twitter reply.
Trump was referring to the Lautenberg Amendment, enacted by Congress in 1996. The federal law was designed to prohibit people convicted of domestic violence from buying or possessing a firearm regardless of whether the crime was a felony or misdemeanor.
Kelley, who killed at least 26 people when he opened fire at a church in Sutherland Springs on Sunday, received a bad conduct discharge from the military in 2014 after being court-martialed in 2012 for assaulting his wife and reportedly fracturing his stepson's skull.
He was convicted on two charges of domestic assault, served 12 months in confinement at the Naval Consolidated Brig in California, and was later given the bad conduct discharge.
Flake hit back.
"If being proactive means closing the #DomesticViolenceLoophole exploited by the #SutherlandSprings Texas shooter, you're right," Flake replied.
An Air Force spokesperson Ann Stefanek said Monday that Kelley's conviction was not submitted to the FBI's Criminal Justice Investigation Services Division for inclusion in the National Criminal Information Center database that is used to conduct background checks on would-be gun purchasers.
But Trump Jr. struck back yet again.
"Wrong. Govt employees, like you, failed to do their job. He did a year for abuse & fracturing his kids skull. Should not have had a gun!" he tweeted.
In announcing his retirement, Flake has stepped up his criticism of the Trump White House.
"We were not made great as a country by indulging in or even exalting our worst impulses, turning against ourselves, glorifying in the things that divide us and calling fake things true and true things fake," Flake said on the Senate floor last month, seemingly pointing to Trump.
Fox News' Lucas Tomlinson and The Associated Press contributed to this report.