Iowa's Steve King rules out GOP bid for Senate in 2014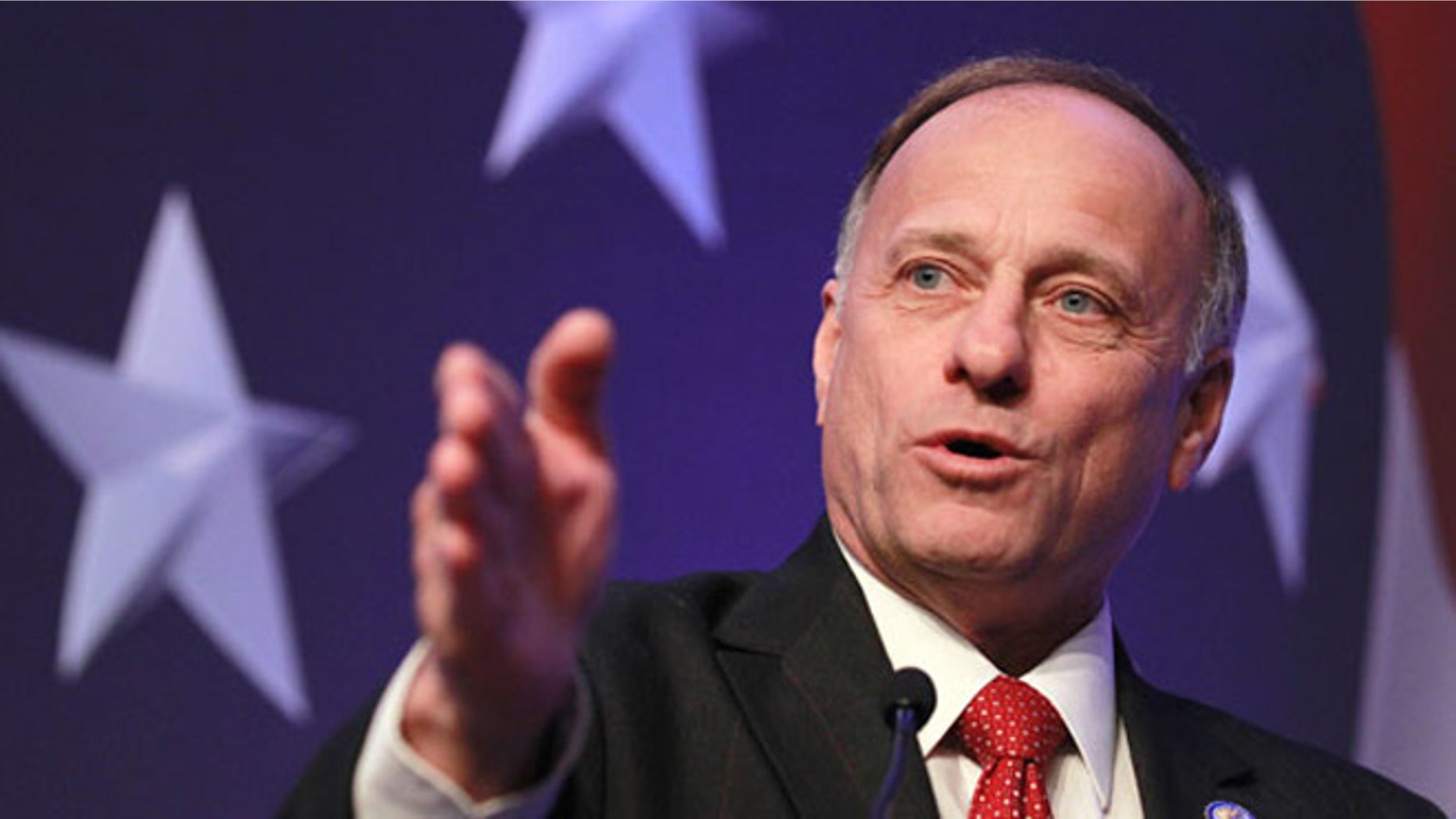 DES MOINES, Iowa – Iowa Rep. Steve King said Friday he will not run for the U.S. Senate, opening the race to succeed Democrat Tom Harkin to lesser-known Republicans.
King, a conservative firebrand from the state's GOP-heavy west had long eyed a challenge of Harkin, who was elected to the Senate in 1984 but has decided not to seek a sixth term. But King, a six-term U.S. House member, said in a press statement Friday: "I will not be a candidate for the United States Senate in 2014."
King said he had more pressing battles to fight in the House and that a long Senate battle would be a distraction. He also reported raising $93,000 in the first quarter of 2013, a fraction of what would be required to wage a competitive Senate race that's expected to run into the tens of millions of dollars.
"It is my intention to turn my efforts and energy with great vigor to the issues at hand," King said in his statement.
U.S. Rep. Bruce Braley is the only Democrat to announce he's running. The four-term Waterloo House member reported raising more than $1 million since declaring his candidacy in February.
Harkin's announcement in late January that he would not run next year was seen as an unexpected opening for Republicans for a seat that has eluded them despite competitive challenges over the decades. The GOP needs to pick up six seats to gain control of the Senate.
But King's decision follows similar announcements by Iowa Secretary of Agriculture Bill Northey on Thursday, Lt. Gov. Kim Reynolds last week and U.S. Rep. Tom Latham in February.
The series of declarations from Republicans who say they won't run for the seat has perplexed the state party and been a source of concern for the GOP's national Senate campaign organization, which dispatched its top political operatives to Iowa last week to survey the landscape and potential candidate recruits.
The delegation had asked Iowa Republican Gov. Terry Branstad to consider running. Branstad, who is expected to seek a sixth term next year, had urged Latham to seek the seat and had promoted his protege Reynolds for the campaign.
State Sen. Joni Ernst of Red Oak has voiced interest in the seat. Former Reliant Energy CEO Mark Jacobs of West Des Moines has also spoken with GOP strategists about a campaign.
King, popular with his western Iowa Republican base, was viewed as vulnerable in more populous and politically diverse eastern Iowa. Branstad had publically urged King to hold off on a 2014 run and commit to broadening his statewide network for a possible run in 2016, when six-term Republican Sen. Charles Grassley might retire.
Republicans have not yet recruited top-tier candidates in other open races in potential pickup states such as Michigan. Meanwhile, the GOP feels confident about its chances for picking up a seat in states such as West Virginia and South Dakota, where veteran Democratic senators are retiring and where Republican presidential nominee Mitt Romney won in 2012.