Inside the FBI's secret bomb lab: Unprecedented access to elite forensic team and the IEDs that shaped global security
EXCLUSIVE: In a highly classified lab, protected by many layers of security within the sprawling Redstone Arsenal Army post southwest of Huntsville, the FBI's chief explosive scientist is surrounded by powerful reminders of the ever-evolving threat posed by terrorist bomb makers plotting the next 9/11.
The 2001 shoe bomb worn by Al Qaeda terrorist Richard Reid.
The 2010 Times Square car bomb designed to kill and injure dozens in the beating heart of Manhattan.
The 2013 Al Qaeda-influenced pressure-cooker bombs that detonated near the finish line at the Boston Marathon.
"It's, like, the devil's jigsaw puzzle," Kirk Yeager explained to Fox News, during an exclusive tour of the bomb lab facility in Alabama. "As a bomb examiner … your job is to take all those pieces and put together a coherent puzzle."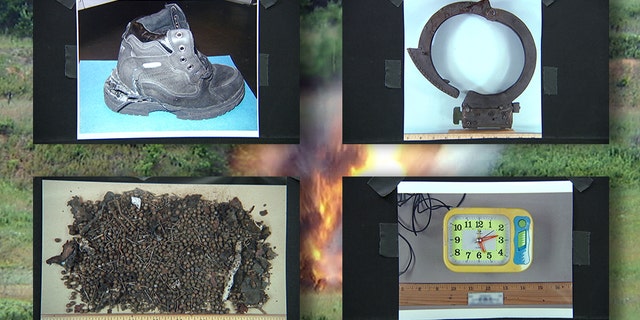 SLIDESHOW: EXCLUSIVE FBI EVIDENCE PHOTOS OF THE BOMBS THAT SHAPED POST-9/11 SECURITY
The post-9/11 threat from these crude but deadly devices, the explosive scientist explained, is "continuous, ongoing and eternal."
With unprecedented access to the FBI lab known as TEDAC – the Terrorist Explosive Device Analytical Center – Fox News exclusively obtained evidence photos that show the bombs that shaped global security after 9/11, and represent that ever-evolving threat people like Yeager work tirelessly to understand.
"The shoe bomb is one of the first major attempts against aviation in the United States, and was a game changer," Yeager explained. "Because that's why we're taking our shoes off in airports."
The evidence photos obtained by Fox News show how explosives were wedged into the sole of that infamous device.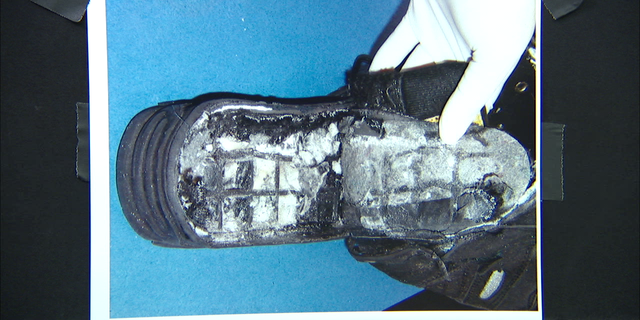 "If you kind of dissect it, it had a waffle pattern in the bottom. And actually every one of those little waffles was … stuffed with an explosive."
Asked why the shoe bomb failed, Yeager said luck and good screening played a role.
"They didn't like something about [Reid]. Didn't let him get on his flight. He came back the next day. The authorities had taken away a lighter from him," he recalled. "And he came on the next day with some matches, he was trying to sit there -- and if you ever try to light matches on a plane, people start smelling it really quickly. His seatmates got a little nervous, started calling for assistance."
Yeager's colleague Alice Isenberg, who now oversees FBI labs, analyzed the shoe bomb 17 years ago – and was able to determine he had outside help.
"I compared that DNA profile to Richard Reid's DNA profile and found that it was not the same," she recalled. "So that told us that that device was built by someone other than Richard Reid."
'The shoe bomb is one of the first major attempts against aviation in the United States, and was a game changer.'
While Reid failed to light the detonator, the FBI team showed the jury a demonstration of the explosive potential – to make clear just how much damage a successful shoe bomb could have done.
Yeager and his colleagues say their work is more than analyzing explosives; it is designed to "gain information that's useful to the intel community, to the law enforcement community, and to actual bomb techs and EOD (explosive ordnance disposal) operators worldwide to help them do their job better and safer."
Yeager also detailed the forensics on the Al Qaeda-influenced 2013 Boston Marathon bombing, where pressure-cooker bombs killed three and injured several hundred. He showed Fox News the shredded backpack, fragments of the pressure-cooker bombs and shrapnel the Tsarnaev brothers used to maximize casualties. This included a heap of copper-coated steel shot, BBs and miniature nails, all designed to "increase the potential for them to be lethal."
The Tsarnaev brothers later threw homemade pipe bombs at police during a dramatic chase, which was not a surprising choice to Yeager and his team given that an Al Qaeda affiliate instructed followers on that tactic in their terrorist magazine.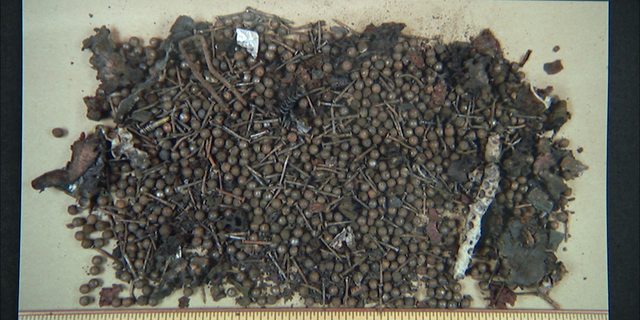 "I can show you a pipe bomb that Inspire Magazine talked about. That's not new. Pipe bombs have been around for a long, long time," he said.
Fox News saw evidence photos from the scene, including the blast site where one of the backpacks was left. "You can see some of the carnage left over," Yeager said. "The blood, the remains of people's personal items that have been lost as they're fleeing in panic. You are seeing what a bomb site looks like, which is pure chaos."
That created another challenge for first responders, as Yeager explained. "When people are fleeing for their life, they're leaving behind purses, backpacks and other items -- and the bomb tech coming on scene knows one bomb has gone off, and there's always a chance there's a secondary device out there," he said. All those abandoned possessions, then, are viewed as potential devices that have to be cleared, all while first responders are trying to save lives, "so it's a very complex, dynamic environment."
To meet that challenge, the Huntsville team developed a new approach to disable bombs from a distance, using water to disrupt the detonation.
"Water is one of those unique materials," said Ian Vabnick, head of research, development, testing and evaluation assigned to the FBI Counter ID unit. "Firstly … it has a very high heat capacity, and relatively low density. And you can cause water to jet very efficiently at very high velocity, and that means a lot of work on the target."
Fox News also went inside the massive FBI warehouse in Huntsville, home to more than a million pieces of bomb evidence. The vault is like a grim historical archive, allowing investigators to identify trends and pursue criminal prosecutions.
"If a scientist at TEDAC finds a latent print inside an IED, that information would be searched against databases and an individual could be identified," Isenberg said. "The primary advantage that a terrorist has ... is their anonymity. If we're able to disrupt terrorist networks and identify actual bomb makers, we are taking away from them that advantage that they have. And we can then prosecute them."
The 2010 Times Square car bomb plot was another near miss.
"It was one of these bombs that had everything but the kitchen sink kind of thrown in. He had a gun safe ... with an explosive charge. [Faisal Shahzad] had some butane tanks. He had a pressure cooker. He had some sort of thermos bottle. He had a clock timer ... none of which functioned really well," Yeager said.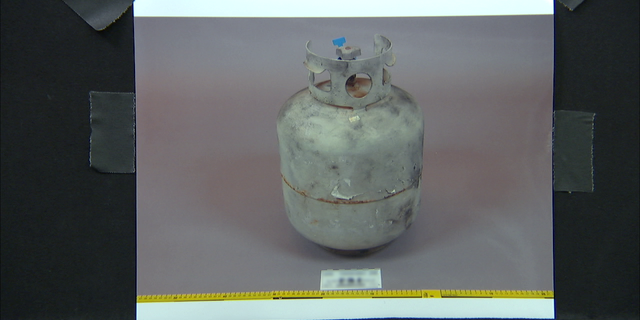 Asked whether it was a successful attack because Shahzad got the homemade car bomb to its target, Yeager said, "Anytime you can get a device, even a non-functioning device, into a target, it basically creates panic and it creates, you know, a feeling of not being safe by the American public. So it had success."
Isenberg and Yeager said the work can only be accomplished by a team, which grew out of the urgent need to thwart improvised explosive device attacks in Afghanistan. The Terrorist Explosive Device Analytical Center now partners with a host of agencies, including ATF and other units within the Defense, Justice and Homeland Security departments.
'It was one of these bombs that had everything but the kitchen sink kind of thrown in.'
For investigators, some cases never seem finished – like the bizarre 2003 plot that killed alleged co-conspirator Brian Wells with a bomb locked around his neck.
"Collar bomb will stick in my memory forever because it took seven years of my life," Yeager said. "There was one piece out of hundreds that looked to me like it was probably part of the bomb, but, like, not 100 percent sure. ... And that's going to haunt me until I retire."
Fox News' Pamela K. Browne contributed to this report.