In Argentina, Michelle Obama sends powerful message to young girls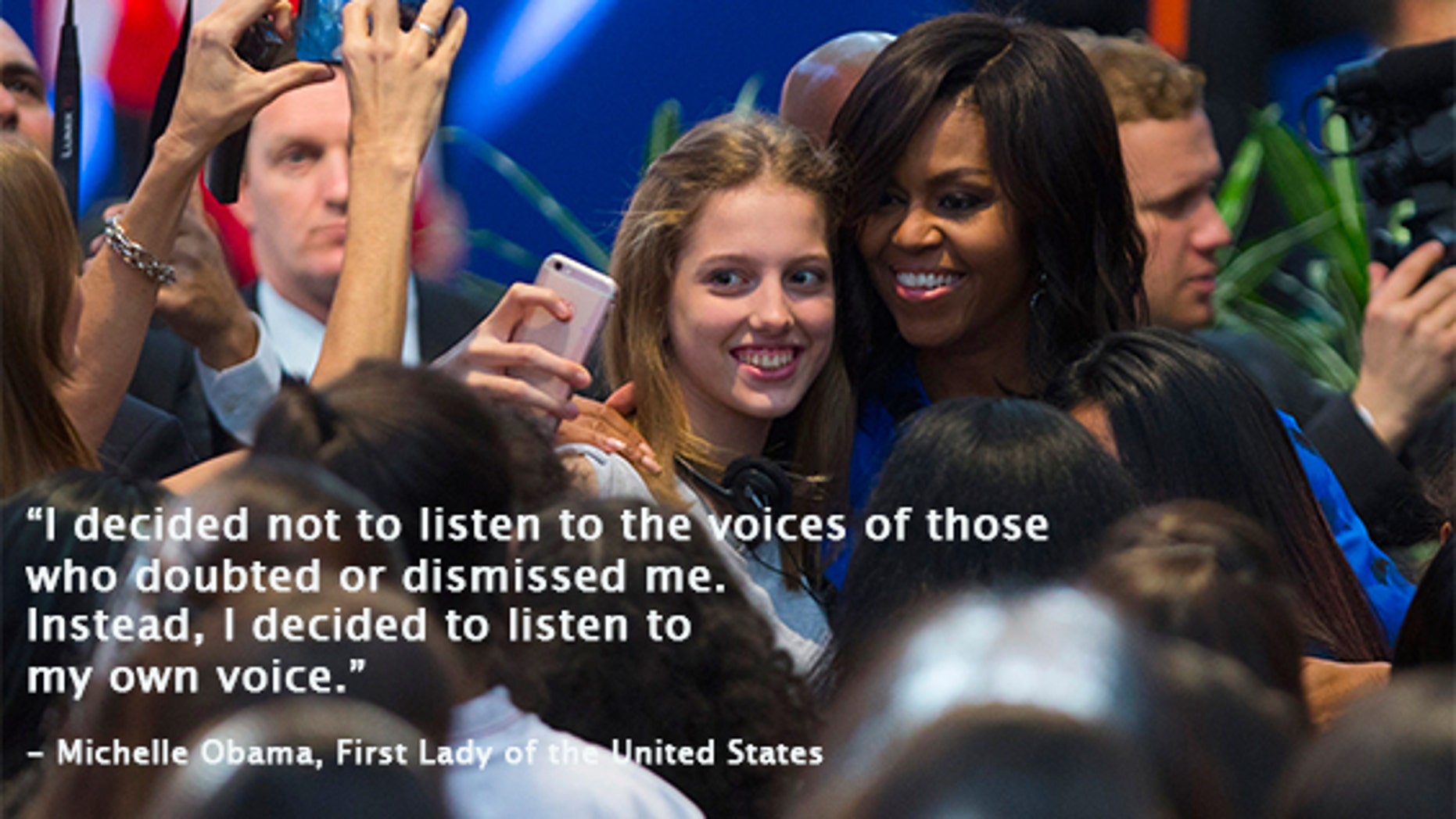 At a school in the Barracas section of Buenos Aires, Argentina, the First Lady of the United States, Michelle Obama implored teenage girls all over the world to stay in school, to become leaders and to listen to their own voices.
"I decided not to listen to the voices of those who doubted or dismissed me," Obama told a group of 400 high school aged girls at the Metropolitan Design Center. "Instead I decided to listen to my own voice."
As part of President Barack Obama's historic trip to Argentina, the First Lady personally addressed a group of young Latinas about the importance of education in a speech that drew similarities rather than contrasts between her own life and theirs lives of young - mostly poor - Argentinean young girls who seemingly were clinging to her every word, as it was translated in Spanish into their headsets.
Argentina's own first lady, Juliana Awada, introduced Michelle Obama, who pushed her new  program called "Let Girls Learn," a government-wide initiative started in 2015 to help girls around the world go to school and stay in school. Today, 62 million school-age girls around the world are not getting an education.
"I'm standing here today because I want the same thing for all of you, and that's why no matter what challenges or obstacles you might face, I want to urge you to get the education you need to make your voice heard in the world," Obama said.
Obama gave a personal account of her upbringing growing up in a poor Chicago neighborhood and working her way to earning a law degree from Harvard, becoming a director of a non-profit group and eventually a vice president of a hospital.
She emphasized that education gave her opportunities that her parents could not have dreamed of for themselves. She spoke directly to Argentinian girls – more than half of whom do not finish school. In fact, every year close to 180,000 girls between 14 and 18 stop going to school.
"I actually grew up in a neighborhood just like this – it was on the South Side of Chicago," the First Lady said. "A place where people worked hard to support their families, and where families were close and loving and had strong values."
Obama spoke about growing up in a very small apartment with her brother and her parents. She said she shared a room with her brother that was divided by a wooden partition. "My room was so small that, when I held out my arms I could almost touch both walls at the same time."
However, she said, "We didn't have a lot of space, but we filled our home with a lot of love."
She implored girls not to listen to the doubters or those who claim a girl's voice is somehow less important.
"They would ask my brother what career he planned to have, but would ask me what kind of man I wanted to marry," she said. "As I got older, I found that men would whistle at me or make comments about how I looked as I walked down the street – as if my body were their property, as if I were an object to be commented on instead of a full human being with thoughts and feelings of my own."
She added, "I began to realize that the hopes I had for myself were in conflict with the messages I was receiving from people around me."
She made a conscious decision to ignore those messages, she told the girls. "I started to question myself. Was I too loud? too much? Was I too bossy? Was I dreaming too big? And for years I would lie awake at night, and those doubts would eat away at my heart. But eventually I just got tired of always worrying about what everyone else thought of me."
During her speech, Obama also praised Argentina for being ahead of the United States in some ways in terms of women's rights and equality. She noted that Argentina's parliament has one of the highest percentages of women representatives in the world, and the country has had a woman president and a vice president.
"Milestones that my own country has yet to achieve," Obama observed.
She called on women in Argentina to help take on the world's most urgent challenges. The First Lady described how both women in Argentina and the United States struggle to earn equal pay, to balance of needs of family with the demands of jobs and to stop cycles of domestic violence and abuse.
"We need young women like all of you to get your education and to rise up as leaders at every level of your society," she said. "Because every single one of you has the power and the responsibility to help these girls."