Obama meets with Argentine president amid controversy over 'Dirty War'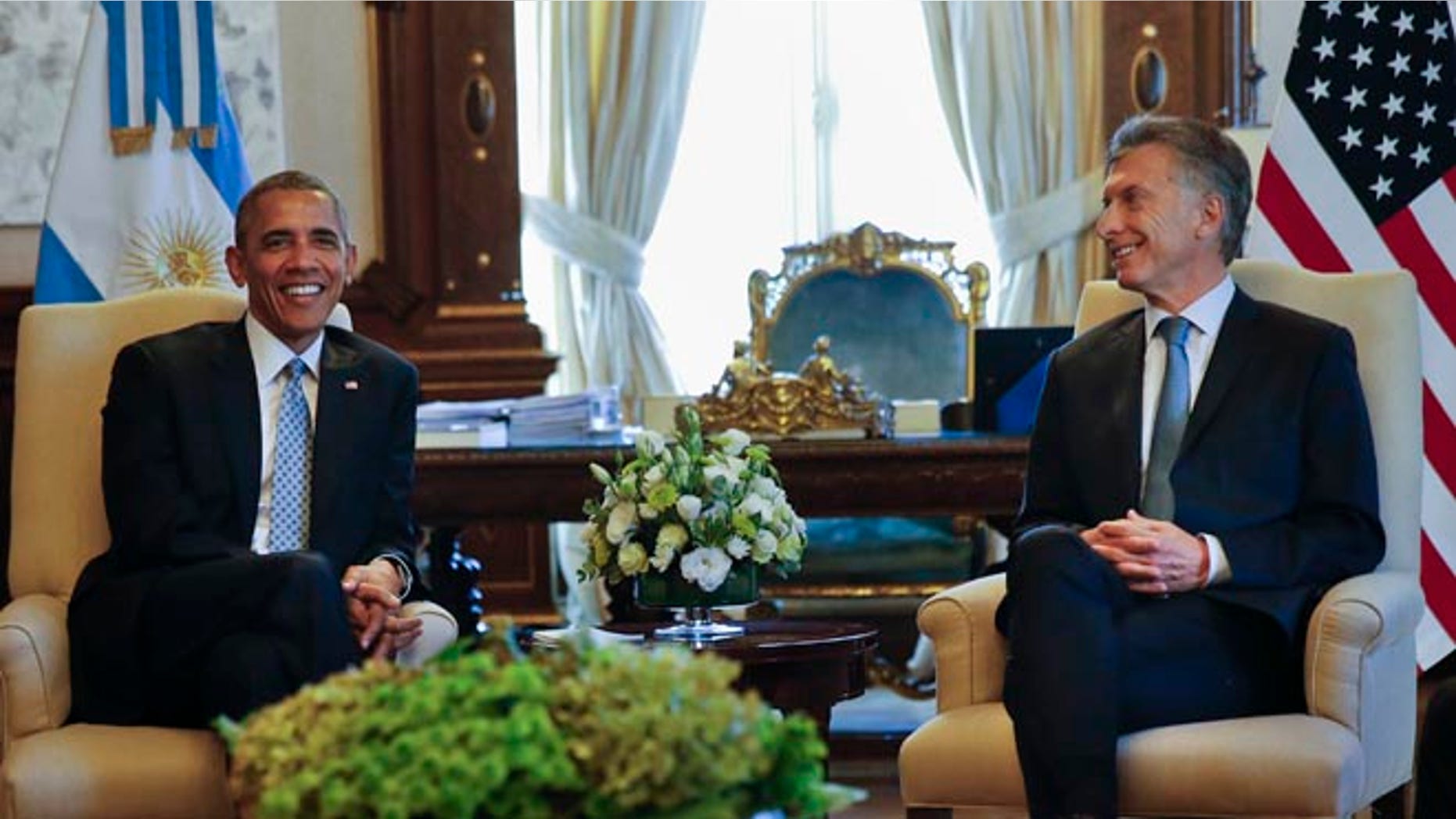 Thousands of people lined the streets of Buenos Aires on a crisp, sunny morning to catch a glimpse of U.S. President Barack Obama's motorcade as he sped to a meeting at the Casa Rosada for a closed-door meeting with his Argentine counterpart, Mauricio Macri.
A military band played as President Barack Obama arrived at the Casa Rosada, the pink-tinged building that is Argentina's equivalent of the White House. But not everyone was pleased with the pomp and circumstance of the trip itself because it coincided with the 40th anniversary of the 1976 military coup that launched a military dictatorship, during which thousands of civilians were killed or disappeared.
"It's a provocation, it's our date," Nora Cortiñas of the Mothers of Plaza de Mayo, a group that continues to search for missing victims of the dictatorship, told the U.K. Guardian about what is a day of painful remembering for many Argentinians.
The visit to the South American nation by the U.S. president and his family on the heels of their historic trip to Cuba, began at 1 a.m. Wednesday, when Air Force One landed at Ezeiza airport.
According to Clarín, he was received by Foreign Minister Susana Malcorra and the U.S. ambassador to Argentina, Noah Mamet. "I always wanted to come to Argentina. I'm finally here," Obama said.
During Obama's meeting with Macri, U.S. First Lady Michelle Obama addressed a group of Argentinian girls at the Metropolitan Design Center, urging them to fight for equality and to think about pursuing a STEM education.
After their meeting, Macri and Obama held a joint news conference during which he fielded questions about the U.S. roll in the military repression in the South American nation.
Questions about America's role in the military dictatorship that followed are a reminder of what many see as a shameful U.S. history of backing repressive Latin American regimes, and many Argentinians feel his visit is disrespectful to the families of the thousands who died or were disappeared during the so-called "Dirty War."
On Thursday morning, Obama and Macri will commemorate the coup's anniversary at a memorial to the victims of the dictatorship on the shores of the River Plate.
Members of Mothers of Plaza de Mayo like Taty Almeida, 85, who lost a son to political violence, won't be there. "How can we, with everything the U.S. represents for us? We've already decided against it," she told the Guardian.
It was unclear whether Obama would use his visit to apologize or acknowledge decades-old U.S. mistakes. But as controversy about the timing of his visit grew last week, Obama's administration announced plans to declassify secret intelligence and military documents from the period, potentially shedding more light on a story left partially untold until now.
Includes reporting by the Associated Press.