Impact Of Shutdown Has Ranged From Significant To Barely Noticeable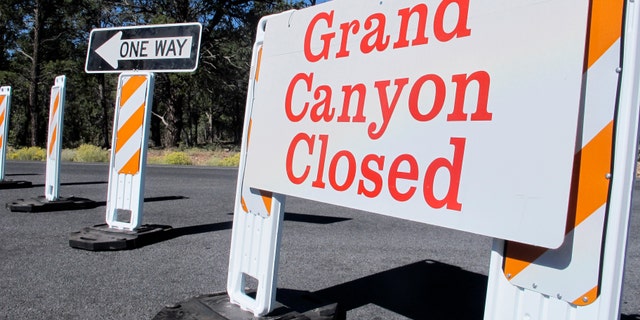 The partial government shutdown has had a deep impact on many Americans, but for others, it's been more of a case of "Shutdown? What shutdown?"
The shutdown and the locking of horns in Congress over how to bring it to and end is now in its third week, with dueling plans in the Senate and in the House to reopen the government and avert a U.S. debt default. Treasury says it will run out of money to pay its bills if Congress doesn't increase its borrowing authority by Thursday.
Mail is being delivered. Social Security and Medicare benefits continue to flow. But more than 400-thousand workers remain furloughed and many national landmarks and offices closed. Some national parks are reopening, though, with tourists able to once again visit Mount Rushmore National Monument in South Dakota, thanks to a deal with the state, corporate sponsors and the National Park Service.
Here is a look at how services have been affected, and sometimes not, by Congress failing to reach an agreement averting a partial government shutdown:
BENEFIT PAYMENTS
Social Security and Medicare benefits continue to be paid out, but there could be delays in processing new disability applications. Unemployment benefits are also still going out.
The Social Security Administration is delaying the announcement of the size of next year's cost-of-living adjustment, which was supposed to be released Oct. 16. According to an analysis by The Associated Press, preliminary figures suggest next year's benefit increase will be roughly 1.5 percent. The increase will be small because consumer prices, as measured by the government, haven't gone up much the past year. For the second year in a row, it would be one of the lowest raises since automatic adjustments were adopted in 1975.
TRAVEL
Federal air traffic controllers remain on the job and airport screeners continue to funnel passengers through security checkpoints. Furloughs of safety inspectors had put inspections of planes, pilots and aircraft repair stations on hold, but the Federal Aviation Administration says it asked 800 employees — including some safety inspectors — to return to work. More than 2,900 inspectors had been furloughed. The State Department continues processing foreign applications for visas and U.S. applications for passports, since fees are collected to finance those services. Embassies and consulates overseas remain open and are providing services for U.S. citizens abroad.
FEDERAL COURTS
Federal courts, which have been using fees and other funds to operate since the shutdown began, will likely have enough money to operate until Oct. 17, and possibly Oct. 18.
After that, the courts will run out of money and shut down all nonessential work.
A limited number of workers would perform essential work, while all others would be furloughed. Each court would make a determination on what is essential and nonessential. Judges would still be able to seat jurors, but the jurors won't be paid until Congress provides funding. Court-appointed lawyers would also not get paid.
The Supreme Court opened its term Monday and says its business will go on despite the ongoing shutdown. The Supreme Court announced Thursday it would stay open through Friday, Oct. 18, including hearing two days of arguments this coming week.
VETERANS SERVICES
Veterans are still able to get health care through VA hospitals and outpatient clinics because Congress approved funding for VA health care programs one year in advance.
The department administers numerous benefits for veterans and survivors such as disability pay, pensions and tuition reimbursement. The VA has warned Congress that it will be unable to make next month's payments for those various benefits if the shutdown continues into late October. This would affect more than 5 million veterans.
Even though the vast majority of VA workers remain on the job, some services have suffered. The department's efforts to reduce the disability claims backlog has faltered largely because processors are no longer being required to work 20 hours of overtime per month.
Veterans also rely on a variety of programs offered through other departments. The Small Business Administration has halted training and counseling for veterans trying to start a business. The Department of Labor has largely ended its job training services for veterans. The Department of Housing and Urban Development is not issuing vouchers to newly homeless vets, though those already receiving housing vouchers will still get them.
HOUSING
Homebuyers and sellers in rural areas face delays in closing on loans backed by the Department of Agriculture. They'll need to wait until the shutdown is over for their deals to go through because the USDA's rural development loans are frozen.
The USDA loans are popular with first-time homebuyers because there's no down payment requirement. Lenders say the loans are an early housing-related casualty of the shutdown, though they account for just a slight percentage of the overall mortgage market.
Because of government agency closures, some lenders are having trouble confirming applicants' income tax returns and Social Security data. Some banks have eased their rules to give borrowers ways to work around the problem on a temporary basis. That's helped prevent big backlogs, but many housing industry officials worry that problems could worsen if the shutdown is prolonged.
Furloughs at the Federal Housing Administration are slowing the agency's processing of loans for some low- to moderate-income borrowers and first-time homebuyers. About 15 percent of new loans for home purchases are insured by the FHA. Condominium loans are not being processed by the FHA.
FHA officials, meanwhile, are urging lenders to provide relief for borrowers who face economic hardship due to the shutdown.
MILITARY
The military's 1.4 million active-duty personnel remain on duty. About half of the Defense Department's civilian employees were furloughed, but Defense Secretary Chuck Hagel ordered nearly all 350,000 back on the job. Congress has ensured $100,000 payments to families of fallen service members would continue, passing a bill signed by President Barack Obama on Thursday. The payments had been suspended during the shutdown, prompting the Fisher House Foundation to volunteer to make the payments until the program got up and running again.
The military has also stopped providing tuition assistance for service members taking college courses during off-duty hours.
HEALTH AND RESEARCH
New patients are generally not being accepted into clinical research at the National Institutes of Health, but current patients continue to receive care. NIH has made rare exceptions, about a dozen in the first week of the shutdown, to allow patients with immediately life-threatening illnesses into research studies at its renowned hospital. Normally, about 200 new patients every week enroll in studies at the NIH's research-only hospital, many of them after standard treatments have failed. Medical research at the NIH has been disrupted as some studies have been delayed.
With two-thirds of personnel sent home, the Centers for Disease Control and Prevention has been severely limited in spotting or investigating disease outbreaks such as the flu or that mysterious MERS virus from the Middle East. The FDA has halted the review and approval of new medical products and drugs.
RECREATION
All national parks closed when the shutdown began, but the Obama administration said Thursday it would allow states to use their own money to reopen some of them.
Utah was the first state to take up the offer, and all five national parks located in the state reopened Saturday. Colorado also reached agreement to reopen Rocky Mountain National Park and tourists returned Saturday to the Grand Canyon in Arizona. South Dakota, aided by several corporate donors, was paying the National Park Service to reopen Mount Rushmore, which started seeing tourists again Monday when about 3,000 people visited.
Figures compiled by a coalition of retired park service workers indicate that some 700,000 people a day would have been visiting the parks and that the surrounding areas are losing $76 million in visitor spending per day.
In Washington, monuments along the National Mall have been closed, as have the Smithsonian museums, including the National Zoo. Among the visitor centers that have closed: Independence Hall in Philadelphia and Alcatraz Island near San Francisco. The Statue of Liberty reopened Sunday with New York footing the bill.
CONSUMER SAFETY
Several protection agencies have curtailed their work.
The Nuclear Regulatory Commission shut down most operations last week. However, resident inspectors will remain on the job and any immediate safety or security matters will be handled.
The Food and Drug Administration and Centers for Disease Control and Prevention say they can handle recalls and high-risk foodborne outbreaks, but discovering them will be more difficult because many of the people who investigate outbreaks have been furloughed. Routine food safety inspections were suspended, so most food manufacturers won't have to worry about periodic visits from government inspectors. U.S. food inspections abroad have also been halted. USDA inspectors are on the lines every day in meatpacking plants and are required to be there by law for the plants to stay open.
The National Transportation Safety Board is not investigating most transportation accidents, making an exception only if officials believe lives or property are in danger. The agency suspended 1,500 investigations that were underway before the shutdown. Nor has the board collected information on or sent investigators to the scene of 20 accidents involving U.S.-manufactured aircraft that have occurred around the globe since Sept. 30.
Auto recalls and investigations of safety defects have been put on hold during the partial government shutdown. The public can still file safety complaints through the National Highway Traffic Safety Administration's website, but no one has been investigating them in the new fiscal year. Manufacturers can still voluntarily recall vehicles, but major recalls are typically negotiated between the government and automakers.
ENVIRONMENT
At the Environmental Protection Agency, the shutdown means the agency can no longer certify whether vehicles meet emissions standards, delaying some new models from reaching car lots. New pesticides and industrial chemicals are also in limbo because the EPA has halted reviews of their health and environmental effects. And the nation's environmental police are no longer checking to see if polluters are complying with agreements to reduce their pollution.
EDUCATION
The impact of the shutdown on school districts, colleges and universities has been relatively minimal. Student loans have continued to be paid out. But school trips to national parks and museums have been canceled, and some university researchers have been unable to apply for grants or access government databases. Vocational rehabilitation programs helping adults with disabilities could begin to feel a pinch because these agencies receive 80 percent of their funding from the federal government.
TAXES
The Internal Revenue Service says more than 12 million taxpayers who filed for automatic extensions in the spring has tax returns due on Tuesday. Those returns, the agency says, are still due, regardless of the shutdown. The IRS suspended all audits and will not be processing any tax refunds during the shutdown.
Got questions? Sorry, IRS call centers will not be staffed, though automated lines are still running.
ECONOMIC DATA
How well is the economy faring? That's harder to tell given the array of economic reports measuring the health of the nation's economy that have been postponed. The reports measure such things as monthly unemployment, inflation, imports and exports, and retail sales.
LAW ENFORCEMENT
The FBI estimates that about 80 percent of its 35,000 employees are working and says it is prepared to meet any immediate threats. However, activities are suspended for other, longer-term investigations of crimes. Training and other support functions have been slashed.
NATIONAL SECURITY
The CIA furloughed a "significant" but undisclosed number of workers when the shutdown began. A week later, CIA Director John Brennan said he would begin bringing back employees deemed necessary to the CIA's core missions of foreign intelligence collection, analysis, covert action and counterintelligence. He said continuing dramatically reduced staffing levels posed a threat to the safety of human life and the protection of property.
LABOR ISSUES
The Equal Employment Opportunity Commission will not investigate any charges of discrimination or respond to questions from the public during the shutdown. It will request delays in ongoing court proceedings and will not hold any hearings or mediations. The National Labor Relations Board, which investigates and remedies unfair labor practices, has virtually ceased to exist during the shutdown. More than 99 percent of its staff has been furloughed, postponing nearly every pending hearing, investigation and union election.
WEATHER
The National Weather Service is forecasting weather and issuing warnings while the National Hurricane Center continues to track storms. The scientific work of the U.S. Geological Survey has been halted.
Based on reporting by The Associated Press.
Follow us on twitter.com/foxnewslatino
Like us at facebook.com/foxnewslatino