Deal Or No Deal? House Offers Plan Amid More Bipartisan Finger-Pointing Over Shutdown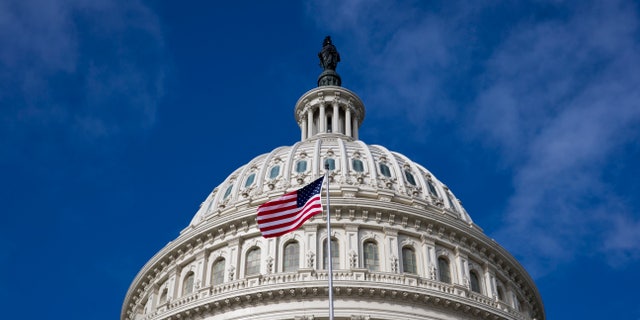 Deal or no deal?
It's no deal for now.
That was the upshot Tuesday afternoon as hopes fizzled for an agreement in Congress that would end the shutdown and avert a U.S. default on its debts — at least through a temporary plan that would last until January.
House GOP leaders floated a plan to fellow Republicans to counter an emerging Senate deal to reopen the government and forestall an economy-rattling default on U.S. obligations.
But the plan got mixed reviews from the rank and file and it was not clear whether it could pass the chamber.
The measure would suspend a new tax on medical devices for two years and take away the federal government's health care contributions to lawmakers and top administration officials. It would also fund the government through Jan. 15 and give Treasury the ability to borrow normally through Feb. 7.
Rep. Xavier Becerra, who is from California and is chairman of the House Democratic Caucus, called the House plan a "reckless" strategy.
"For the House Republicans to come out now and say they're going to do something contrary to what even their Senate Republican colleagues are discussing seems to be a reckless attempt to try to circumvent what the Senate is doing, which at this late hour … falls short of common sense," Becerra said, according to The Hill.
On the other side of the aisle, Rep. Raul Labrador, a Republican from Idaho, expressed concern Monday about the Senate. He accused his Senate colleagues of "pussyfooting around" in the budget battle.
"The problem with Senate Republicans is that they always want to have a fight the next time," Labrador said in a TV interview with CNN.
House Speaker John Boehner, R-Ohio, said he's "trying to find a path forward" but that "there have been no decisions about exactly what we will do." He told a news conference, "There are a lot of opinions about what direction to go."
Senate Majority Leader Harry Reid, D-Nev., involved in negotiations with Senate GOP Leader Mitch McConnell of Kentucky, blasted the House plan as a blatant attack on bipartisanship.
"It can't pass the Senate and it won't pass the Senate," Reid said. That sparked an angry response from Sen. John McCain, R-Ariz., who accused Reid of "piling on" and urged him to consider the House effort as a good-faith offer.
"We know you have the upper hand," McCain said. "Isn't it time that we find a way out of this?"
The bickering has gotten to the point of frustrating many Americans, including the Senate's own chaplain, who has made scolding the lawmakers a part of his daily prayers in the chamber.
"Save us from the madness," prayed Senate chaplain Barry Black on Oct. 3, according to The Washington Post. "We acknowledge our transgressions, our shortcomings, our smugness, our selfishness and our pride. … Deliver us from the hypocrisy of attempting to sound reasonable while being unreasonable."
On Oct. 4, the chaplain prayed: "Remove from [Senators] that stubborn pride, which imagines itself to be above and beyond criticism."
House Democratic leader Nancy Pelosi, D-Calif., said it was clear that Boehner "did not have the votes" for the House leadership plan. Pelosi said the Reid-McConnell plan has "struck fear in the hearts of the House Republicans," who she said want to "sabotage the bipartisan effort" in the Senate.
The developments came as a partial shutdown entered its third week and less than two days before the Treasury Department says it will be unable to borrow and will rely on a this cash cushion to pay the country's bills.
The House GOP plan wouldn't win nearly as many concessions from President Barack Obama as Republicans had sought but it would set up another battle with the White House early next year.
Rep. Walter Jones, R-N.C., said he was not sure he could vote for the plan because it did not address the debt. "I have to know a lot more than I know now," he said.
The House move comes after conservative lawmakers rebelled at the outlines of an emerging Senate plan by Reid and GOP leader McConnell. Those two hoped to seal an agreement on Tuesday, just two days before the Treasury Department says it will run out of borrowing capacity.
The White House and Democrats quickly came out against the Republican plan. Obama planned to meet with House Democratic leaders Tuesday afternoon as negotiations continue.
"The latest proposal from House Republicans does just that in a partisan attempt to appease a small group of tea party Republicans who forced the government shutdown in the first place," said White House spokeswoman Amy Brundage. "Democrats and Republicans in the Senate have been working in a bipartisan, good-faith effort .... With only a couple days remaining until the United States exhausts its borrowing authority, it's time for the House to do the same."
Political pressure is building on Republicans to reopen the government and GOP leaders are clearly fearful of failing to act to avert a default on U.S. obligations.
Republicans are in a difficult spot, relinquishing many of their core demands as they take a beating in the polls. As the Republicans met privately to discuss the latest plan, Rep. Steve Southerland, R-Fla., led them in several verses of "Amazing Grace."
"We have to stick together now," said Rep. Pete Sessions, R-Texas.
Like the House GOP bill, the emerging Senate measure — though not finalized — would reopen the government through Jan. 15 and permit the Treasury to borrow normally until early to mid-February, easing dual crises that have sapped confidence in the economy and taken a sledgehammer to the GOP's poll numbers.
"There are productive negotiations going on with the Republican leader," Reid said as he opened the Senate Tuesday. "I'm confident we'll be able to reach a comprehensive agreement this week in time to avert a catastrophic default."
The Associated Press contributed to this report.
Follow us on twitter.com/foxnewslatino
Like us at facebook.com/foxnewslatino