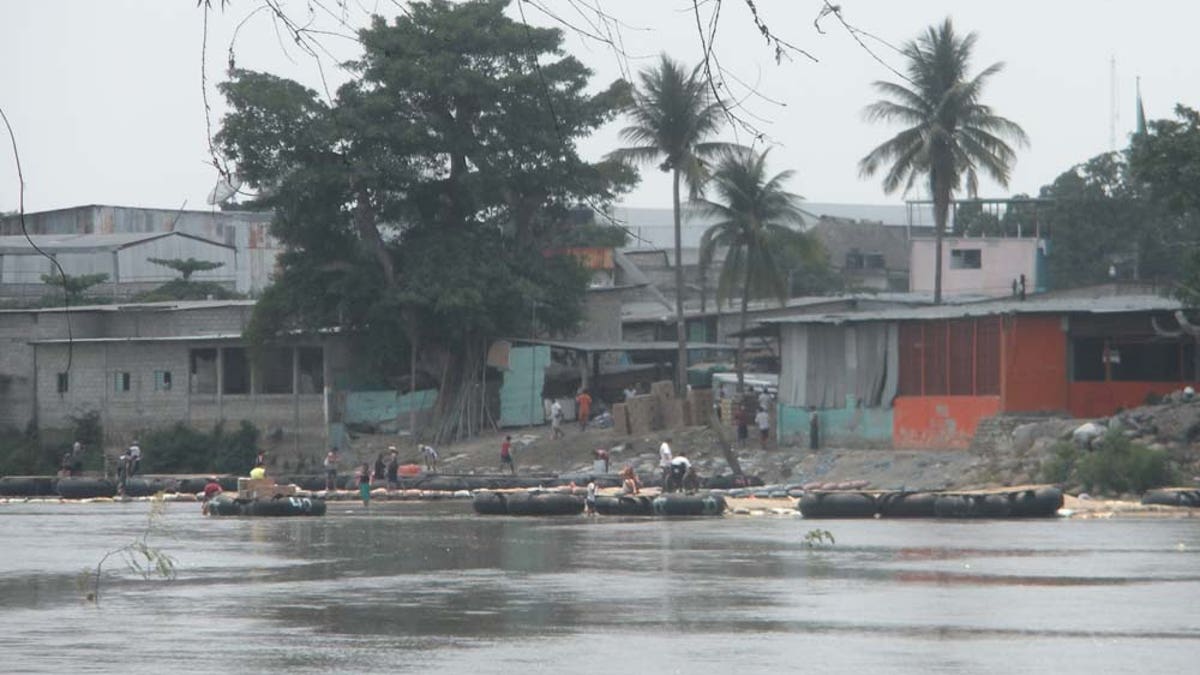 The shocking discovery Tuesday of 513 migrants --many of them from India and other Asian countries -- in two trucks in Chiapas, Mexico headed for the U.S. border, lays bare the growing importance of an illegal pipeline that funnels people from South Asia to the United States. Fox News Latino takes an exclusive look at this illegal immigration traffic.
Guatemala City --The house was in a residential section of Guatemala City, just an ordinary structure that blended into the landscape.
But what Guatemalan immigration authorities found inside in February was anything but ordinary: 27 males, including two minors, who had not eaten or bathed for days.
Even more intriguing, they were from India – nearly 10,000 miles, or a 17-hour plane ride, away.
These immigrants, who carried passports and return plane tickets, were among the 1,688 Indians who entered the country through Guatemalan immigration checkpoints at the airport or by land between January and April.
But most of them, like the immigrants found in the Guatemala City house, evidently had no intention of going back to India.
During that period, only 436, or 25 percent, left by the same means.
Increasingly, Indians seem to be using Guatemala – which doesn't require a visa for Indian nationals – as a bridge to begin an illegal journey through Mexico, where a visa is required, to their final destination in the United States, said Enrique Degenhart, who took office in early 2010 as Guatemala's director of immigration services.
"An abrupt increase in the number of Indian citizens entering Guatemala led us to ponder whether they were using this country as a bridge," Degenhart said. "After exchanging information with Mexico, we realized that a high percentage [of Indians] entered Guatemala due to the visa status modification and crossed the border illegally onto Mexico."
New Visa Rules Lead to Rise in Indian Migration
Indians have been allowed to enter Guatemala without a visa since 2009, after diplomatic and commercial relations were established with India, and in response to India's offer of a $10 million credit line and other assistance, according to the Indian embassy.
The changes precipitated a clear uptick in Indian travel to Guatemala.
While only 304 Indians entered the country legally in 2008, the number tripled the following year, and continued to increase.
Degenhart says he was alarmed when he realized how many Indians entered the country legally in 2010, a total of 4,966, while only 1,058 exited the country legally – that was only 21 per cent of those who entered.
These numbers turn Guatemala into a giant waiting room, a geographical prelude, for the bottle neck that Mexico has become for Indians and other undocumented immigrants heading to the United States.
The impact of the easier access to Guatemala for people from India grew crystal clear a little over a year ago, when U.S. border authorities identified an influx of Indian citizens crossing over illegally.
Indians Are "Most Significant" Human Smuggling Trend
U.S. immigration officials say that after Latin Americans, people from India are the largest group of migrants caught crossing the Southwest border.
Indeed, while people from India account for one of the largest groups of legal immigrants in the United States -- foreign-born Indians, many of whom come to the United States on employment-based visas, numbered 1.5 million in 2006, according to the U.S. Census -- they also accounted for 2.3 percent of all U.S. undocumented immigrants.
A 2008 Migration Policy Institute report said: "The number of unauthorized immigrants from India grew faster than the number of any other immigrant group between 2000 and 2006."
Kumar Kibble, the deputy director for U.S. Immigration and Customs Enforcement, or ICE, was quoted in the Los Angeles Times as saying that Indian migration is the "most significant" human smuggling trend being tracked by U.S. authorities.
"For the most part it's the jobs," said a senior U.S. law enforcement official, with direct knowledge about human smuggling on the Southwest border, about what draws the migrants. "The economic opportunities, they come for a better life."
"The Indian nationals will pay from $35,000 to $75,000 to get to the United States," said the official, who spoke on the condition that he not be identified.
In 2009, the U.S. Border Patrol arrested 99 India nationals along the Southwest border.
In early 2010, at least 1,600 Indians were caught in Texas alone. An undetermined number made it across the border undetected among immigrants from other nationalities, particularly Central American, who aren't required visas to enter Guatemala either.
In 2011, the number of Indians entering Guatemala legally continues to grow. By April, the monthly average of Indians entering had grown by 10.
A Man Carried 50 Indian Passports
Last March, a man was arrested in Guatemala's international airport, en route to Ecuador, with 50 passports from India while trying to leave the country with a fake passport.
In November 2010, an Indian citizen, Adil Vali Mohammed, was arrested after leaving Guatemala and arriving at the New Delhi airport carrying 31 Indian passports. Degenhart suspects that these documents were being used by Indians to enter Guatemala and then were sent back to India to be used by another group traveling to Guatemala.
Police authorities in New Delhi said that Mohammed's arrest led to the discovery of a human trafficking network that transports Indians to the United States through Mexico or Canada, after they arrive in Guatemala, according to Indian press reports.
"If a country has less visa requirements, or corrupt officials, or there's a country where they have better contacts, that the country [traffickers] will travel through to get to the United States," said the U.S. senior law enforcement official. "The trafficking networks are fluid, they'll go to where the opportunity is."
In 2010, at least 200 Indians were denied entry to Guatemala, mostly because they carried invalid travel or identification documents, according to immigration authorities, who are also investigating whether immigration officials are involved in the trafficking network.
Central American immigrants, too, have begun to notice Indians in their travels.
"[Last February], I saw three Indians while travelling through Oaxaca on board a small train," said Jonathan, a Honduran migrant passing through Guatemala. "There were about one hundred of us in there; most were from Honduras, El Salvador and Nicaragua."
Guatemala's Borders Are Vulnerable
Visa requirements do not stop the flow of undocumented immigrants from other continents. The main reason: It's relatively easy to enter Guatemala, even illegally.
Some fly directly to Guatemala if they are not required a visa to enter; others get in without valid identification or travel documents due to the country's weak border protection.
Degenhart said that Indians had been using the Caribbean to reach Mexico, but when visa policies were strengthened in the Caribbean, traffickers switched their routes to Guatemala in 2010 due to the visa exemption.
Before February's case, no large groups of Indians had been caught since the late 1990s.
Guatemala has visa requirement exemptions for 84 countries. Among them are Taiwan, Madagascar, Malaysia and Russia, but no citizens from these countries have been spotted trying to cross over to Mexico.
The trafficker responsible for locking up the 27 Indian immigrants remains unidentified.
"Not a Single Coyote Has Been Convicted"
Mauro Guzmán, president of the Migrants Commission in the Guatemalan Congress, said that "not a single coyote [trafficker] has been convicted in Guatemala, which is the reason why they operate with such impunity."
Guzmán attributed the lack of convictions partly to corruption, and to the fact that most immigrants shy away from accusing the traffickers to avoid delaying their journey to the United States or their return to their home country, or because they fear reprisals from the traffickers.
"Some of them know where the immigrants [and their families] live," the congressman said.
Also, some undocumented immigrants, or even the documented ones, opt to avoid legal procedures that could keep them from continuing their path to the United States because they have already paid a high sum of money for the journey, or they owe at least half of it.
Degenhart says that the Public Ministry, not immigration authorities, investigates these cases.
Immigration only administers the official immigration checkpoints, to ensure that travelers allowed into the country have the proper documentation.
Guzmán warns that trafficking immigrants is not directly addressed by Guatemalan law, that there are no police, prosecutors and judges specialized in immigration issues, a situation he hopes a new law initiative could change if approved in 2011 -- an unlikely scenario considering this is an election year.
In the meantime, after the November arrest in the New Delhi airport, Indian police has identified the kingpin of at least one trafficking network as "Ronnie," an India native who waits for the Indian immigrants in Guatemala and puts them up at safe houses. Yet, Guatemalan police has been unable to locate him.
Immigration Control At Airports Is in Hands of Airlines
Six years ago, the immigration controls linked to air travel were placed in the hands of the airlines. But this year, at Degenhart's request, immigration will reinstall a check point for passengers leaving the country, and stricter controls will also be placed at land borders with El Salvador and Honduras.
"The flow [of undocumented immigrants] has decreased considerably because we have strengthened several checkpoints," Degenhart explained, although he acknowledges that the blind spots used by most undocumented immigrants remain unguarded. "Our northern and southern borders are so vast, and our army is so limited in number of troops, that it's easy to traffic people through the same blind spots used to traffic drugs and weapons."
Guatemala lacks an equivalent of the U.S. Border Patrol, and the army numbers only 17,100 soldiers -- or one for every 818 inhabitants -- although President Alvaro Colom wants to increase them to 21,100 if the budget allows. The only means of increasing security is passing a tax reform that opposition parties in the Congress also see as a political liability given the present electoral year.
Degenhart has asked the Ministry of Foreign Relations to change the entry requirements for Indians, obliging them to have a stamped visa on their passport before arriving in Guatemala.
Whether his policies to beef up security in immigration check points at airports, and borders with El Salvador and Honduras, will last into the new administration taking office in 2012 remains to be seen.
In the meantime, undocumented immigrants -- including Indians, once their visa exemption is removed -- have very few choices for accessing Mexico and the United States other than to travel through Guatemala.
After finding the 27 Indian immigrants in February, Degenhart is convinced that there are mafias dedicated to trafficking them through Guatemala.
"Mexico detains and takes them to a shelter," he said, "but they become a problem because they don't carry travel and identification documents, so Mexican authorities don't know if the immigrants are from India, Pakistan or any other country."
Then, it can be unclear to where they should be deported, despite the fact that Mexico, for instance, lays the groundwork for their expulsion.
In 2010, for example, some 350 Indians were held at Mexican immigration shelters for deportation.
"We expect that the reinstatement of visa requirements for them [in Central America] is treated as an urgent matter, so they cannot longer use Guatemala as a bridge," Degenhart said.
Julie López is a freelance writer based in Guatemala.
Follow us on twitter.com/foxnewslatino
Like us at facebook.com/foxnewslatino