If Romney Loses Ohio, Nevada Could be Key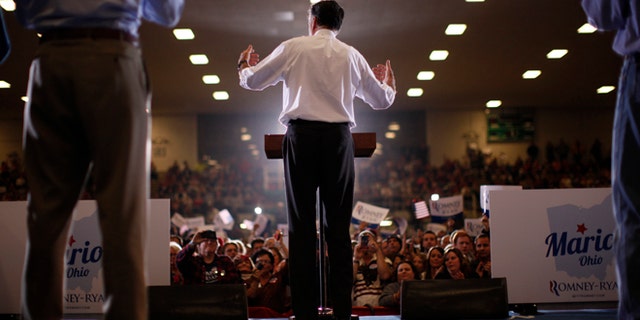 No state in the union has been hit harder by the economic recession than Nevada.
In 2008, President Barack Obama won Nevada and its six electoral votes over Republican Sen. John McCain 55.1 to 42.7 percent, thanks in part to overwhelming support from the Latino community, which makes up 14 percent of the state's registered voters. A Fox News exit poll showed Obama won 76 percent of the Latino vote versus McCain's 22 percent.
But the state prides itself on its independent electorate. In the last six elections, Nevada has voted for a Republican and Democrat evenly.
So the question is: Will a sour economic situation sway enough voters away from Obama and toward Republican challenger Mitt Romney?
It's people like Paul Prekop who make Nevada a maddeningly difficult state for the President to lock down, and who give Romney hope that there's a route to the White House even if he loses the big prize of Ohio.
Prekop, 54, said he benefits from a union contract in his job as a casino craps dealer. He credits Democrats for the stock market's four-year rise. And he's grateful that Obama's health care law lets him keep his young-adult son on his insurance plan.
With the millions of dollars from special interests flooding Nevadans' TV, phones, and mail boxes, eventually you hit a point of diminishing returns.
"I'm not really a big Romney fan," he adds.
So, did Prekop help re-elect the president when he voted early on a gorgeous afternoon in a northwest Las Vegas suburb on Thursday? No.
"We just need a change," he said, explaining his vote for Romney. "I'm scared of Obama the next four years, the socialistic things he's into."
If Prekop was swayed by the avalanche of anti-Obama ads on Las Vegas TV stations, perhaps it's understandable. No region in America has seen more presidential campaign commercials. Last week alone, Romney's campaign and its allies spent $3.6 million on Nevada commercials, while Obama and his supporters spent $2.7 million.
Interspersed with the hard-hitting presidential ads are even harsher commercials for the state's fiercely contested Senate race and House contests. Some strategists in both parties say the endless flood of TV ads, phone calls and mailings may cancel each other out, making door-to-door voter turnout efforts more vital than ever.
"I see tons of TV ads. I just ignore them," said Juanita Sowell, 50, a college administrative assistant who joined about 13,000 others to see Obama at an outdoor rally in Las Vegas on Wednesday. Several said they no longer answer their phones, to avoid campaign pitches.
Romney also campaigned in Nevada last week, making stops in Reno and Henderson.
The flood of spending speaks to Nevada's potentially crucial role, even though it draws a fraction of the national attention devoted to Ohio.
If Romney wins North Carolina, Virginia, Florida and Ohio, then Nevada could be the final state to put him over the top. The same role might be played by Colorado, Iowa, Wisconsin or New Hampshire.
And if Obama wins Ohio and Wisconsin, then Romney could still claim the White House by winning Nevada and those other four competitive states.
If Nevada's importance is clear, its political landscape is quirky.
A sizeable Mormon population co-exists with the strip clubs, casinos and "Sin City" legacy of Las Vegas. Obama is counting on big margins from Latinos — who make up 27 percent of the state's population — and from labor unions, anchored by Las Vegas' hotel and restaurant workers.
But Nevada has the nation's highest unemployment rate, 11.8 percent. And the state was clobbered by the collapse in home values, with many thousands of borrowers owing more than their houses are worth. Romney lays these and other economic woes at Obama's feet.
"Can you afford four more years of doubling of the gasoline prices you're paying?" Romney asked a cheering crowd in Henderson last week.
If Nevada's struggling economy is Romney's biggest hope, the state's dysfunctional Republican Party may be his biggest worry.
Earlier this year, followers of defeated GOP candidate Ron Paul essentially took over the state party, forcing Romney and other mainstream Republicans to build separate operations to reach voters.
By contrast, Democrats have a proven voter-turnout operation here. Obama won Nevada by 12 percentage points in 2008, and campaign workers have been in the state ever since. Their efforts are combined with those of Senate Majority Harry Reid, a veteran of squeezing out tough wins in the state.
"With the millions of dollars from special interests flooding Nevadans' TV, phones, and mail boxes, eventually you hit a point of diminishing returns," said Obama campaign spokesman Ty Matsdorf. "Our organization is so important because a neighbor-to-neighbor conversation can cut through all the advertisements out there and show voters what is at stake."
As of Friday, roughly one-fourth of Nevada's voters had cast their ballots, and Obama seemed to have an early voting edge. About 46 percent of the ballots were cast by registered Democrats, and 36 percent by Republicans.
Republicans say such statistics can be misleading, however. "We know Republicans vote later in the process, and we're right where we want to be," said Romney campaign spokesman Mason Harrison. "We always knew the race would be neck and neck."
Obama tells voters everywhere that the U.S. economy is slowly coming back. It's a tough sell in Nevada. But the president got a smidgen of help last week during a newscast on the Las Vegas Fox TV affiliate. "Foreclosure Rates Plummeting," was the headline on a report saying Las Vegas now ranks 25th in that category among metropolitan regions.
At the early balloting site where Prekop voted last week, however, he wasn't the only Nevadan rejecting the president's pitch.
"We need to get rid of Obama, he's terrible," said Mike Spiel, 65, a retired police officer. "The economy hasn't gotten any better. He's not kept his promises."
Rajka Shugarman, 32, a Canadian-born naturalized citizen, was almost giddy in casting her first vote in a U.S. presidential race. She said she will be crushed if Romney loses.
Obama's warnings that Romney would limit women's health and reproductive options are nonsense, she said. "It's bizarre, it's ridiculous" for such issues to dominate presidential campaigns, she said.
Her husband, Alan Shugarman, said he voted for Obama in 2008, and is deeply disappointed that the president didn't improve life for middle class people.
"He had the opportunity to make the change when he had the Congress," Shugarman said, alluding to the first two years of Obama's term, when Democrats controlled the House and Senate.
Obama's team is counting on getting more voters like John Gregory, 71, to the polls. "I think he should get four more years," the former Chicago police officer said, because he inherited such a huge economic mess.
Reporting by the Associated Press.
Follow us on twitter.com/foxnewslatino
Like us at facebook.com/foxnewslatino