Hundreds of Phoenix high school students walk out to rally against Arpaio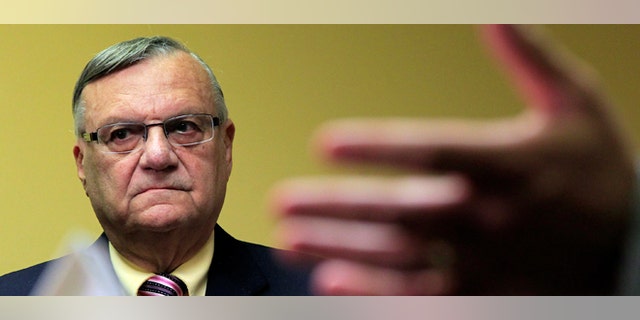 NEWYou can now listen to Fox News articles!
Students at two Phoenix-area high schools walked out of their classes around noon on Tuesday to rally voters to not cast their ballots for Maricopa County Sheriff Joe Arpaio.
Hundreds of students at North High School and Maryvale High School left after lunch on Tuesday and gathered at two separate meeting places. The students were chanting and some were holding anti-Arpaio signs that read "vote against hate."
A giant-sized inflatable balloon of Arpaio in handcuffs was seen at one of the protests, a reference to the sheriff's having been charged with contempt of court two weeks ago for defying a judge's order in a racial profiling case.
"The stakes are too high to watch this election happen without being part of it," Carlos, a senior at North High School, said in a press release.
People United for Justice, an anti-Arpaio group, sent out a press release when the students walked out of school.
"In a moment when youth of color are making history in their civic participation, students see Election Day as a responsibility and priority," the group said in its statement.
Arpaio, the 84-year-old lawman who is up for reelection on Tuesday, became a national figure for his tough stance on undocumented immigrants and questionable policing tactics. The tough-talking sheriff has won the last six elections by crafting an image as a law enforcer who targets parents skipping out on child support, animal abusers and immigrants in the country illegally.
The U.S. Justice Department announced the day before early voting began in Arizona that it would prosecute Arpaio for continuing his signature immigration patrols, which a judge concluded more than a year later had racially profiled Latinos.
Arpaio could go to jail for up to six months if convicted, but he would not be barred from office if he secures a seventh term. He has acknowledged breaking court orders but insisted the violations were unintentional.
The Republican sheriff's political strength has waned over the last few elections in the heavily Hispanic state, but a devoted base of supporters as well as his impressive fundraising, much of it from outside Arizona, has kept him in office.