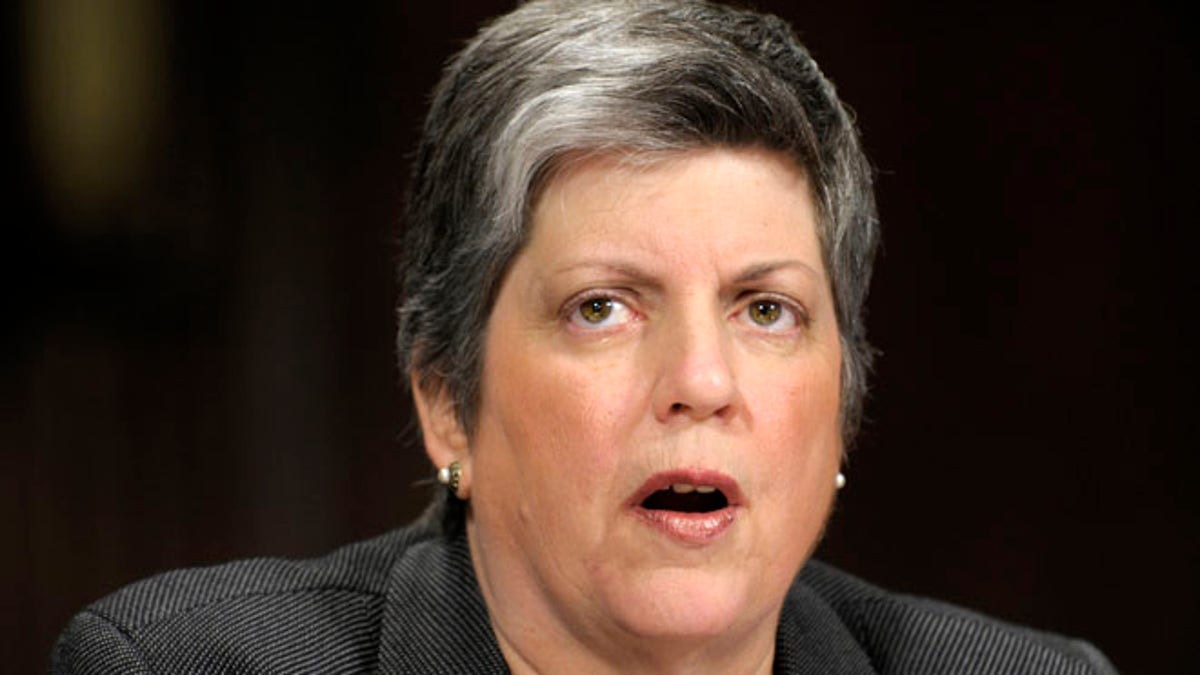 Janet Napolitano is resigning as head of the Homeland Security Department and seeking a post as president of the University of California, the long-time Obama confidant announced Friday.
Officials told Fox News that Napolitano does not plan to leave her post until September. But she announced the move on Friday after it began to break in the media, revealing that she has been nominated to lead the California university system.
"For more than four years I have had the privilege of serving President Obama and his Administration as the Secretary of Homeland Security," she said in a statement. "The opportunity to work with the dedicated men and women of the Department of Homeland Security, who serve on the frontlines of our nation's efforts to protect our communities and families from harm, has been the highlight of my professional career. We have worked together to minimize threats of all kinds to the American public."
Napolitano has ridden out a rocky tenure, having endured a string of lawsuits and multiple controversies regarding the agencies that DHS oversees. Among the complaints, Immigration and Customs Enforcement agents accused the department leadership in a lawsuit of failing to properly enforce immigration law. Their complaints center on the practice of using "prosecutorial discretion" -- allowing department lawyers to selectively determine which immigrants to pursue for deportation, and which to let go. Her aides claimed it was a matter of prioritizing resources, though some agents claimed it ran afoul of immigration law.
Napolitano's department later enacted a Dream Act-style policy giving young illegal immigrants a reprieve.
"Secretary Napolitano's tenure at the Department of Homeland Security was defined by a consistent disrespect for the rule of law," Sen. Jeff Sessions, R-Ala., one of her chief critics, said in a statement.
The news of her departure apparently caught Napolitano's staff by surprise, Fox News is told. Officials, though, said the view among many at the department is that Napolitano has been "out of sight, out of mind" for a while -- particularly since she declared "the system worked" after a terrorist tried, unsuccessfully, to set off a bomb on a Detroit-bound flight in 2009. She came under criticism for that comment, and again for saying several months later that the attempted bombing in Times Square was merely a "one-off."
The secretary had a knack for attracting Republican ire, for times when she appeared to downplay the global terrorist threat. She once, for instance, described terrorism as "man-caused disasters."
The agencies within the DHS have also been a popular target of lawmakers. Most recently, the Transportation Security Administration was compelled to back off a policy allowing small knives on planes after intense pushback from Congress.
At the same time, Napolitano has been working with other agencies to pump more resources to the border regions to curb illegal immigration, and has been tasked with responding to a series of major natural disasters.
Obama, in a written statement, praised Napolitano for her service.
"She's worked around the clock to respond to natural disasters, from the Joplin tornado to Hurricane Sandy, helping Americans recover and rebuild. Since day one, Janet has led my administration's effort to secure our borders, deploying a historic number of resources, while also taking steps to make our immigration system fairer and more consistent with our values," he said.
Napolitano, a former Arizona governor, has led the Homeland Security Department since the start of the Obama administration. She is one of the handful of Cabinet members to have stayed with the administration this long.
The California university system announced late Friday morning that Napolitano had been nominated for president. She was recommended on a unanimous vote. The Board of Regents will vote next Thursday -- if confirmed, Napolitano will be the first female president of the university.
Fox News' Jake Gibson and Catherine Herridge contributed to this report.